Dividing Jerusalem? Repercussions of the Latest Violence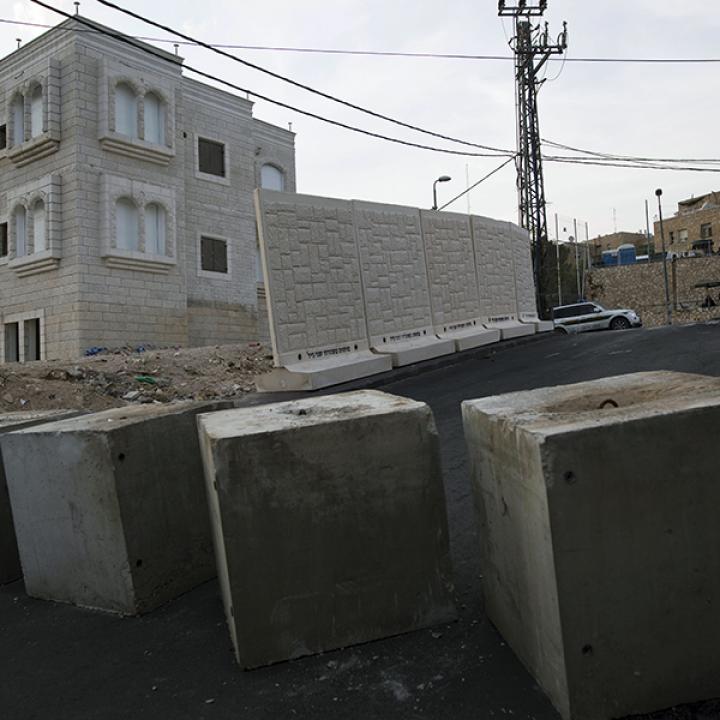 Poll results and political statements offer ample insight into how Israelis and Palestinians view the city's future, but public concerns about violence would be the most likely driver of any concrete change on the ground, such as rerouting the security barrier.
Amid the wave of stabbing attacks largely emanating from Palestinian neighborhoods in East Jerusalem, Israeli authorities have set up checkpoints at the entry to many of those districts. They have also erected concrete dividers along the border of the southern neighborhoods of Jabal Mukaber and Zur Bacher, which abut the Jewish district of East Talpiot. Additionally, there are plans to erect a barrier between Isawiyah and the  French Hill neighborhood. The question is whether these dividers will be removed once the crisis abates, or whether they are a precursor to Israel moving its security barrier away from the municipal boundary dividing East Jerusalem from the West Bank, rerouting it through certain eastern neighborhoods.
Much of the recent violence emerged after unsubstantiated allegations that Israel was about to change the status quo procedures on the Temple Mount/Haram al-Sharif, an area that is holy to Muslims and Jews but used exclusively for Muslim prayer based around al-Aqsa Mosque. A growing number of Israeli Knesset members have made personal visits to the area amid right-wing complaints that Jews were barred from praying there. Prime Minister Binyamin Netanyahu subsequently demanded that they stop, and he continues to insist that the government has not made any moves toward altering the status quo. Yet Palestinian Authority president Mahmoud Abbas, who normally supports nonviolence, urged his people to "defend the mosque," telling a Palestinian television audience on September 10 that he welcomed "every drop of blood spilled for Jerusalem." Netanyahu has since charged Abbas with "incitement."
BACKGROUND
After the 1967 war, Israel gerrymandered twenty-eight Palestinian villages into a reconstituted Jerusalem that was triple the size of the city's prewar configuration; the gerrymandered areas are now politically designated as East Jerusalem. With this move, the city's total municipal area expanded from 14.7 square miles to 41.7. Israel then annexed the entire city and gave Palestinians who lived there residency permits allowing them to access all Jerusalem neighborhoods -- a right not accorded to Palestinians in the West Bank.
Afterward, Israeli politicians on the right and left pledged never to divide Jerusalem. Yet in the minds of most Israeli Jews, this principle largely meant retaining control of the Old City (home to vital religious areas such as the Western Wall and adjacent Temple Mount) as well as Jewish neighborhoods in East Jerusalem. Today, about 40 percent of Jerusalem Jews live in eastern districts taken in 1967. In terms of geography, the largest Jewish neighborhoods (e.g., Ramot and Gilo) are located in northern and southern Jerusalem.
ISRAELI ATTITUDES
An October 14 poll commissioned by Maariv newspaper illustrated how Jewish residents view Jerusalem, painting a more complex picture than simply maintaining Israeli sovereignty over the entire city. When asked about the fate of Palestinian neighborhoods, 66 percent of Jewish respondents said that they should not be part of Israeli Jerusalem. Such sentiments echo past declarations by Israeli officials on both sides of the aisle. For example, former prime minister Ehud Barak defended the Jerusalem concessions he made at the 2000 Camp David summit by noting that when Jews prayed for the city's restoration during two millennia of exile, they were not praying for the Arab neighborhood of Shuafat. And right-wing parliamentarian Avigdor Liberman has repeatedly declared that Israel's demographic balance would be better off if it did not incorporate Palestinian neighborhoods.
When Israel built the first sections of the West Bank security barrier in 2003, the walls in the northern Jerusalem neighborhoods of Kafr Akeb and Qalandiya were erected inside the city's municipal boundary. This did not create significant public outcry among Israelis because they typically did not visit these Palestinian areas. Yet it did create a social services vacuum, since neither the Jerusalem Municipality nor the Palestinian Authority had jurisdiction over the area.
In general, ambiguity has clouded efforts to invest civilian infrastructure in the Palestinian neighborhoods of East Jerusalem. Observers believe that Israel is holding these neighborhoods as bargaining chips for potential talks with the PA over the West Bank's final disposition. Outside the context of negotiations, Israel has been reluctant to address the idea of deploying new barriers inside rather than on the perimeter of these neighborhoods.
Yet with the collapse of peace talks in 2014 and deepening enmity between Netanyahu and Abbas, it is unclear whether final-status negotiations will ever materialize, spurring questions about whether Israel will unilaterally readjust the barrier's contours. Likud Party parliamentarian and former Shin Bet chief Avi Dichter has denied that the latest security measures have any political significance. Speaking with Israel Radio on October 19, he said that the new dividers between Palestinian and Israeli neighborhoods were a "security line," not an attempt to permanently partition the city.
When it comes to the West Bank security barrier, Israeli policy has been driven more by public sentiment than by politicians. In the 1990s, for example, the late Ariel Sharon had written against building such a wall, believing that it would divide the historic land of Israel. As prime minister in 2002-2003, however, he could not resist the public clamor for safety -- Israelis demanded a barrier to stop West Bank Palestinians from perpetrating suicide bombings. If the current security situation in Jerusalem deteriorates further, a similar public-led dynamic could potentially reshape Israel's barrier policy in the city's eastern neighborhoods, particularly given the poll results showing majority opposition to incorporating Palestinian districts.
PALESTINIAN ATTITUDES
It remains far from clear that East Jerusalem Palestinians want to be gerrymandered into the West Bank, whether now or as part of a future peace settlement. Some polls indicate that these residents favor East Jerusalem's higher standard of living and enjoy their open access to the rest of the city. In a mid-June survey by the Palestinian Center for Public Opinion, 53 percent of Palestinians in East Jerusalem said they would prefer to be citizens of Israel with equal rights (see David Pollock, "Half of Jerusalem's Palestinians Would Prefer Israeli to Palestinian Citizenship").
The new checkpoints will no doubt create frustration among Palestinians, in part by lengthening their commute times to work. This could lead some to argue that the Israeli security measures will create backlash. Whatever the case, it will be interesting to see whether those Palestinians who prefer a more open city decide to use the theoretical threat of a rerouted Jerusalem security barrier as a lever against those perpetrating violence.
CONCLUSION
In the absence of peace negotiations due to the complete impasse between Netanyahu and Abbas, the Jerusalem stabbing attacks could reshape public attitudes to the point of forcing political consequences. It is safe to say that any such public-led process would be driven more by the people's measure of their security needs than by vague formulations of a unified city. In reality, some parts of East Jerusalem mean much more to Israeli Jews than others.
David Makovsky is the Ziegler Distinguished Fellow and director of the Project on the Middle East Peace Process at The Washington Institute.