Deterring Militias in Iraq: What Works and What Doesn't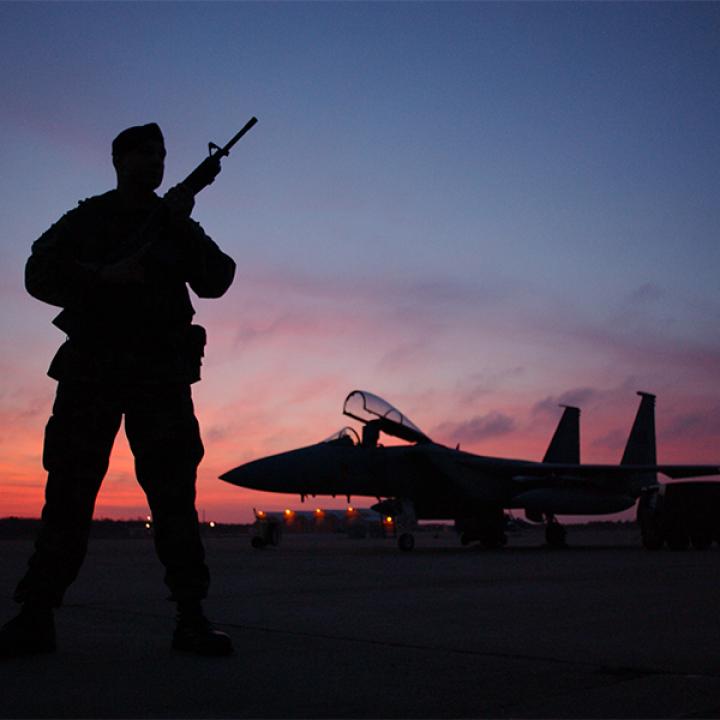 Striking back one time in twelve will not stop Iranian proxy attacks, so Washington must consider more consistent and painful retaliation in order to protect Americans in the Middle East.
On June 28, the United States struck three militia sites—two in Syria and one in Iraq—in retaliation for escalating drone attacks against U.S. sites in Iraq. The nighttime strikes appear to have hit drone storage and testing facilities, causing material damage and up to five fatalities. Yet the Biden administration needs to do much more if it hopes to repair U.S. deterrence—thus far, it has struck back just twice in response to twenty-four rocket and drone attacks over the past five months. If this response ratio continues, militias will simply keep escalating, and American lives will be lost.
The Deterrence Scorecard: Two Administrations
The first rocket attack that Iran-backed militias launched during President Biden's tenure came just one day after his January 22 inauguration, and twenty-three more have been conducted against American targets since then. These operations met with a U.S. military response in only two instances: a February 25 strike that killed a militiaman in Syria, and the latest batch of strikes, which caused five deaths. Put another way, militias have gotten away with attacking American sites 91 percent of the time.
The "exchange rate" seen during the last six months of President Trump's tenure was hardly better—his administration faced thirty-seven strikes on U.S. bases in Iraq and did not hit back once. Notably, however, these attacks plummeted from thirty-three in July-September 2020 to just four in October-December, suggesting that something in the administration's overall deterrence posture had an effect even while other factors were at work.
In all likelihood, the militias' restraint at year's end largely stemmed from two calculations among their patrons in Tehran: first, that the Trump administration would make good on its threats of heavy and disproportionate retaliation, and second, that there were benefits to be gained from reducing tension with an incoming Democratic administration ahead of future negotiations on sanctions relief. The question is how did the Trump team establish such deterrence in the first place, and how can Biden's team best restore it?
Generating Deterrence Without Trump
The escalation of attacks since inauguration suggests that the self-imposed "conditional truce" announced by militias on October 11, 2020, was mainly driven by fear of the Trump administration. From January 22 to the end of March, militias struck U.S. sites eight times, and from April until today, they upped that tally by a stunning nineteen strikes, at least eight of which were undertaken with new, more accurate drones.
One driver of this escalation may be the very limited nature of the Biden team's first retaliatory strike on February 25, which caused practically no damage and did not kill any senior or even mid-ranking militia figures. Today, the drone systems being used in militia attacks are clearly of Iranian design, and in some cases are being operated by the regime's closest Iraqi proxies (e.g., Kataib Hezbollah) rather than facade groups. Hence, one can safely state that Iran no longer fears being hit with heavy retaliation or upsetting the nuclear negotiations—or perhaps no longer cares how those talks conclude.
In this sense, President Trump's erratic decisionmaking style, his willingness to hit Iran and the militias quite hard at times, and the intensifying political drama surrounding the U.S. election and transition processes were undoubtedly beneficial for deterrence purposes. When his team started threatening disproportionate retaliation last July, Iran and its proxies seemed to view the threat as credible—a conclusion that no doubt stemmed from the U.S. targeted killing of Iran's most powerful general and Iraq's most senior militia figure at the beginning of 2020. Obviously, this formula neither can nor should be exactly replicated, but it does hold some lessons for President Biden.
The most basic lesson is that Iran and its militias tend to escalate against U.S. targets until they are checked. This happened in 2019, when they ramped up their attacks until one eventually killed an American citizen at K-1 base in Kirkuk on December 27, causing a tailspin of escalation that led to the first direct U.S.-Iran military clash since the 1980s. This dynamic reoccurred in March 2020, when U.S. and British soldiers were killed at Taji, triggering U.S. strikes on Kataib Hezbollah's rocket testing and storage sites.
Another factor underlying these dynamics is Iran's track record of abusing the diplomatic cover provided by nuclear negotiations to intensify its malign regional activities. In 2014-2016, Tehran ramped up its military involvement in Syria and Yemen, its provision of missiles and drones to militias, and its harassment of U.S. naval vessels. Today, a similar dynamic seems to be underway in Iraq, where Iran is seemingly doing nothing to restrain groups such as Kataib Hezbollah and still allows officers from the Islamic Revolutionary Guard Corps to direct militia activities at times. Although these groups often avoid claiming responsibility for attacks in order to maintain a wafer-thin veneer of deniability for themselves and Tehran, any attempt to claim innocence is patently ridiculous considering that the June 27 Erbil strike and previous attacks were conducted by drones bearing Iranian factory manufacturing labels. The obvious but difficult solution is to restore accountability for Iran, not just its militia cutouts.
Policy Recommendations
The Biden administration's conundrum is clear—after just five months in office, it has struck Iraqi militias as often as Trump did in all of 2020, but without achieving any of the same effects. Indeed, Iran's proxies have already brushed off the latest U.S. retaliation by shelling an American base in east Syria. Deterrence will be more effective if future U.S. strikes conform to the following principles:
Higher response ratio. The U.S. military needs to increase the response ratio for its defensive strikes. A 1:12 ratio is simply insufficient to convince any militia that attacking American targets is too risky. Once deterrence is restored, fewer U.S. strikes will be necessary, but in the meantime more may be required.
Heavier strikes. If Washington increases its response ratio but still allows certain militia attacks to go unanswered, it must ensure that its eventual "banked" deterrent strike is proportional to all of the militia attacks that led up to it. Answering a light militia attack with a light U.S. retaliation makes no sense if that militia operation was preceded by several others launched with impunity over the course of weeks. As the administration's February 25 strike showed, an isolated, weak retaliation will often increase future enemy attacks, not deter them.
Leadership targets. Although there is something to be said for striking back at a time of its choosing, the administration may be underusing its targeting opportunities. Allowing some time to pass between crime and punishment can sometimes enable U.S. forces to pinpoint and strike militia leadership targets more easily, as opportunities allow. This is the way to achieve real deterrence—by making leaders accountable through their property or lives if attacks do not cease. Yet no substantial personal accountability has been established after five months and twenty-four attacks, so militia officials have no credible reason to fear it.
Unannounced strikes. By publicly claiming every strike, the United States arguably weakens deterrence by putting pressure on the adversary to retaliate. In some situations, Washington may be better off following the model used by Israel, where officials are often deliberately vague about whether their military undertook certain actions, leaving an adversary with just enough face-saving ambiguity to avoid striking back. As long as Congress is informed via the appropriate channels (as with other covert operations), there is no reason to put a U.S. face on every attack. In fact, foreign partners would likely prefer that Washington was quieter about its defensive actions, as indicated when Baghdad strongly condemned the June 28 U.S. strike as a "blatant and unacceptable violation of Iraqi sovereignty."
Michael Knights is the Bernstein Fellow with The Washington Institute and coauthor of its 2020 study Honored, Not Contained: The Future of Iraq's Popular Mobilization Forces.