The Costs of Russia's Air Expeditionary Campaign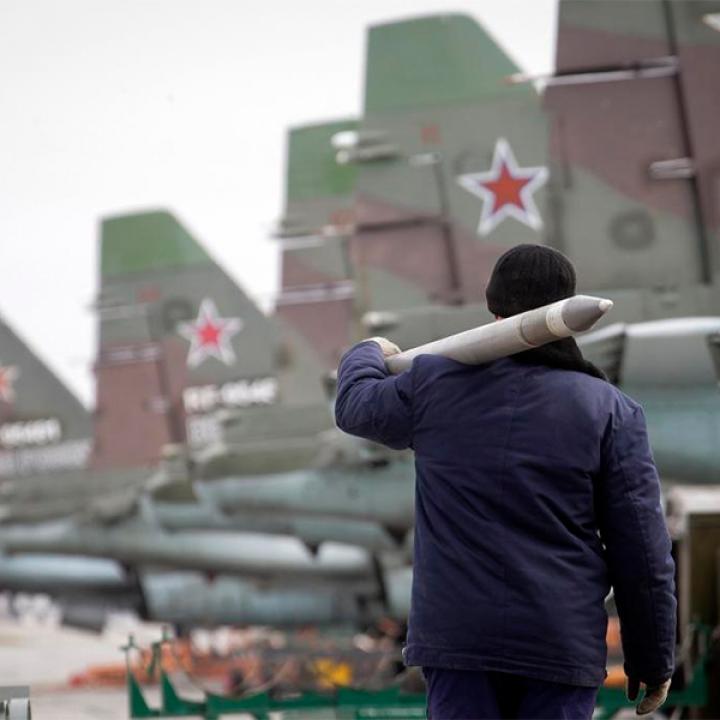 The air campaign in Syria, Russia's first expeditionary force deployment in decades, comes with numerous challenges and a growing price tag.
In recent months, Russia has been trying its hand at expeditionary operations, which entail conducting military activities away from established bases and tailoring a force based on specific goals. Not since the invasion of Afghanistan has Moscow tested its combat reach in this manner -- between 1989 and this year's Syria intervention, all of its military engagements were against adversaries along or inside Russia's borders or in the former Soviet Union.
A critical facet of expeditionary force deployment is managing the logistics support required to maintain operations far from their comfort zone. It is costly.
PUTTING A PRICE TAG ON SYRIA
Thus far, the Russian Air Force has deployed over thirty sophisticated attack aircraft to launch strikes and support Syrian army ground offensives from Hmeimim, a west coast air base adjacent to Bassel al-Assad International Airport near Latakia. The backbone of the air-to-ground strike package reportedly consists of ten to twelve each of the Sukhoi Su-25SM and the Su-24M -- the former known for its close air support capacity and the latter for its precision bombing effects. These aircraft, while dated, are easier to repair, have proven reliable in air-to-ground combat, and fit the mission requirements for Syria.
Four or so Su-30SMs add a significant air-to-air capability and bolster precision strikes. They have most likely been escorting bombers since Turkey shot down a Russian Su-24 on November 24.
Moscow also appears to be testing the performance of its more modern Su-34 fighter bombers, reportedly six total in Syria. The Su-34 is the eventual replacement for the Su-24; brought online in Russia over the past two years, it is seeing combat for the first time in Syria. It possesses both an air-to-air capability with a range of over thirty miles and a precision bombing capability with up to six KAB-500 smart bombs, similar to the American Paveway GBU-12 laser-guided bomb.
The Il-20 electronic warfare/surveillance plane is in country as well, tasked with intelligence collection. Russian drones are reportedly there for the same purpose, like the one shot down over Turkey in October. In addition to these fixed-wing aircraft, an estimated twenty or more Mi-24 attack helicopters and Mi-8 command-and-control/transport helicopters have been deployed.
While it is difficult to determine total personnel numbers with precision, the British-based Royal United Services Institute assessed in November that between 1,200 and 1,350 Russian Air Force personnel are currently in Syria supporting air operations, including pilots, navigators, maintainers, air traffic controllers, airfield managers, weather monitors, and intelligence officers. Adding the naval and land units directly involved in the Syria campaign would triple this figure to approximately 3,500.
According to widely cited figures released by IHS Jane's in October, the entire war effort -- including maritime, ground, and air activities -- will cost Russia approximately $1 billion per year, excluding potential aircraft losses. Some estimates now triple that figure. Moreover, Moscow has deployed extra missile-defense assets since the Jane's report, including S-400 systems that require numerous additional vehicles and personnel.
Compared to the Kremlin's overall 2015 defense budget, estimated at $50 billion (3.1 trillion rubles) by the Moscow Times, the cost of the Syrian adventure does not seem extraordinary. Yet that budget is already under considerable pressure; it was originally set at 3.3 trillion rubles until a recession hit and the ruble collapsed. The cut came at a time when Moscow was forecasting pay raises, greater modernization efforts to meet its 2020 rearmament objectives, and larger "snap" training exercises as a deterrent message. The 2016 defense budget does not look any stronger.
In addition to monetary costs, Moscow is losing the opportunity to use this equipment and personnel elsewhere. For example, the Russian Defense Ministry noted that a few dozen special forces supporting Ukraine operations were redeployed in October to advise Syrian ground forces and assist with airstrike coordination. These reallocations are likely to continue.
PLANS FOR ANOTHER BASE AND MORE AIRCRAFT?
Several sources have reported that Moscow may deploy another fifty or more combat planes to Syria in the near future. Maintaining air operations for three dozen highly employed attack aircraft in an expeditionary environment is an extensive effort, and the burden will only increase as more aircraft arrive. According to a USA Today article citing U.S. Defense Department and Air Force officials, almost one-third of Russia's aircraft in Syria were grounded at any given time within weeks of commencing operations, whether due to local climate (which differs greatly from Russia's) or the lack of readily available parts. In comparison, USAF combat aircraft readiness rates hover above 80 percent on average.
Recent activity at al-Shayrat Air Base, about twenty miles southeast of Homs, indicates that it is being populated by Russian equipment and fortified, and that its runway is being upgraded, possibly to support fixed-wing aircraft. Although some Russian forces are reportedly using Syrian bases at Hama and Tiyas for helicopter and ground support operations, having a second fixed-wing air base fully at their disposal would offer redundancy should Hmeimim encounter operational obstacles, and increase response time to targets of opportunity. Yet moving supplies from Tartus port and Latakia to al-Shayrat would mean passing closer to rebel elements and not far from territory controlled by the Islamic State, increasing the potential for interruptions.
In terms of costs, adding a second base to increase combat runs could easily double the current price of Moscow's campaign. It could also mean increasing the number of Russian personnel to approximately six or seven thousand if Syrian or Iranian forces cannot adequately defend al-Shayrat and its supply route -- which is unlikely because they are already heavily engaged as the campaign's ground offensive component. Moreover, Russian personnel and aircraft will eventually require replacement, further bumping up the operational costs.
OTHER COSTS AND STRATEGIC CONCERNS
As tensions continue to simmer between Russia and Turkey, the Kremlin is no doubt keenly aware that the naval route from the Black Sea to the Mediterranean Sea to resupply Latakia and Tartus is a logistics chokepoint. The straits through which Russian ships transit are governed by the Montreux Convention of 1936, but there are differing interpretations regarding when and how Turkey could intervene to safeguard its national interests. Direct intervention would be quite provocative and dangerous, so Ankara would probably not attempt to stop Russian vessels. Yet delaying them could send a message, and hamper a steady sea resupply to Syria that involves dozens of commercial cargo and military landing ships every month. Such a delay would increase demand on the air bridge and other sea supply lanes.
Meanwhile, the Russian Defense Ministry announced that approximately two dozen long-range bombers traveled thousands of miles to strike Syrian targets in mid-November and again this month. The Tu-22M Backfire was the most prevalent, but other bombers were also involved, including the Tu-95 Bear and Tu-160 Blackjack, each employing a mix of guided and nonguided munitions as well as cruise missiles. Additionally, the firing of twenty-six Kalibr-class cruise missiles from the Caspian Sea in October certainly captured the attention of regional stakeholders. And earlier this month, a Russian Rostov-on-Don-class submarine launched Kalibr missiles from the Mediterranean for the first time.
These long-range strikes indicate that Russia has the ability to periodically alleviate the burden on its Syria-based aircraft and munitions depot if necessary. Munitions will be a determining expenditure, costing approximately $750,000 a day for Syria-based strikes alone. Yet the long-range option comes with its own costs: each 3M14E ship-launched cruise missile runs from $1.2 to $1.5 million, which likely makes it an occasional option only. Should Russia have to conduct extensive long-range attacks, the operational expense would increase exponentially.
CONCLUSION
While appearing strong militarily has proven to be an effective strategy for Vladimir Putin in the short term, it comes at a price tag higher than many observers realize. Russia is well aware that extending the operation will incur greater costs. And the logistical requirements for an expeditionary force may compel Moscow to increase its footprint in Syria, which could raise the risk of Russian casualties. Such burdens may provide leverage as Washington and other parties push Putin to cooperate more with the U.S.-led coalition in Syria.
Lt Col John Barnett (USAF), a visiting military fellow at The Washington Institute, has completed command tours in Turkey and South Asia. The views expressed herein are those of the author and do not necessarily reflect the official policy or position of the U.S. Air Force, U.S. Department of Defense, or U.S. government.