The Coordination Framework's Four-Way Split in Provincial Elections (Part 1): Overarching Trends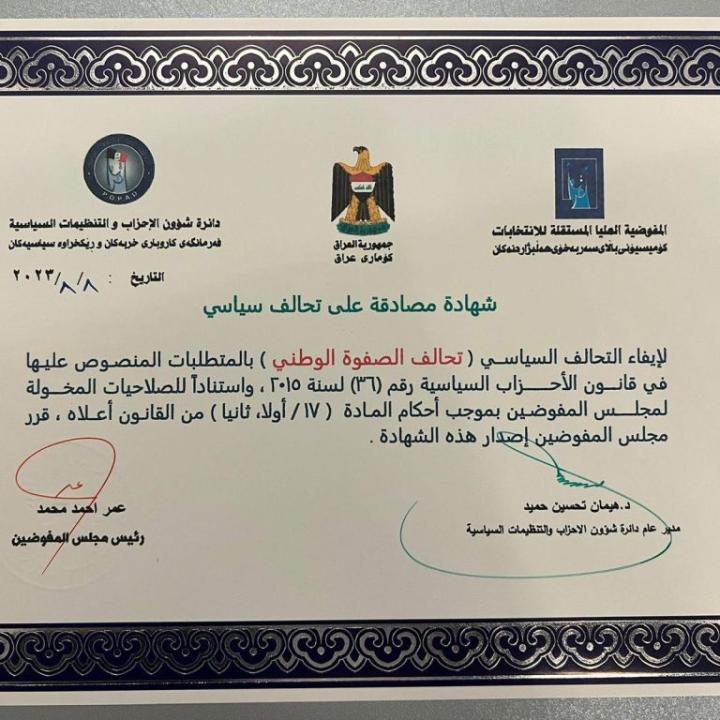 Badr, Asaib Ahl al-Haq, and Nouri al-Maliki are testing each other's strength in the south but mostly hanging together in the north.
Provincial elections in Iraq tend to create strange bedfellows, temporarily splitting partnerships formed in the preceding national elections and government formation process. Ahead of this December's provincial vote, the Coordination Framework (CF)—Iraq's top political coalition for Iran-backed militias—is experiencing this same process, with each constituent group considering how best to serve its own interests and profitably test its strength against other CF rivals.
The CF's Four-Way Split
The current campaign season has divided the CF along four lines:
Former prime minister Nouri al-Maliki decided not to forge an alliance with the militias and is instead leading his Dawlat al-Qanun (State of Law) coalition, which includes the forces of his previous alliance in addition to Fadhila (The Virtue Party).

Tahalof Nabni (We Build Coalition), which is led by the Badr Organization but has a semiautonomous sub-list led by Asaib Ahl al-Haq (AAH), called Tahalof al-Safwa al-Watani (National Elites Coalition).

The Islamic Supreme Council of Iraq (ISCI), running as the

Nosahheh

(We Correct) list.

Tahalof Quwa al-Dawla (State Forces Coalition), consisting of Ammar al-Hakim's Hikma movement and former prime minister Haidar al-Abadi's group Itelaf al-Nasr (Victory Alliance).
The way the lists run in each province is subject to change before election day and has no bearing on post-electoral alliance politics at the provincial council level, where governors are ratified. Yet the patterns shown in the table below are revealing.
Trends Visible So Far
A number of general trends and intra-CF rivalries electoral jump out, though these alignments could certainly shift in the coming weeks through defections, withdrawals, or other mechanisms:
In areas where the predominantly Shia CF stands to gain and lose the most seats (Baghdad and the south), a fierce contest has emerged between Maliki and the joint forces of Badr/AAH).
The CF has chosen to remain largely united in Kirkuk, Salah al-Din, and Nineveh, all of which are pacified militia "colonies" where a lack of cohesiveness could result in strong opposition from Sunnis, Kurds, and even Sadrists (in Salah al-Din), thereby seriously reducing the overall number of CF provincial council seats. The need to maintain or gain influence in these provinces has overcome internal rivalries.
In Diyala (the focus of Part 2 of this analysis), Badr and AAH have decided to test each other's strength, with AAH leader Qais al-Khazali challenging Hadi al-Ameri and Faleh al-Fayyad in their home province.
Kataib Hezbollah Supports AAH?
The position of Harakat Hoquq (The Rights Movement), run by the militia Kataib Hezbollah (KH), is still unclear. Al-Rabiaa TV, an outlet close to the muqawama (resistance), reported that Hoquq is part of Tahalof al-Safwa al-Watani when it announced the the following: "The Independent High Electoral Commission formally approved Tahalof al-Safwa al-Watani. The Coalition includes al-Sadiqoun [AAH's political wing] and Hoquq" (Figure 1).  
Yet Khazali claimed in an interview with al-Iraqiya TV that KH will not take part in the provincial vote: "Kataib Hezbollah made a clear decision not to participate in the elections, neither by overt figures nor under the title of independent figures. We respect this decision. They will support the Safwa Coalition with everything they can to make the electoral process a success" (Figure 2).
KH's social media channels, which are usually reluctant to report Khazali's remarks, were keen to post his claim about KH's electoral decision. This could reflect disappointment that KH supporters had no clear candidates to vote for, but also relief at receiving some guidance. At the very least, it is a new indicator of relative tranquility between the online supporters of each group at this time. 
For his part, Hoquq leader Hossein Moanes told al-Sharqiya TV that his movement will not take part in the elections because it believes the provincial councils need to be cancelled. He stated that Hoquq members will participate as voters but did not say they will support the Safwa Coalition (Figure 3).