Construction Begins at New Amona Settlement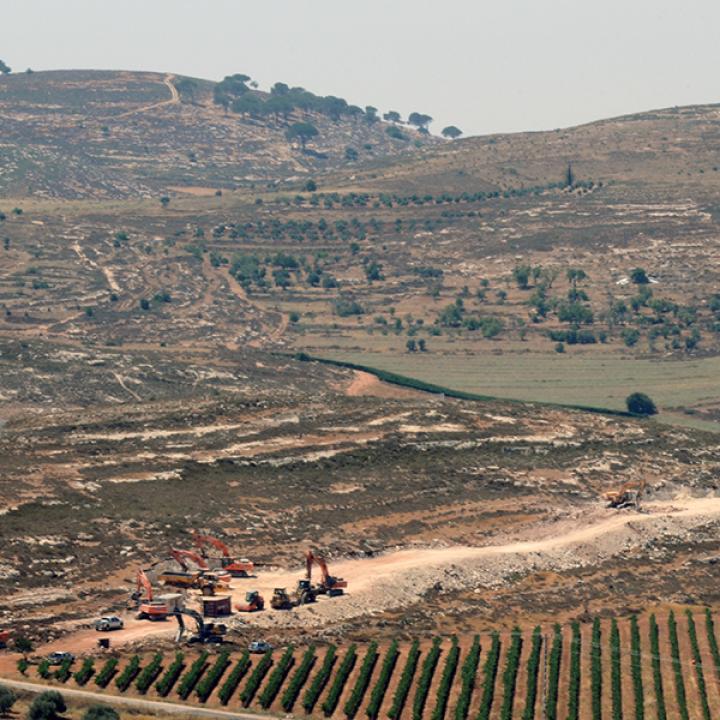 For any observer of the Israeli-Palestinian conflict who views settlement expansion as an impediment to peacemaking, the latest developments suggest difficulties ahead.
In late June 2017, crews began clearing the land upon which the new settlement for evacuees of Amona will be built. Amona was a West Bank outpost repeatedly ruled illegal by the Israeli Supreme Court and finally demolished in fall 2016. The new settlement is called Amichai, a Hebrew contraction for "Amona lives." While Amona's former residents have expressed satisfaction that construction has commenced, they likewise are indicating concern about the potential for bureaucratic, legal, or political delays to extend their temporary stay in Ofra, another West Bank settlement. Still, Amichai's construction began a mere four months after an evacuation nearly two decades in the making. Amona's former residents appear to have the government's ear.
Waiting in Ofra 
This past February, Israeli forces successfully removed Amona's residents from their community near Ofra. This evacuation represented the culmination of decades of judicial rulings against the outpost and months of political maneuvering by Prime Minister Binyamin Netanyahu. Despite the short-term blow to the Amona residents, however, they had received a sympathetic hearing from the right-wing Knesset members crucial to sustaining Netanyahu's coalition, increasing the settlers' leverage. In the end, Amona's residents left after Netanyahu promised them a new settlement, announced the construction of more than five thousand new housing units across the West Bank, and allowed the Knesset to pass a law -- deemed indefensible by Israel's attorney general -- legalizing Israeli settlements built on private Palestinian land. The Supreme Court is now hearing arguments about the bill's legality.
After leaving Amona, most evacuees moved to a converted youth hostel in nearby Ofra. The self-styled "refugees" cram as many as six children into single dormitory rooms. Whereas most of the families still reside there, those with recent newborns have moved elsewhere. The community members have not received the compensation promised them by the government, which Israel's Channel 2 reported to be around $130,000 per family.
At the Amichai site, earthmovers and other equipment are leveling land and preparing for further work. Amona's former residents will live in one neighborhood, while a separate one will house other families, comprising a total of around a hundred units. Amichai is in the Shiloh Valley, southeast of the Shiloh settlement and north of the Shvut Rachel outpost. Although the town will have a relatively small physical footprint, it has been allotted significant surrounding tracts. This leaves open the possibility of expansion and retroactive legalization of nearby outposts through their designation as Amichai "neighborhoods."
What's Next
Over the coming few months, government-funded workers will finish leveling the site and install electric, sanitation, and transportation infrastructure. The government will then sell lots to Amona evacuees and others who are interested. According to community spokespeople, ex-Amona families expect to purchase lots and build their homes through personal finances and government compensation. Much of the community rented rather than owned their homes in Amona, so it remains possible that outside groups will buy, build, and rent out dwellings in Amichai.
Notwithstanding the progress so far, several issues could complicate building at Amichai. First, Amona's former residents, as noted, have not yet received government compensation and will likely rally their political allies if they perceive unacceptable delays or insufficient funds. Second, bureaucratic and regulatory challenges surrounding Amichai's infrastructure threaten to delay building, such as the discussion about whether the settlement needs its own sanitation plant and where to put it. Third, legal action on behalf of Palestinian landowners could block construction on permanent structures. Several private Palestinian lots fall within Amichai's broader boundaries, although the initial town will not be built on these lots. Israel's Supreme Court has hesitated to block construction if it does not occur directly on private land, but a lawsuit filed by the Israeli NGO Haqel and Palestinian landowners may still delay that building. The more prominent suit, by the Israeli legal NGO Yesh Din, is unlikely to freeze construction on the site, since it does not make claims on Amichai's land but rather seeks to have Palestinian landowners included in settlement zoning processes.
Broader Consequences
For any observer of the Israeli-Palestinian conflict who views settlement expansion as an impediment to peacemaking, the Amona saga remains problematic. Starting in 1997, Israel's Supreme Court ordered Amona demolished or reduced in size three times before security forces at last evacuated the outpost in 2016. The quick start to work on Amichai and plans for the construction of other settlement units no doubt helped cushion the political blow caused by the evacuation. Meanwhile, although Netanyahu commits himself to the idea of a two-state solution and has negotiated with successive U.S. governments, settlers and their supporters continue to create facts on the ground in the West Bank with government support.
During his initial meeting with Netanyahu in February, U.S. president Donald Trump asked the Israeli prime minister to "hold off" on settlement construction. This request, however, does not appear to have led to a settlement freeze. In a public interview, Israeli defense minister Avigdor Liberman indicated that the Trump administration has apparently signed off on the government's vision for settlement building. This suggests that settlers who complain of a construction freeze are in reality objecting to the location and scale of building, likely preferring more-contested areas. Overall, settlement construction starts rose 70 percent from April 2016 to March 2017, versus in the previous twelve months, according to Israel's Central Bureau of Statistics.
Netanyahu may have convinced U.S. interlocutors that construction at Amichai and in large blocs protects his political flanks without jeopardizing a two-state solution. Regardless, Palestinian leaders view settlement building as an indicator that Israel lacks the interest or political will needed to surrender vast swaths of the West Bank, as a comprehensive peace deal will require. Effective diplomacy could alter Israeli actions and Palestinian perceptions, but tacit U.S. permission for Israeli building without winning corresponding concessions for Palestinians could undermine U.S. negotiators' credibility in Ramallah.
In the long term, construction at Amichai and elsewhere creates problems for peacemaking. While building in large settlement blocs close to the 1967 border does not directly threaten a future deal, Israel could allay Palestinian suspicions by reaching understandings with the United States that define blocs' boundaries in the interest of ultimately establishing two states. Moreover, research by the nonpartisan Israeli political movement Blue White Future shows that compensation and public support following a two-state deal could persuade as many as 60 percent of the roughly 100,000 settlers living east of the West Bank security barrier to voluntarily relocate. But a downward shift in that proportion risks difficult negotiations and violent withdrawals later on.
Some of those Jewish settlers who remain east of the barrier may be permitted to live under Palestinian rule, but these communities would struggle to integrate with their neighbors after years of tensions and may require some form of Israeli security. This could result in Jewish enclaves that limit movement and resource access for Palestinians in their own state. Amichai alone does not doom current or future attempts at peacemaking, but it is part of a broader trend that could cloud the picture.
Mitchel Hochberg is a research associate at The Washington Institute and holds a master's degree from Georgetown University's Security Studies Program.