A China-Pakistan Base Deal Could Put Iran on the Back Foot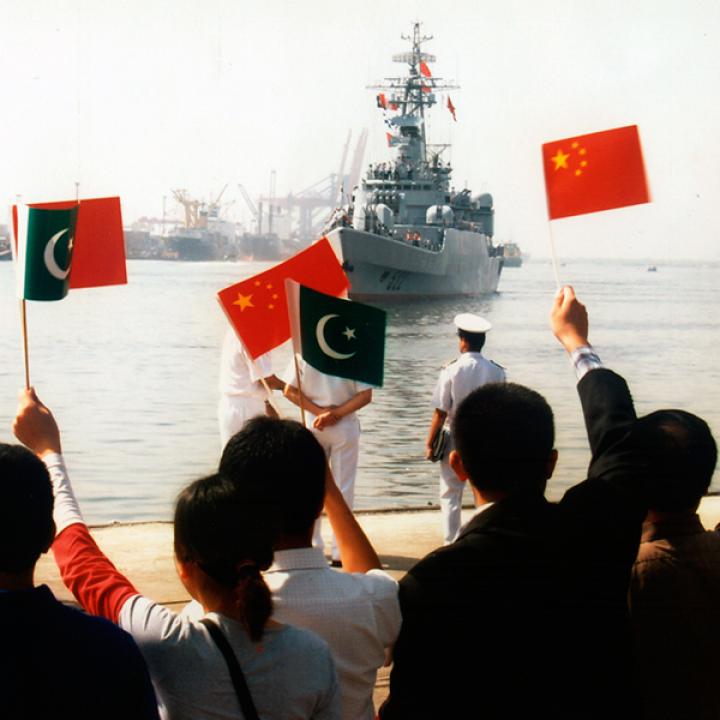 Beijing's economic project in Gwadar Port and planned military presence in the Jiwani peninsula may wind up redrawing the region's geopolitical map.
According to the Washington Times and other sources, China plans to build a naval and air base on Pakistan's southwestern Jiwani Bay, just across the border from Iran and nearly 500 kilometers from the Strait of Hormuz. About 60 kilometers east of Jiwani is Gwadar, where Beijing is developing a massive commercial port at the end of its China-Pakistan Economic Corridor. While Chinese officials have kept silent about the Jiwani reports since they first emerged in January, Pakistan dismissed them as "propaganda" aimed at discrediting the corridor project. Yet the alleged plans follow the pattern of other Chinese military activities in the region, raising concerns in India, Iran, and elsewhere.
STRATEGIC RATIONALE BEHIND THE MOVES
In 2015, Beijing released a military white paper outlining a new policy of "active defense," which envisioned Chinese armed forces assuming a more global role in order to protect the country's interests overseas. These interests include the steady flow of Middle Eastern oil—in 2016, China imported 7.6 million barrels of crude per day, more than 70 percent of which came from the Persian Gulf.
Up until the past decade, China had very little military presence in the Arabian Sea and adjoining waterways, leaving it with only limited options for safeguarding its interests there. In 2009, however, Beijing began an anti-piracy mission in the Gulf of Aden, enabling it to deploy naval forces to the area indefinitely. And in 2017, it inaugurated a large naval base in nearby Djibouti, overlooking the strategic Bab al-Mandab Strait.
Beijing portrayed the latter project as a contribution to regional security and development, including construction of a railway to landlocked Ethiopia. Yet news of the planned Jiwani initiative may cast the Djibouti base in a different light. If completed, the two bases would place Chinese forces at the mouth of two strategically vital international waterways, potentially allowing Beijing to restrict its rivals' movements there as part of a wider antiaccess/area denial (A2/AD) strategy (which the Chinese call "active strategic counterattacks on exterior lines," or ASCEL).
As for the deep-sea Gwadar Port, it is slated to become one of the largest of its kind in the world, able to handle China's planned fleet of large aircraft carriers and nuclear submarines. It is also seen as a vital part of Beijing's "Belt and Road Initiative," an estimated $57 billion project that India has stridently opposed—partly because it traverses the disputed Kashmir region, but also because it could help China dominate trade routes in the Indian and Pacific Oceans. The new port will reportedly handle up to 400 million tons of cargo per year when it becomes fully operational in 2019.
Despite Gwadar's location on Pakistani territory, many observers are concerned that China will eventually assume full authority over the port. This fear is not unfounded—in addition to securing a forty-year build-operate-transfer agreement for Gwadar, Beijing conducted a similar takeover of Sri Lanka's Hambantota Port, first developing the harbor and later assuming full control of it as debt repayment.
ON IRAN'S DOORSTEP
So far, Iranian officials have not publicly commented on the Jiwani news or China's increasing militarization in the Indian Ocean. Perhaps they understand China's desire to protect its trade interests in the Silk Road revival effort and are considering their own potential future stake in that endeavor. Even so, the fast growth and uncertain intent of China's security presence on the border is giving Iran pause, as reflected in numerous domestic media reports and expert analyses.
In 2016, Iran opened what will eventually be a $1 billion extension to Chabahar, its only deep-water port, located 116 kilometers from the Jiwani peninsula. The project was jointly funded by India with the specific goal of creating a direct trade corridor to Afghanistan and Central Asia, bypassing Pakistan. India offered the funding with the Obama administration's blessing.
It is unclear if Tehran will now ask Pakistan to tone down China's military plans for Jiwani—a conversation that could involve carrots or sticks. On March 11, Iranian foreign minister Mohammad Javad Zarif visited Islamabad in a bid to increase bilateral trade from $1 to 5 billion. During the trip, he made a surprise offer to Pakistan (and, indirectly, China) to join the Iranian-Indian expansion effort at Chabahar, which even at its maximum expected capacity of 80 million tons is no match for the massive Gwadar project. The offer was made despite Islamabad's rivalry with India, and despite the failed "Peace Gas Pipeline" that was intended to export Iranian natural gas to India through Pakistan. Tehran has also sought entry into the China-Pakistan Economic Corridor project, but its overtures have been unanswered so far, even though Beijing invited Afghanistan to join in December.
Meanwhile, the Iranian navy is building one of its most sophisticated intelligence collection facilities right across Jiwani Bay at Pasabandar. It has been constructing a base there for some time as part of a strategy to increase the military and commercial presence on the neglected "Makran" (Gulf of Oman) coastline, but progress has been very slow.
GEOPOLITICAL IMPLICATIONS
Despite partnering with India on the Chabahar project, Iran is keen to show Pakistan that such links are not aimed at taking sides with its rival. Accordingly, Tehran has offered to expand bilateral military ties with Islamabad in an apparent attempt to lay the foundation for a future Iran-Pakistan-China alliance.
If, however, China proceeds with its plans for Jiwani without a major concession to the Iranians, Tehran may decide to give the Indian military occasional "logistical support" rights at Chabahar, similar to the way it permitted Russian jets to stage Syrian airstrikes from its territory in 2016 (assuming India does in fact come through with all of the funding it has pledged for the port). India's naval strength in the Indian Ocean remains superior to Pakistan and China's combined, so such an offer would not be significant on its own. Yet a base at Jiwani would allow China to overlook India's maritime corridor to Afghanistan and Central Asia.
More broadly, Jiwani would give Beijing the option of expanding its A2/AD strategy to the U.S. Fifth Fleet's theater of operations—a longstanding concern in Washington. Iran would benefit from a local rivalry between the two superpowers, but only so long as its own interests are not threatened.
Last summer, a Chinese naval flotilla visited Iran's Bandar Abbas port, and there are unconfirmed reports of possible military cooperation between the two countries. Tehran needs foreign help to modernize its navy, and China is a potential partner in that regard, having already become a steady supplier of naval equipment to Pakistan (reportedly including the sale of Yuan-class submarines). Yet Tehran seems to realize the limits of possible military cooperation with Beijing—on January 23, Gen. Rahim Safavi, an advisor to the Supreme Leader, proposed a coalition with Russia, Pakistan, Iran, and Syria to counter U.S. influence in the region, notably omitting China.
CONCLUSION
Iran's ambitious development plans for Chabahar and the rest of the Makran coast are lagging behind due to international sanctions, mismanagement, and the regime's inherent resistance to developing its border regions. In the end, India may decide that cooperating with Tehran in order to counter Chinese-Pakistani naval cooperation is not as important as preserving its close military relations with the United States.
For the time being, then, India and China will likely wait to see how Iran fares with the West on getting more sanctions lifted and addressing other outstanding issues (e.g., missile proliferation and human rights abuses). Meanwhile, Tehran will do whatever it can to improve its intelligence and military capabilities near China's future Arabian Sea base.
Farzin Nadimi is a Washington-based analyst specializing in the security and defense affairs of Iran and the Persian Gulf region.