Changing Population Patterns Will Reshape the Middle East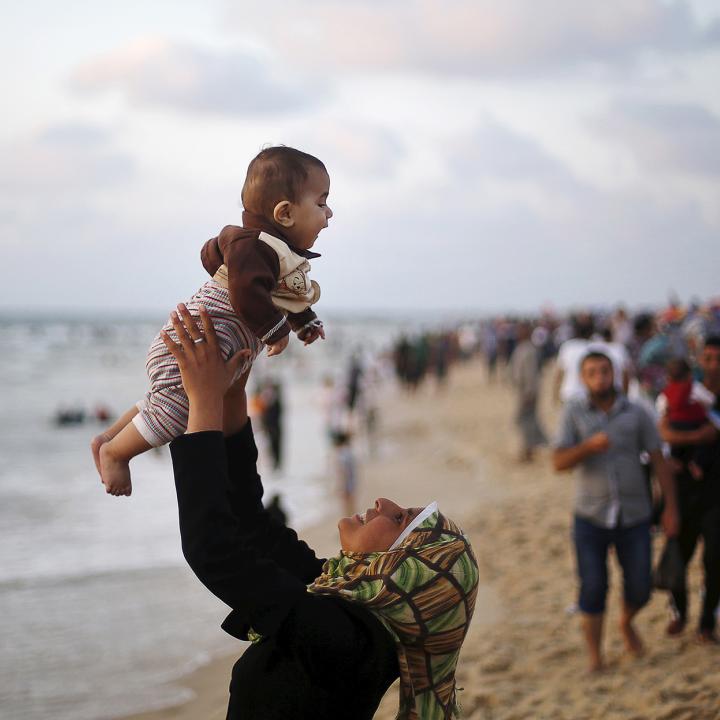 Several of the region's demographic heavyweights will be surpassed, and major shifts at the global level may affect how great powers vie for influence there as well.
The demographers in the UN's Department of Economic and Social Affairs are widely regarded for their first-rate work, and their recently released World Population Prospects report is no exception. Alongside detailed demographic information on every UN member state, the twenty-seventh edition includes projections on how each of their populations will change through the year 2100. These forecasts suggest that demographic realities—and, presumably, power relationships—will shift considerably in many regions, including the Middle East.
Forecasting is often an inexact art—think of the challenges facing pollsters, for instance. Yet demography is one discipline where practitioners and consumers can have substantial confidence in forecasts made even decades out. For instance, barring some catastrophe, observers have quite a good idea of what the population of fifty-year-olds will be forty-five years from now; after all, they have already been born.
When forecasting changes in a country's population, the UN uses three scenarios: low, medium, and high. The analysis below focuses on the medium scenario. Yet it is worth noting that the low scenario has often been the most accurate in recent decades, and that UN forecasts have been criticized for not taking sufficient note of modern trends that depress population. That said, forecasts from the Centre of Expertise on Population and Migration (CEPAM) and the University of Washington's Institute for Health Metrics and Evaluation (IHME) are very similar to the UN's in predicting substantial implications for the Middle East.
The Middle East in 2100
The UN forecasts that two of the largest populations in the Middle East—Turkey's and Iran's—will experience declines by the year 2100. Turkey's is expected to fall from 85 million to 83, and Iran's from 89 million to 80 million, toppling them from their status as the region's demographic giants.
By contrast, two midsize countries—Iraq and Yemen—are expected to explode in population, presumably increasing their geostrategic importance in the process. Iraq will expand from 44 million people to 112 million—that is, from half as large as Iran or Turkey today to 40% larger than either. Among other things, this means that the country with the most Shia Muslims in the world will be Iraq, not Iran. Ankara and Tehran will likely find it more challenging to dominate an Iraq whose population exceeds their own. Another way of looking at the numbers: Iraq's population is currently 75% that of the six Gulf Cooperation Council countries combined (Bahrain, Kuwait, Oman, Qatar, Saudi Arabia, and the United Arab Emirates), but by 2100 it will be 33% larger than the GCC's. It will also be 2.2 times larger than the 50 million people in the most populous GCC state, Saudi Arabia.
Yemen is projected to increase from 34 million people to 74 million—that is, from being less populated than Saudi Arabia to having 50% more people than Saudi Arabia. This would make its populace 90% as large as the GCC's combined, and close to Iran's or Turkey's.
Egypt is slated to continue its demographic explosion, almost doubling from 111 million people to 205 million, giving it the region's largest population by far. Put another way: it will be 25% larger than Iran and Turkey's combined, and almost twice the size of Russia's (which is projected to decline to 112 million).
The GCC countries will have much slower population growth. Their current combined population is 59 million; in 2100, it is forecast to reach 84 million. Yet that is still a substantial increase in the context of broader slowdown in global growth. It will also push the GCC past Iran and Turkey in population size.
Elsewhere, the UN offers the following forecasts:
Israel's population will double from 9.2 million to 18.4 million

Palestine (i.e., Gaza and the West Bank) will grow from 5.2 million to 12.8 million

Syria will nearly double from 22 million to 43 million

Jordan will grow from 11 million to 18 million

By contrast, Lebanon will shrink from 5.5 million to 4.7 million

In total, these five populations will hit a combined figure of 95 million, larger than Turkey or Iran.
Great Power Forecasts
The Middle Eastern numbers are even more illuminating when viewed alongside projected population shifts in the "great power" countries currently competing for influence in that region. Today, the U.S. population of 338 million is one-fourth that of China. Yet by 2100, it is projected to hit 394 million, or more than half the size of China's—which the UN expects to decrease dramatically from 1.425 billion to 767 million. Russia's population is projected to shrink as well, falling from 43% that of the United States to 28%. In other words, Moscow and Beijing will likely face serious challenges in maintaining their current national strength relative to Washington.
In contrast, India's population is expected to grow modestly from 1.417 billion to 1.530 billion, or twice that of China. This suggests that its importance as a world power could rise as well. Interestingly, India's population will not grow as quickly as America's, illustrating a continued demographic dynamic in the United States fed in no small part by immigration.
Arguably, the most striking change in global population will be the rise of sub-Saharan Africa as a demographic giant. Today, it is home to 1.166 billion people, or 78% as many as China, but by 2100 it is projected to hit 3.442 billion. This would make its population 450% that of China, and more than eight times that of the United States.
Patrick Clawson is the Morningstar Senior Fellow and director of research at The Washington Institute.