Changes in Israeli Policy after the Netanyahu-Mofaz Deal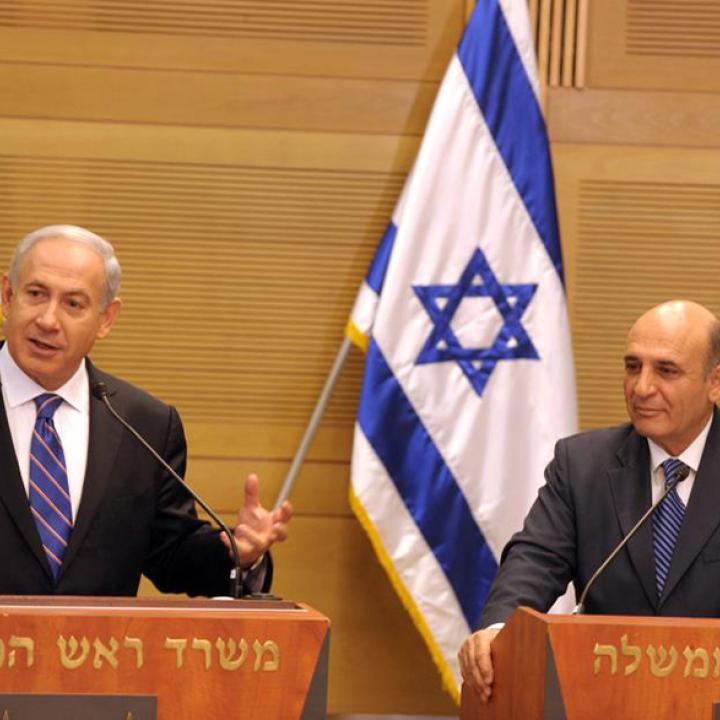 Israel's new national unity government strengthens both Binyamin Netanyahu and Shaul Mofaz, but it will ultimately be judged by whether it makes progress on its foreign and domestic policy agenda.
In a stunning political shift, Israeli prime minister Binyamin Netanyahu and Shaul Mofaz, the newly elected head of the leading opposition party Kadima, forged a national unity government in Israel late Monday night. The move adds 28 Kadima parliamentarians to the ruling coalition, increasing the current government's tally to 94 of the Knesset's 120 seats, the most ever. Mofaz will become vice prime minister, a member of the inner security cabinet, and a minister-without-portfolio. Various portfolios will be given to other Kadima members. The move was announced mere hours after the preliminary passage of a bill calling for early elections on September 4. The parties have now pushed those elections to October 2013, the end of the full four-and-a-half-year term -- a longevity few Israeli governments have achieved.
In a joint press conference on Tuesday, Netanyahu and Mofaz announced that the new government's focus will be fourfold: drafting new legislation to replace the Tal Law, a controversial measure that exempts the ultraorthodox (Haredim) from military service and is due to expire in August; proposing changes to the electoral system in time for the next election; passing a new state budget; and advancing what Netanyahu dubbed a "responsible" peace process with the Palestinians. Any preliminary analysis of these developments must look at both the political and policy motivations.
 

 

 

 

 

 

 

 

 

 

 

POLITICAL IMPACT: MARRIAGE OF CONVENIENCE

 

 

 

 

 

 

 

 

 

 

 

On a purely political level, the deal was clearly done to strengthen both Netanyahu and Mofaz. Under its terms, the very risk-averse Netanyahu will likely remain in power for another year-and-a-half before facing a vote. And while he has not said so publicly, he is acutely aware that his previous coalition's dependence on right-wing parties hurt both his and Israel's image. He is also mindful of the fact that unity governments tend to be popular domestically.

The deal offers an opportunity for a center-right alliance (and greater independence and maneuverability for Netanyahu) that was unlikely to present itself after early elections. Although polls had put the prime minister safely ahead of Kadima before the announcement, he has long viewed Mofaz as a formidable opponent who could eat away at the Likud Party's Sephardic populist base. As a Sephardic former chief of staff who has championed economic populism, Mofaz casts an image of political moderation that poses a threat to Netanyahu, who prefers to bring him inside the tent. The prime minister also hopes that a unity government will allow him to openly absorb at least some of Kadima's more hawkish members after the next election, since the party originated in 2005 as a breakaway from Likud, which opposed Ariel Sharon's Gaza disengagement at the time.

For Mofaz, the deal gives him and Kadima a new lease on life. Having just replaced Tzipi Livni at the party's helm, he was ill prepared for September voting. He will now have time to rebuild Kadima, which polls had been predicting would only receive 11 seats in fall elections, compared to the 28 it holds today.

Meanwhile, the Labor Party is betting that the new coalition will dissipate without any substantive accomplishments, intensifying public cynicism toward the two leaders who just recently were hurling invectives against each other. An early poll taken immediately after the decision indicates that the public is skeptical. Labor leader Shelly Yachimovich also hopes that a summer revival of the social protest movement will again bring hundreds of thousands to the streets expressing dissatisfaction. Ironically, organizers of that movement have admitted that electoral reform is a prerequisite for the societal changes they seek.
 

 

 

 

 

 

 

 

 

 

 

DOMESTIC ISRAELI ISSUES

 

 

 

 

 

 

 

 

 

 

 

 

 

 

 

 

 

 

 

 

 




 

The most immediate impact of the deal will likely be decreased influence by the ultraorthodox Haredim. Netanyahu apparently realized that his previous coalition would not survive a rewrite of the Tal Law. The new coalition's configuration means that three secular parties -- Likud, Kadima, and Yisrael Beitenu -- will now have 70 of the 94 coalition seats. Yet the Likud Central Committee has many religious (albeit not Haredi) members, and the party garners many religious votes. Despite its differences with the Haredim, Likud may press for a more gradualist focus on civilian national service programs that could mitigate the shock to the ultraorthodox community.

Netanyahu and Mofaz's public commitment to changing the electoral system is tantalizing given the disproportionate influence that the existing proportional representation system has afforded the Haredim and ultranationalists. Some critics argue that until the system is changed, any Israeli advances toward peace will be stymied by an opposed minority. Yet Likud may be fearful of any change that is not incremental, as it does not wish to alienate the small parties -- largely religious, but not exclusively so -- that have been part of its coalition governments since its first electoral victory in 1977.
IRAN
In terms of policy motivations for the deal, Iran seems to be key. The issue was conspicuously absent from Netanyahu's press conference. For his part, Mofaz has publicly suggested that he does not favor a unilateral Israeli attack at the moment. Of course, he also said -- as recently as last week -- that he would definitely not join the government and was determined to bring Netanyahu down. Mofaz led the previous Israeli government's dialogue with the United States regarding Iran and often publicly hinted that an Israeli strike was an option that could not be discounted.
Whatever the case, the deal means that there will be no early elections to distract Netanyahu from the Iran issue. One can expect him to carefully monitor the multilateral talks involving the United States and Iran in the coming weeks. Nobody knows whether a nuclear deal will be reached in the short term given the looming European embargo of Iranian oil, but Netanyahu will want to know that Israel's interests are protected even if it is not at the table.
The new coalition is certainly welcome news to Defense Minister Ehud Barak, who -- along with Netanyahu -- has been the leading advocate of an Israeli strike. Barak will now retain his position until the 2013 elections. Given the defense minister's vanishing political base, Netanyahu would have come under party and other pressures to replace his close ally in the aftermath of early elections. Retaining Barak gives the prime minister more time to calculate whether and when an Israeli strike will occur.
More broadly, a national unity government that includes three former military chiefs of staff will have an easier time galvanizing public support for any course of action or inaction that Netanyahu chooses. Those who believe Israel will strike compare the Mofaz deal to Prime Minister Levi Eshkol bringing in Menachem Begin and his opposition party on the eve of the 1967 war.
PALESTINIANS
Kadima will now be able to lobby against West Bank settlement expansion from within, for instance, advocating that construction be limited to existing settlement blocs largely adjacent to the pre-1967 boundaries where most of the settlers actually live. In theory, Kadima's inclusion could give Netanyahu the political cover he needs to uphold the Israeli Supreme Court's ruling that a particular unauthorized outpost be evacuated this summer. Yet even the 2006-2009 Kadima-led government avoided dismantling such outposts, fearing that it would drain political capital needed for the larger task of peacemaking with the Palestinians. Moreover, leading peace process critic Avigdor Liberman will remain as foreign minister, though his relative weight in the cabinet and his leverage over Netanyahu on the peace issue may be diminished by the fact that his party (Yisrael Beitenu) is not the most senior coalition partner.
Generally speaking, Kadima's inclusion means better prospects for peacemaking than in the past, giving Netanyahu more room to maneuver on the issue than before. Israel may now be more inclined to make bilateral gestures when it comes to the state-building efforts favored by Palestinian prime minister Salam Fayad, or to try other quiet overtures. To the extent Washington's involvement is at issue, however, the political window for such action between U.S. and Israeli elections will be narrow. Even if President Obama is reelected, this window will not open until November, and if he loses, the window narrows even further, given that a new president would not be inaugurated until January and would need time to organize a new cabinet.
U.S.-ISRAELI RELATIONS
Although the U.S. government will presumably not comment on the domestic affairs of another government, it clearly prefers Israeli coalitions that are not dependent on right-wing parties who favor settlement expansion. Historically, Washington has viewed Israeli opposition parties as pressure points for dealing with prickly Israeli leaders. Despite the president's sometimes-rocky relationship with Netanyahu, the Obama administration has avoided playing this card. In any case, the new unity government eliminates this option, especially since key Kadima members have long blamed U.S. standoffishness for contributing to the party's decline.
CONCLUSION
Israel's new coalition is a marriage of convenience for Netanyahu and Mofaz. If it yields genuine legislative achievements, it will be seen as inspired and politically savvy. But if it serves as a fig leaf for inaction, it will validate Yachimovich's accusation that it is nothing more than a cynical ploy for political survival.
David Makovsky is the Ziegler distinguished fellow and director of the Project on the Middle East Peace Process at The Washington Institute.