Is a Ceasefire Possible in Yemen?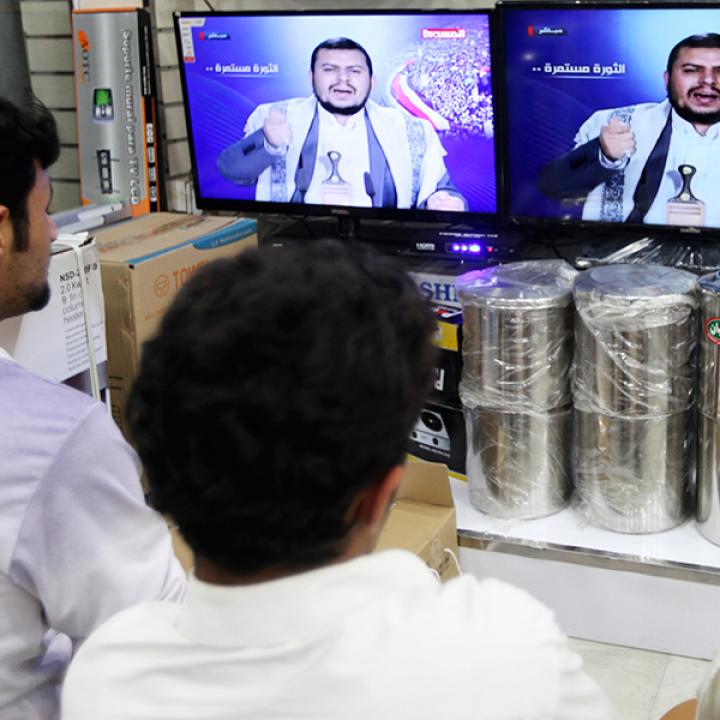 Washington is launching a seemingly determined effort to end the war, but are Iran and its Houthi allies ready to compromise with their enemies in Saudi Arabia and the UAE?
The world listens when both the U.S. secretaries of state and defense speak on a subject like Yemen in a single day. On October 30, Secretary of Defense Jim Mattis gave detailed insights into future U.S. intentions at an address at the U.S. Institute of Peace, followed hours later by a formal statement of U.S. policy issued by the office of Secretary of State Mike Pompeo. The gist of both statements was that the United States is putting in more effort – including more pressure on allies – to get the Houthi rebels to attend the next round of peace talks intended to take place in late November.
It is worth reading Mattis' and Pompeo's statements in full because they contain revealing details that reflect background policy discussions within the U.S. government and with UN Special Envoy to Yemen Martin Griffiths. Some of these discussions were held on the sidelines of the annual Manama Dialogue on October 26-28. Pompeo's statement is more important: a disciplined policy statement that was working its way through the final interagency review process at the same time Mattis was speaking. Pompeo's announcement envisages a multi-stage process, including:
Immediate de-escalation steps. Both Pompeo and Mattis noted that the Houthis would first cease cross-border attacks, with Pompeo specifying "missile and [unmanned aerial vehicle] strikes from Houthi-controlled areas into the Kingdom of Saudi Arabia and the United Arab Emirates." Then, "subsequently, Coalition airstrikes must cease in all populated areas of Yemen," Pompeo added. The aim of these steps is to prevent potential spoiler events that could give either side a pretext to not attend Griffiths' next round of peace talks.
Negotiation over mid-term confidence-building measures. Both Mattis and Pompeo signaled that the November talks would tackle "substantive" issues (in Pompeo's words), including "confidence-building measures...the demilitarization of borders, and the concentration of all large weapons under international observation." (Mattis specified that such weapons included "all the missiles that Iran has provided to the Houthis"). Such issues will not be simple or easy to negotiate, and they are very unlikely to be resolved in one week of talks. Confidence-building measures typically represent a program of work that could fill half a dozen substantive rounds of talks at the very least, each separated by months of preparation. Such a process could easily fill the whole of 2019. Ceasefires of varying effectiveness and scope would run in parallel to the program of talks.
Cessation of hostilities and multi-party national dialogue. The U.S. seems to envisage a deeper set of talks to follow, with Mattis previewing that such talks would "set the conditions for a return to traditional areas in Yemen and a government that allows for this amount of local autonomy that Houthis or that southerners want." Mattis seems to be describing a possible relocation of Houthi forces back to their home provinces, as well as regional autonomy for the north and the south. Pompeo's formal statement mentions none of this, but it is a fair guess that Mattis revealed not only Griffiths' endgame thinking but also an outcome that the U.S. government is working towards.
According to Mattis, who has excellent relations with the leaders of the Gulf states, both Riyadh and Abu Dhabi are on-board with the program. Mattis noted: "I believe that the Saudis and the Emiratis are ready, and, in fact, had the Houthis not walked out of the last effort that Martin Griffiths had going, we would probably be on our way there right now."
It makes a lot of sense that Riyadh, Abu Dhabi and Washington would work together at this moment to reduce tensions around Yemen, an issue that fixates the U.S. Congress. After the U.S. midterm elections on November 6, there is likely to be a swing in Congress that sees majorities in both houses for censuring Saudi Arabia over the crisis surrounding the murder of journalist Jamal Khashoggi and the Yemen war. The Trump administration is trying to get ahead of this curve.
If the Gulf states play ball, the Houthis and Iran will be under an intense spotlight. Mattis did not hold back in criticizing Iran on October 30, noting that Iranian regime figures are "the ones who keep fueling this conflict and they need to knock it off," claiming that the U.S. would "hold them accountable" for further weapons transfers. International sympathy for the Houthis could be reduced if the rebels drop out of a second subsequent round of peace talks, even after Griffiths bends over backward to meet all their logistical demands and preconditions. As a result, the coming peace talks are a test but also a trap if the Houthis misstep again.
What remains to be seen is how any of this improves humanitarian access in Yemen, or raises Yemeni household purchasing power, the latter being the key cause of acute malnutrition witnessed there. Many casual observers of Yemen have been content to view the war as the sole cause of suffering in the country, failing to recognize that Yemen was on the path towards state failure before 2014 and that a ceasefire will leave most of the drivers of humanitarian disaster in place. The absence of any mention of internationalizing the Red Sea coast ports of Hodeida and Saleef suggests that those import locations may continue to be disrupted. Placing the ports under international supervision and demilitarizing their environs, and bringing pressure on the Yemeni government to pay civil servants across the country, are at least as important as the measures discussed by the U.S. thus far, and hopefully they will be added into Washington's program in the near future.
Michael Knights, a senior fellow with The Washington Institute, visited Yemen and the Gulf coalition states four times this year to observe military operations on multiple fronts. This article originally appeared on the Brief website.