Bridging the U.S.-Iraq Business Gap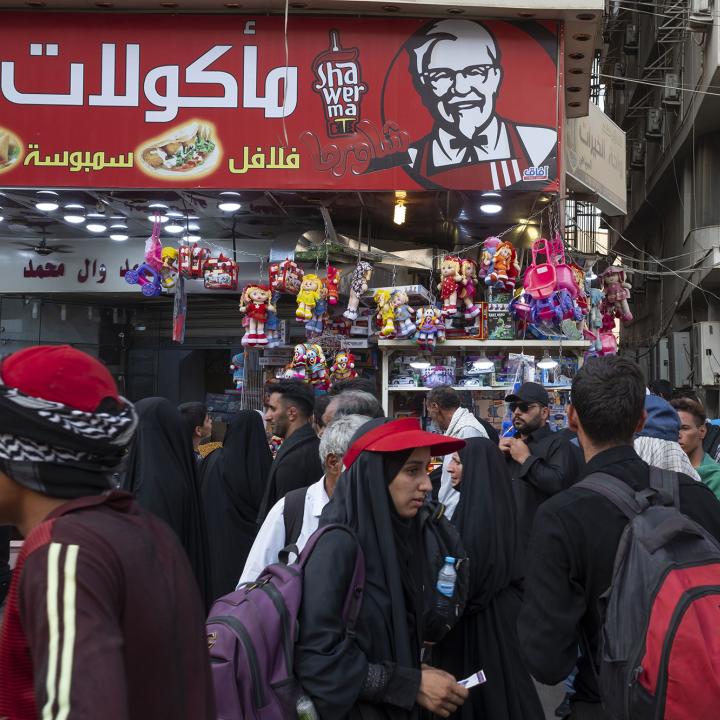 An advisor to Prime Minister Sudani joins a U.S. Commerce Department official and a Middle East regulatory expert to discuss how American companies can expand their access to lucrative but largely untapped markets in Iraq.
On August 14, The Washington Institute held a virtual Policy Forum with Mais Abbas Abousy, Safwan Al-Amin, and Amer Aladhadh. Abousy is a senior attorney with the Commercial Law Development Program at the U.S. Commerce Department's Office of the General Counsel. Al-Amin is an international attorney and public policy advisor who counsels corporations and regional governments on legislative and regulatory matters. Aladhadh is an Iraqi American economist who serves as an advisor to Prime Minister Mohammed Shia al-Sudani and chief executive of the government's Reform Management Cell. The following is a rapporteur's summary of their remarks.
Mais Abbas Abousy
When U.S. companies look at Iraq, they see an unstable post-conflict country with few opportunities outside of security contracts and the oil/gas industry. This perception has blinded them to the small but impactful changes that Baghdad is making to further liberalize the economy, such as ratifying the New York Convention on foreign arbitral awards and the TIR Convention on international road transport. Iraq is showing the world that it is open for business.
U.S. companies have cited widespread corruption as a deterrent as well. Yet many of them are willing to do business with Egypt, a jurisdiction with similar concerns on that front. For instance, Iraq ranked 157th in the 2022 Corruption Perceptions Index, but Egypt was not far ahead at 130th, a negligible difference. American firms risk losing a foothold in the Iraqi market if real steps are not taken to change their perceptions of the local business environment.
Despite this reticence among individual companies, overall trade between the United States and Iraq is growing, which is a good sign of increased trust. If this growth continues, it could lead to better bilateral cooperation and engagement and open the door to manufacturing, distribution, and infrastructure. Investment is increasing as well—the U.S. International Development Finance Corporation has current projects in northern Iraq and signed a memorandum of understanding in 2020 to invest up to $1 billion in the country.  
These incremental changes indicate a different Iraq and should not be overlooked. U.S. companies are missing out on opportunities to help build the Iraqi economy.
Safwan Al-Amin
Recent changes in Iraqi law have made conditions for foreign direct investment undesirable at best, and openly unfriendly at worst. For example, the Company Law now limits foreign ownership of Iraqi LLCs and joint stock companies to 49 percent, while the Commercial Agency Law mandates the appointment of an Iraqi agent if a firm wants to import goods into the country.
U.S. companies are further discouraged by the perception that Iraq has weak rule of law with regard to commercial dealings. Specifically, they worry about the government's unclear regulations, its questionable capacity to enforce contracts, and its tendency to change laws at a moment's notice and apply them arbitrarily. Although courts tend to rule against the government in cases involving canceled contracts, the overall perception is that rule of law is lacking.
Businesses are also deterred by U.S. regulations such as the Foreign Corrupt Practices Act (FCPA), which creates higher costs for American firms. The potential for a costly internal investigation and possible Justice Department action is often enough to stop U.S. corporations from considering investments in Iraq. Yet Washington will (rightfully) not make FCPA exceptions for companies aiming to do business in Iraq.
In contrast, Iraq's economy has seen much more involvement from Persian Gulf countries, where governments provide direct support for companies seeking such business and do not have restrictions comparable to the FCPA. This growth is further bolstered by other Gulf advantages, including Arab League treaties that protect investments, greater familiarity with Iraq's business culture, lack of language barriers, deeper historical relationships, and ease of transport due to their proximity.
Ultimately, perception is the main factor stopping U.S. companies from doing business in Iraq. Ratification of the New York Convention was a positive development, but the reality is that Baghdad was forced to take that step in order to get access to the COVID-19 vaccine. This reflects poorly on the government's attitude toward international agreements. To convince the United States to invest more, Iraq's business environment will need a new image.
Amer Aladhadh
Twenty years after the 2003 war, the Iraqi government is implementing laws and regulations to open the economy. Prime Minister Sudani has made it his goal to build a more prosperous Iraq and is taking steps to further liberalize the economy, foster a positive business environment, and eradicate the corruption that creates barriers to entry for foreign business and investment.
Toward that end, he has set out to change current laws that have closed off the economy. Among his proposals is a measure that would once again allow foreigners to own a majority share of businesses in Iraq. Additionally, he is working on a public-private partnership law that would protect contracts from changing by ensuring that the regulations applicable at the time of their signing are applied to any related cases in perpetuity. The government is also heavily incentivizing investment in the industrial sector, with investors receiving up to ten years of advantages such as tax relief, fewer restrictions, and the right to own the land in question.
At the same time, Prime Minister Sudani is systematically modernizing the government. For instance, he appointed a C-level Iraqi American executive from Microsoft to build the foundations necessary for e-governance. Since this appointment was made, complaints submitted through the Integrity Commission have become fully electronic. These changes are by no means rapid, but they are meaningful.
Regarding corruption, the prime minister has recently relieved around sixty director-generals (and counting) of their responsibilities due to performance issues that may or may not be related to corruption. This move cannot be understated because these officials serve in an executive capacity and have wide purview on business dealings. The government's willingness to systematically investigate them should signal to U.S. businesses that Iraq is serious about rooting out corruption.
Yet the transformation and modernization of Iraq's economy will take time. This process is ultimately in the hands of parliament, though the future looks bright. The steps being taken by the current government indicate that Iraq is ready to take another step into the global economy.
This summary was prepared by Ana Estrada. The Policy Forum series is made possible through the generosity of the Florence and Robert Kaufman Family.