Border Fight Could Shift Saudi Arabia's Yemen War Calculus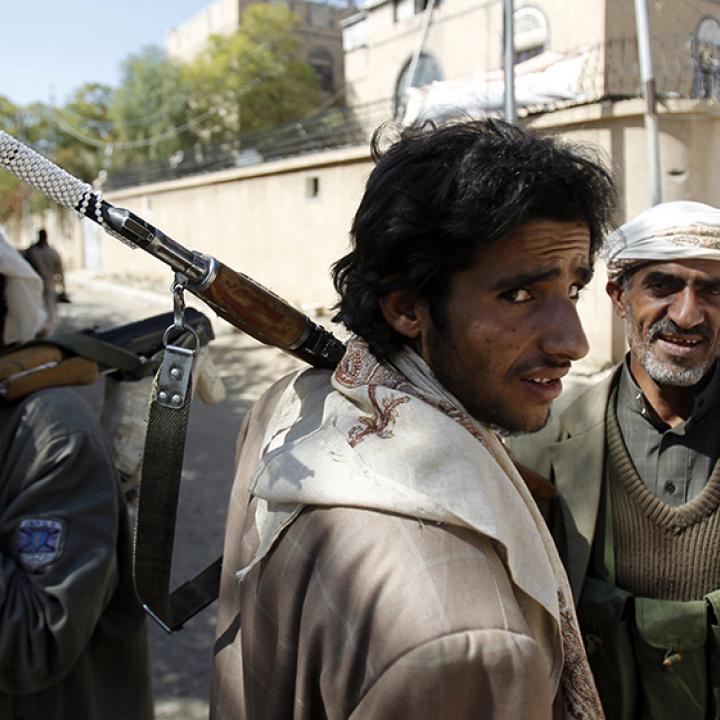 The mounting risk of a mass-casualty missile strike in southern Saudi Arabia should intensify U.S. efforts to deescalate the war.
On December 3, cross-border shelling in Jizan wounded a Saudi woman, her child, and a Yemeni expatriate -- one of the latest reminders of the hundreds of civilian and military casualties that have occurred on the kingdom's southwestern frontier over the past year-and-a-half. This provides some insight into why Riyadh is so determined to break Houthi military and political resistance in Yemen. Houthi rebels and Yemeni army elements loyal to former president Ali Abdullah Saleh have launched missiles and rockets into Saudi Arabia and mounted cross-border raids in retaliation against Saudi airstrikes on Houthi military strongholds and civilian areas. The border represents an enduring flashpoint that the United States and other international actors need to factor into their diplomatic and military positions on resolving the Yemen war.
CROSS-BORDER ATTACKS
The geography of the Saudi-Yemen border makes it vulnerable to Houthi-led attacks on Jizan, Asir, and Najran provinces. The Houthi homeland of Saada province is a salient around which the Saudi border is wrapped. Jizan province is a finger of Saudi territory located between the Yemeni border and the Red Sea, placing most of the governorate (including Jizan city and port, a new 400,000-barrel-per-day refinery, and a new industrial zone) within reach of Houthi short-range ballistic missiles and long-range tactical rockets. The city of Najran is just twenty kilometers from the border, making it vulnerable to even shorter-range Houthi tactical weapons such as the BM-27 Uragan, a 220-millimeter multi-tube rocket artillery system.
Since April 2015, the Houthis and their allies have undertaken an increasingly intense and successful border war using a variety of methods:
Cross-border raids. The Houthis have mounted a highly effective campaign of armed incursions into Saudi Arabia. In addition to ambushing military convoys and overrunning small border forts, they have seized and demolished large facilities belonging to the Saudi Border Guards and occupied sections of depopulated towns such as al-Raboah in southeastern Asir. Saudi officials have stated that they will not release military death tallies until after the war, but anecdotal estimates suggest the current figure is at least several hundred.
Short-range rocket attacks. Houthi multi-tube rocket salvoes against border towns and Najran city are the most disconcerting threat to civilians because they cannot be intercepted by Saudi Patriot missile-defense batteries. According to Saudi officials, Najran city alone has been hit by over ten thousand rocket artillery rounds since the war began.
Medium-range missile attacks. Saleh loyalist forces have launched at least eighteen ballistic missiles into Saudi airspace, mainly Scud C variants (the North Korean Hwasong-6) with a range of 500 kilometers. On May 26, the Houthis announced the development of a 75-kilometer tactical rocket system called Piercing Star-2 (al-Najim al-Thaqib), similar to the M-75 fielded by Hamas in the Gaza Strip. This weapon seems to have been introduced specifically to allow the Houthis and allied elements to strike targets like Jizan city and port without expending their diminishing stock of longer-range missiles. Although rebel communiques identify Saudi airbases as the targets of their missile strikes, the weapons generally fall in civilian areas. And while Patriot batteries sold to the kingdom by the United States have intercepted many missiles, debris from the interceptions sometimes falls on homes, commercial areas, and other populated portions of the southwest. All civilian airports in Jizan, Asir, and Najran have been closed since July 2015 due to the risk of missile strikes.
Long-range missile attacks. In recent months, missiles have been aimed further north up the Red Sea coast, including toward Taif and Jeddah, which lie on either side of Mecca. Since September, pro-Saleh forces have publicized their use of an extended-range Scud C variant called the Burkan-1, with a claimed reach of 800 kilometers -- long enough to hit all three of the above cities.
DOMESTIC IMPACT
The war's impact in southern Saudi Arabia is hardly comparable to the human catastrophe seen in Yemen. Yet the cross-border attacks have significantly altered life in local Saudi cities and villages. The frequent sounds of gunfire and military planes are a reminder of the very real threat of violence. According to Saudi authorities, more than five hundred civilians have been killed in the southwestern border areas since March 2015. In Najran, hundreds of homes, stores, and cars have been damaged, and schools have been mostly closed, with students sometimes allowed to return to select schools in shifts (a plan called "twinning" is in place whereby several schools hold classes in one building during different time blocks in order to decrease the risk and concentrate civil defense capabilities).
The war has also brought new social tensions to Najran. Some of the hundreds of Yemeni mercenaries hired by Riyadh to help protect the border area often walk around the city brandishing their weapons. Najran is a proud Ismaili Shiite-majority city, while the mercenaries are Sunnis from Aden who decorate their cars with jihadist phrases like "Sunnah Lions." To Ismailis, such displays are both offensive and threatening. Tensions escalated in early November, when a Yemeni fighter visited a soldier from his platoon in a Najran hospital and told staff, "There are some [Ismailis] in this hospital. If I were you, I would finish them"; he did not know that the staff members in question were themselves Ismaili. In response, the government encouraged tribal sheikhs to resolve the situation.
Thus far, residents of Najran have openly supported Riyadh's war. When Saudi reinforcements were initially deployed to the area, many tribes welcomed them and offered them camels and sheep, a traditional show of support. At the same time, tensions with local Ismailis have been elevated for years; these residents have long suffered economic, social, and religious discrimination at the hands of the kingdom's Sunni authorities, and some say they are perceived as traitors until they "prove" their loyalty. Thus, their true sentiment about the war effort is difficult to gauge because they face the threat of punitive action if they speak out against it.
Meanwhile, thousands of residents have been evacuated from border towns across the southwest to create a buffer zone. This represents a continuation of tactics employed during the 2009-2010 border conflict, when several hundred villages were evacuated and many demolished to prevent empty houses from becoming safe havens for infiltrators. In April 2015, the Saudi Border Guards reported that ninety-six additional villages were being assessed for demolition. In some cases, evacuations have been forced upon residents, or they have simply refused to leave; in Jizan province, for example, some locals argue that they are safe due to nonaggression agreements with Yemenis on the other side of the border, bolstered by a strong history of intermarriage. Another point of contention is that when residents do evacuate homes and farmland, compensation is provided unevenly. Saudi citizens have been arrested and imprisoned for speaking out against state evacuation practices.
IMPLICATIONS FOR U.S. POLICY
Even beyond the devastating civilian suffering in Yemen, the United States has a major strategic interest in ending the war. The deaths and damage being caused in southwestern Saudi Arabia, which are troubling in their own right, could distort Riyadh's calculus and drive the kingdom to extend or intensify the war. There is also a very real risk of a dangerous international "collateral damage" incident -- say, a long-range Houthi missile hitting a major airport in Jeddah or elsewhere.
Accordingly, the United States should reassure Riyadh by tightening the arms embargo on the Houthis. This could help prevent resupply of ballistic missiles and tactical rockets, particularly the Piercing Star-2 system that seems to have entered Houthi service with Iranian assistance. Moreover, Washington could augment its ongoing support to vital Patriot missile defenses with further assistance on other aspects of border security and civil defense. To help the Saudis perform timely and accurate long-range counter-battery fire on Houthi missile and rocket launchers, Washington could deploy select U.S.-crewed assets (e.g., the High Mobility Artillery Rocket System, or HIMARS) to key cities such as Jeddah, which is home to a large U.S. consulate and numerous American civilians. Bolstering U.S. support in this manner could generate enough goodwill to convince the Saudi leadership to deescalate their air campaign against the Houthi heartland in Saada province -- a potentially crucial step toward reestablishing limits on targeting civilians and resuming the internationally backed peace talks.
Lori Plotkin Boghardt is the Barbara Kay Family Fellow at The Washington Institute. Michael Knights is a Lafer Fellow with the Institute.