Biden's Iran Dilemma
Also published in
Institute for National Security Studies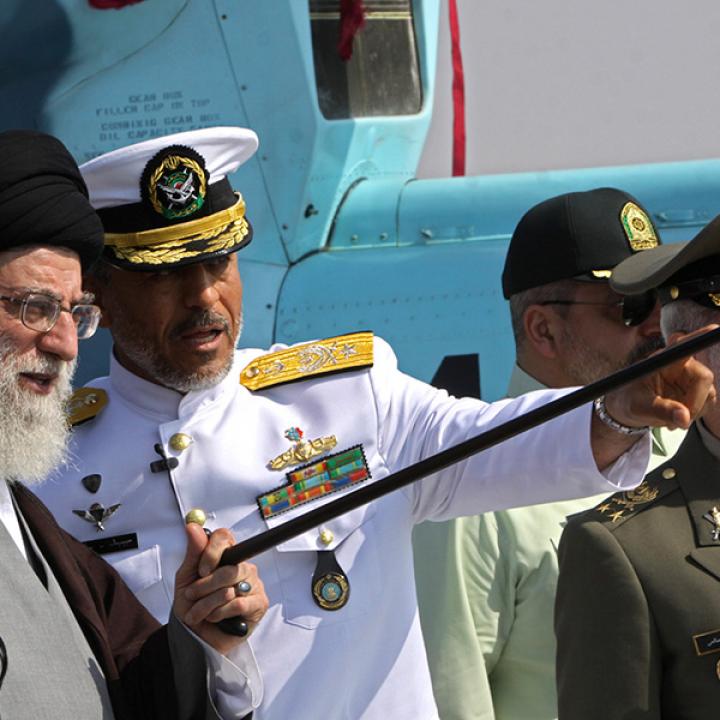 Tehran's nuclear and regional activities are part of a single strategy that aims to paralyze stronger foes, so Washington's policies for responding to each challenge should likewise overlap considerably.
Ever since US President Donald Trump withdrew from the Iran nuclear agreement in May 2018, it has been assumed that American policy toward Tehran hinged on the outcome of the 2020 US presidential elections. A second Trump term, the conventional wisdom held, would mean the continuation of his policy of "maximum pressure" on Iran, whereas the election of former vice president Joe Biden would mean its end, and the US' return to the 2015 nuclear deal, the Joint Comprehensive Plan of Action (JCPOA).
As an assessment of both men's intentions, this analysis is correct—had Trump won reelection, it is all but certain that he would have hewed to his existing course on Iran. And President-elect Biden has been clear about his willingness to return to the JCPOA, hazarding a public offer of "compliance for compliance" to Iran's leaders in an op-ed during the presidential campaign.
Yet as powerful as the occupant of the Oval Office may be, the US president's intent is only one factor influencing the course of Iranian-American relations. And as different as their professed approaches may be, Trump and Biden share an objective—the negotiation of a stronger deal to supersede the JCPOA. In fact, they face the same obstacles to achieving it—an Iranian leadership that cannot give up its hostility to the United States and that has proven resistant to both disincentives and incentives to change its policies, regional partners who are wary of any US-Iran engagement, and a thus-far insufficient domestic consensus to sustain a diplomatic accord with Tehran.
It will now fall to President-elect Biden to do what President Trump could not in the four years allotted him—to devise a strategy to overcome these obstacles, win support from a sufficiently broad domestic and international coalition, and deliver a sustainable policy victory. What's more, he must do so while keeping Iran in its proper place according to US national-security priorities—important to be sure, but not nearly as critical as confronting other challenges, such as strategic competition from the likes of Russia and China. Success will be found neither in doubling down on pressure nor in "returning" to diplomacy, but in wielding those policy tools in concert in service of realistic goals, understanding that there will be no quick or easy exit from the task of deterring Tehran or from American commitments in the Middle East.
Seeing the Problem in Full but in Proportion
Despite the heavy US focus on it as a national security challenge, Iran is a relatively weak country in objective terms. At its pre-"maximum pressure" apex in 2017, Iran's economy paled in comparison to those of Saudi Arabia and Turkey, and was about equivalent to that of Sweden—a country whose population is less than one-eighth that of Iran. It is not inconceivable that Iran's gross domestic product will be surpassed by those of its far-smaller neighbors, Israel and the United Arab Emirates (UAE), in the coming decades. Likewise, Iran's military power is relatively meager—while its military manpower is large, concomitant with the size of its population, its military technology is badly outdated. And while Iran's missile forces and asymmetric capabilities are much vaunted, they are also likely overhyped—Iran has a demonstrated ability to mount terror attacks and sow chaos, but has failed to win meaningful victories in Syria or elsewhere, or even to defend its own territory.
That Iran does not pose an existential threat to the US, or even a meaningful conventional military challenge, does not, however, mean that it poses no threat at all or that it is easily managed. Iran's nuclear weapons aspirations—if decisively pursued and realized—would rend the Middle East's strategic landscape and pose a grave danger to US allies and eventually the US itself. Its policies toward Israel and in Lebanon, Syria, Iraq, Afghanistan, and elsewhere work at odds with US plans and interests, and indeed are designed to do so. Moreover, these apparently disparate threats are actually tied inextricably together. Iran's nuclear pursuits are not separate from but rather part and parcel of a broader strategy of cultivating asymmetric and strategic forms of power in order to hold stronger adversaries at bay. And its anti-Americanism is a key part of its ruling regime's ideology and identity, which it likely is not capable of yielding absent a more thoroughgoing domestic change.
Together, these two observations encapsulate the particular challenge Iran poses—it is a real threat, but also potentially a real distraction from the higher priorities that Biden should and undoubtedly will have to manage as he enters office. Iran cannot be co-opted or ignored, but neither should it be permitted to stand in the way of a reorientation of American national security strategy or a right-sizing of US strategy in the Middle East.
No Silver Bullets
It is unsurprising that, faced with this challenge, past US administrations have reached for silver bullets—policies that promised high returns at little cost to Washington. The JCPOA represented an attempt to resolve the nuclear issue alone, both as a means to address the most serious threat Iran posed to American interests as well as to diffuse US-Iran tensions and possibly open the door to a broader rapprochement. Yet the deal suffered from two key shortcomings: first, Iran insisted on retaining what amounted to a nuclear weapons option by keeping the key elements of its program.; and second, because Iran was not required to—and had no intention to—back off its other challenges to US interests or otherwise end its hostility toward the US, Washington retained the incentive to wield sanctions against it. The result was a short-lived deal which not only failed to grapple with the linkages between Iran's nuclear activities and its other policies—as well as between the US responses to both—but did not put to rest concerns over its nuclear program itself.
At the other end of the policy spectrum, Trump sought to bring economic pressure to bear on Iran—"maximum pressure," in the words of his administration—to compel it to negotiate a comprehensive accord that would more significantly curtail its nuclear activities as well as address other Iranian policies objectionable to Washington. However, the administration overestimated what could be accomplished by economic coercion alone. The casual logic of coercion is compelling—it makes sense that a weak state should yield when threatened with ruin by a vastly more powerful adversary. Yet experience demonstrates that such attempts at coercion often fail—weak states facing strong foes tend to see their conflict in existential terms and view concessions, not pressure, as the greater risk to regime survival. The Trump administration managed to bring other forms of pressure—military as well as diplomatic, in the form of the 2020 "Abraham Accords"—to bear only late in its single term, and never offered a diplomatic proposal that garnered the sort of allied support that might have cornered Tehran.
The Way Forward
For President-elect Biden, successful policy on Iran must start with clear and realistic objectives, and a commitment of the means to achieve them. The primary threat that Iran poses to the US is nuclear, but as noted above it is certainly not the only one. Iran's nuclear activities and its regional policies are parts of a single strategy that aims to turn Iranian weakness into strength and paralyze stronger foes; likewise, the US policy options for responding to each overlap considerably.
While this might seem to argue for addressing all of the threats Iran poses to the US in a single deal, such a policy would be costly and ultimately unsuccessful. Even attempting to negotiate a "grand bargain" with Iran would risk inadvertently bolstering Iranian prestige by treating it as a peer of the US in addressing regional disputes. And for that price, the US would likely receive little. Asking Iran to forsake not just its nuclear and missile programs but its support for proxies and other regional activities—or for that matter to relinquish its hostility toward the US—is to ask it to abandon wholesale its national security strategy and revolutionary ideology, and it is difficult to imagine that there are any incentives that would persuade the current leadership in Tehran to do so.
Fortunately, the US has myriad policy tools at its disposal beyond bilateral talks with Iran, which, when wielded in concert, hold greater promise than any attempt at a grand bargain would. Addressing Iran's regional activities should begin with the observation that more worrisome than Tehran's strengths are its neighbors' weaknesses: as much as it seeks to destabilize its neighbors across the Gulf, Iran enjoys greater success intervening in states and territories that are already in tumult, such as Syria, Iraq, and Yemen. Countering Iran's regional adventurism may thus be most effectively accomplished by preventing the emergence of new conflicts, by strengthening the resilience of US allies in the face of Iran's asymmetric capabilities, and by continuing to strengthen the bonds among US allies to help them act in concert against mutual threats. For the Biden administration, such an approach would serve a dual purpose, deterring Iran while better equipping US partners to address regional problems—including by engaging confidently in talks with Tehran, should they so choose—with less direct American intervention.
To strengthen the constraints on Iran's nuclear and missile program—important not only substantively but also in order to ensure bipartisan support and thus the long-term survival of any accord—the US will need to drive a harder but not impossible bargain. This will require not just the openness to diplomacy and compromise that Biden has already shown, but a willingness to take the steps needed to worsen Iran's alternatives to a new negotiated deal—including the perhaps politically unpalatable step of keeping up much of the economic pressure imposed by the Trump administration. By marrying sanctions to a diplomatic proposal that garners allied support, Biden may ironically fulfill his predecessor's hope that US leverage could deliver a stronger nuclear deal. Relieving that pressure at the outset, however, would leave Iran with little incentive to engage in further talks.
The Biden administration should also approach the nuclear challenge from the outside-in, pairing its approaches to Iran and other would-be proliferators with an effort to strengthen the global nonproliferation regime, denying both Tehran and others the benefit of what is currently a permissive environment to advance their nuclear efforts while remaining in compliance with the Nonproliferation Treaty and associated agreements.
The past eight years demonstrate that US policy toward Iran must also account for the role of coalitions, both domestic and international. The new administration will find itself negotiating Iran policy not just with the Iranians themselves, but—implicitly, at least—with partners in the Middle East, Europe, and elsewhere, as well as with domestic actors such as Congress. President Barack Obama's Iran policy was undone by its lack of support in Congress and in the Middle East; President Trump's was undermined by his lack of support outside those constituencies, despite the pressure the US was able to bring to bear unilaterally.
To avoid his predecessors' travails, President-elect Biden will need to identify a "minimum sufficient coalition" of domestic and international parties whose support is necessary for his policy to succeed—a grouping which must undoubtedly include at least some critics of the JCPOA from his own Democratic party and the Republican party. Neglecting these critics—or states like Israel and the UAE, with the will and capacity to act independently—may mean easier dealings with Tehran, but surely will not mean more successful or sustainable policy. While this task may seem daunting, there is in fact more convergence than divergence between Republicans and Democrats, and between the US and its allies, on Iran—all broadly agree on the need both for a stronger nuclear deal and for a firmer response to Iran's regional policies.
Too often, US administrations have aimed to "solve" American problems with Iran, reaching for silver bullets they hope will deliver transformative outcomes. A better approach may be to manage these problems by deterring and containing Iran, preventing worst-case outcomes while designing a broader Middle East policy consistent with a shift in focus to strategic competition and aiming to prevent Iran from interfering with its execution. Such a policy will necessarily be multilateral, comprehensive, and sustainable, and holds the greatest chance both to stymie Iranian alternatives to compromise and break down barriers within Washington's own domestic and international coalition.
Michael Singh is the Lane-Swig Senior Fellow and managing director at The Washington Institute. This article was originally published in the Institute for National Security Studies monograph Iran and the International Arena: Challenges and Opportunities.