From Bahrain to Jerusalem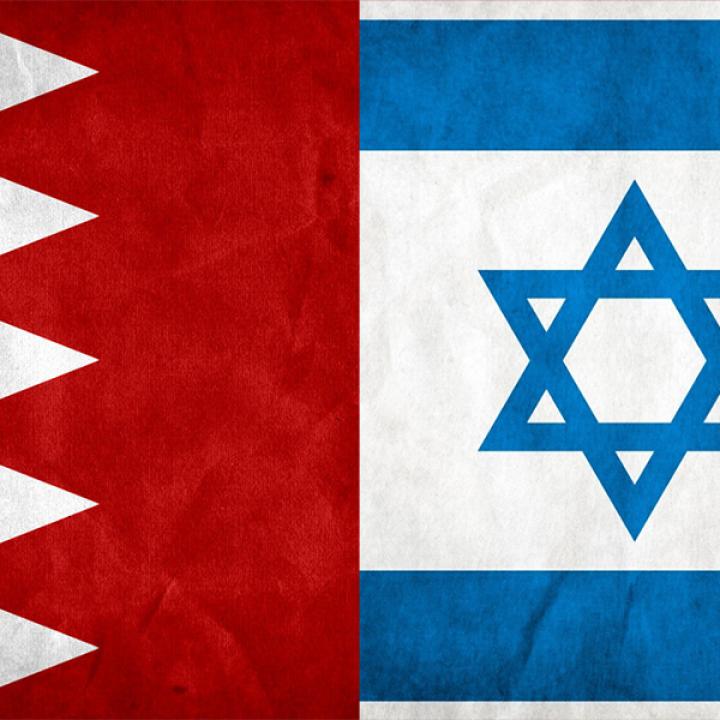 A Bahraini delegation's trip to Israel is the latest sign of burgeoning Gulf outreach to the Jewish state.
Bahrain appears to have overtaken Saudi Arabia and the United Arab Emirates in the race to establish formal relations with Israel. On Dec. 9, a 23-person delegation from the small Gulf kingdom arrived on a four-day visit to Israel, including Jerusalem. The group from "This Is Bahrain" was making its first trip to the country to show off Bahrain's claim of tolerance of all faiths, and it is dedicated to supporting King Hamad bin Isa al-Khalifa's commitment to promoting religious freedom and coexistence across the globe, though it does not appear to have an official status. Bahrain does not have official ties with Israel, though King Hamad appears to believe that religious contact can be distinguished from open diplomatic contacts, a questionable though perhaps admirable distinction in terms of the Middle East.
It was, those of you who follow foreign news may have noticed, one helluva week for such a delegation to visit Jerusalem. U.S. President Donald Trump's Dec. 6 recognition of Jerusalem as the capital of Israel prompted official uproar across the Arab world, with Bahrain's Foreign Ministry saying that the decision "threatens the peace process in the Middle East and impedes all initiatives and negotiations to reach the hoped final solution." Even assuming it was an unintentional mistake to use the infelicitous phrase "final solution," this suggests the Foreign Ministry was not in the loop. King Hamad, however, approved the trip himself, according to insiders.
Nevertheless, the trip also comes at a moment when Gulf states are bolstering their security and intelligence relationships with Israel because of a shared interest in confronting what they view as an Iranian threat. It is worth watching Riyadh and Abu Dhabi for their reactions to the delegation's visit to see if Bahrain is leading the way or just trying to punch above its weight.
Both the Saudis and Emiratis have also made public overtures to the Israelis in recent years, albeit much more tentatively. Saudi Arabia has made an open relationship contingent on a peace deal with the Palestinians, but its flexibility on this may be growing. Prince Turki al-Faisal, the former Saudi intelligence chief, has refashioned himself in retirement as a public interlocutor with former Israeli officials, a hobby that would need approval from Riyadh. Saudi Crown Prince Mohammed bin Salman has also been reported—certainly mischievously and probably inaccurately—as having visited Israel, though it is a sign of the changing times that the notion cannot be ruled out as simply absurd. The UAE already hosts an Israeli diplomatic mission accredited to the Abu Dhabi-based International Renewable Energy Agency—but if Emirati officials have visited Israel, they have done so discreetly.
The Bahraini delegation's visit came to light on Dec. 9, when Israel's Channel 2 television station captured the "This Is Bahrain" delegation wandering around the shops in the Christian Quarter of the Old City, which is part of East Jerusalem. It was being led by the organization's president, Betsy Mathieson, originally from Scotland but now a Bahraini citizen. Others, most wearing clerical garb of one faith or another, included a Shiite imam regarded by opposition activists as pro-government. The group also met with Communications Minister Ayoub Kara, the only Arab member of Prime Minister Benjamin Netanyahu's Cabinet.
Notably absent from the delegation was anyone from Bahrain's tiny Jewish community, usually estimated at less than 40 strong and often held up by King Hamad as an example of his nation's tolerance. Uniquely among Gulf Arab states, Bahrain has a synagogue, which was rebuilt after being destroyed in 1947 in an anti-Semitic riot. I was taken to see it during a visit to Bahrain last January: It is a small, anonymous building at an intersection in the old souk area, now surrounded by high-rise buildings. The locals in the alleys around gave me strange, though not hostile, looks as we tried to find it. Religious services are now held in the private homes of the community, so the synagogue was rather sparse, featuring a few tables and chairs and a large nine-branched candelabra wrapped in plastic.
The candelabra was a gift given by a group of visiting European rabbis, who controversially had been shown dancing with Muslim Bahrainis to celebrate Hanukkah a month earlier. Cellphone video of the dancing had gone viral, prompting Sunni extremists in Bahrain to stage a ritual brushing and washing of the entrance to the Manama souk to expunge any trace of the rabbis' visit. Photos of that act of protest appeared on anti-government websites.
The absence of a Jewish member of the delegation to Jerusalem is curious—it is not clear whether the Bahraini Jewish community knew of the plan to visit Israel. The best-known member of the community is Houda Nonoo, who served as Bahrain's ambassador in Washington for five years until 2013 and maintains contacts with Jewish (rather than Israeli) groups. A delegation from the American Jewish Committee visits Bahrain annually, most recently in October, when they met the interior minister.
American Jews, however, were apparently involved in the planning of the trip. The most significant is Rabbi Marvin Hier of the Simon Wiesenthal Center in Los Angeles, who delivered a benediction at Trump's inauguration in January. Rabbi Hier hosted King Hamad's 30-year-old son, Sheikh Nasser bin Hamad al-Khalifa, at a ceremony at the Museum of Tolerance in Los Angeles in September. Nasser spoke at the event, which was noteworthy for the playing of not only the Bahraini and U.S. national anthems by the Bahrain Police Band, but also a spirited singing in Hebrew of the Israeli national anthem, "Hatikvah."
The Egypt Today website reported on Dec. 10 that Palestinian news agencies were saying the Bahrain delegation had been refused entry to Al-Aqsa Mosque, the third-holiest site in Islam, although this incident is disputed. The visit could provoke a backlash in Bahrain itself, where on Dec. 6 the U.S. embassy issued a security message warning U.S. citizens that the announcement about Jerusalem as Israel's capital "may spark protests, some of which have the potential to become violent."
Since news of the delegation's visit broke, reports from Israel have claimed that Kara intends to visit Bahrain in the coming months. "There will be more surprises in the coming year. We see great interest among the Gulf states in developing connections with Israel," he said in an interview.
Although close to Netanyahu, Kara is not necessarily the most reliable indicator of the state of Gulf-Israeli relations, which are the domain of Israel's military, intelligence, and diplomatic establishment. There may also be a tension between those factions' desire to quietly maintain and strengthen the existing ties, and the politicians' desire for a public breakthrough. It may be that the latter group is going to get its wish: Bahrain's King Hamad is usually not regarded as the political equal of Saudi Crown Prince Mohammed bin Salman or his UAE alter ego, Crown Prince Mohammed bin Zayed, but this Jerusalem visit suggests Israel's relationship with Gulf countries can't remain in the shadows forever.
Simon Henderson is the Baker Fellow and director of the Gulf and Energy Policy Program at The Washington Institute.