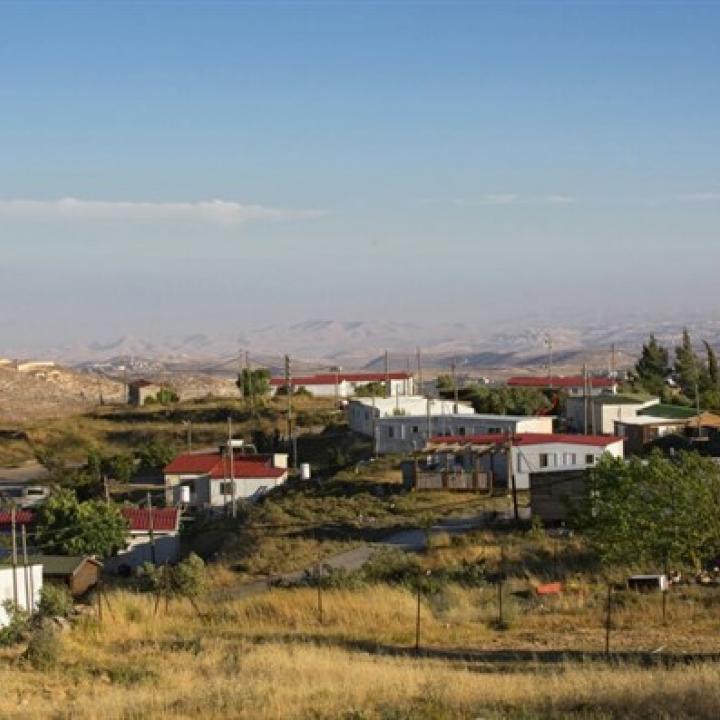 Although Israeli forces demonstrated that they can effectively evacuate an illegal outpost, the settler movement seems to have won the day by securing permission for new construction elsewhere in the West Bank.
Over the past two weeks, Israeli police and military forces finally began evacuating and demolishing the Amona settler outpost in the West Bank, twenty years after the original Supreme Court order mandating its removal. Although police and protestors had some violent interactions at the site, the government's performance compares favorably with the limited but heavily contested demolitions conducted in Amona in 2006, and with related police operations last December.
Yet Israel's concurrent concessions to the settler movement ensure that the Amona affair will actually increase the number of settlers living in the West Bank. And while the government has upheld the rule of law, the settler movement has imposed a high material price on future evacuations.
POLITICAL CONTEXT
The Amona outpost near Ofra in the West Bank has been contested under Israeli law since its construction in 1996. Israel's Supreme Court has repeatedly ordered its full or partial demolition, resulting in the worst-ever violence between settler activists and state forces in 2006. In 2014, the court ruled that Amona needed to be demolished entirely and its roughly 300 residents evacuated by the end of 2016. Repeated delays on that order culminated in a standoff between state forces and activists in December. The parties resolved the confrontation by agreeing to relocate the outpost to another part of the Amona hilltop, and the court granted a last-minute forty-five-day extension to allow this construction.
Partly in response to Israel's handling of Amona, the Obama administration permitted the passage of an anti-settlement resolution at the UN Security Council, and Secretary of State John Kerry criticized West Bank settlement activities in a speech on U.S. guidelines for a peace deal with the Palestinians. Subsequently, the compromise deal for relocating Amona's residents fell apart due to Palestinian legal claims on the land chosen for new housing. This triggered the current full evacuation from Amona, though most residents were simply moved to temporary guest housing in Ofra, a nearby settlement deep in the West Bank.
A LESS VIOLENT EVACUATION
Israel security forces evacuated Amona more effectively than in previous operations there. Authorities had a prepared plan for clearing the site that drew on lessons learned in December.
First, Israel deployed some 3,000 soldiers and police to quickly restrict access to Amona -- a crucial step in preventing outside activists from joining the confrontation. During past outpost removals, hardline youths have shown up and escalated the violence more than actual residents. Around 4,000 such outsiders were present in 2006, and nearly 1,000 showed up in December. In the latter case, however, Israeli forces tracked troublesome activists at Amona and threatened them with detention if they returned. This time there were only 400. These outside extremists again offered the strongest resistance, barricading themselves in the local synagogue and chaining themselves to building foundations, but such tactics were more easily countered given the lower number of extremists.
Second, Israeli forces paid more attention to the optics of the evacuation. Images from the 2006 demolition featured hundreds of Israeli police in full riot gear flanked by horseback officers confronting crowds of settlers. In some quarters, this asymmetric clash increased sympathy for the seemingly victimized and oppressed activists; it also appeared to increase the protestors' resolve and willingness to escalate for the cameras. This time, police went door to door in sweatshirts and baseball caps, negotiating and pleading with residents and outsiders to leave. Military units did not interact with protestors, instead guarding the perimeter. Authorities carried non-compliers out by hand and did not call in officers with riot gear unless protestors turned violent. Although this approach left officers more vulnerable, it likely decreased the violence; security forces suffered fewer than five injuries from activists, versus a couple hundred in 2006.
Third, authorities have so far prevented pro-settler extremists from conducting retaliatory attacks against Palestinians or state forces, perhaps the most dangerous potential outcomes of such evacuations. Good intelligence and security work have helped in this regard. Yet Israeli forces will have to remain vigilant against attacks on Palestinians in the coming weeks, since favorable political events will not necessarily dissuade attackers.
A NET INCREASE IN SETTLERS
In the past two weeks, Prime Minister Binyamin Netanyahu and his coalition have announced significant increases in settlement construction and passed a law that likely quelled opposition to Amona's evacuation. The low numbers of protestors and relatively muted outrage over the government's abrogation of the compromise deal and demolition of the outpost cannot be understood without appreciating this context.
Since Obama left office, Netanyahu has stated that around 5,500 new housing units will be built across the West Bank, and that a new settlement will be created for the first time in twenty years to house Amona's former residents. Building a "new" settlement at an unannounced location is only a symbolic distinction, since major new neighborhoods have been added onto existing settlements on multiple occasions. And the amount of new construction is not as alarming as it may seem initially. The slim majority of new housing units will be built in settlements that either lie within the 1.9 percent of the West Bank close to the 1967 ceasefire lines or can access Israel proper without cutting off Palestinian villages. At the same time, some 2,019 units will be in more contested areas lying inside the Israeli security barrier but between Palestinian villages and the 1967 lines -- a disproportionately high number compared to the current settler population distribution. Another 356 new units will be outside the barrier, which will translate to a net increase in settlers there even after Amona's evacuation. Yet pro-settler hardliners may have preferred even more construction outside the barrier.
Separately, pro-settler members of Netanyahu's coalition have passed a constitutionally questionable measure to legalize outposts built on private Palestinian land, in part to correct the "wrong" done by emptying Amona. Netanyahu opposed this law and warned of potential international backlash. He seemingly did not fear the same reaction when issuing previous announcements of new construction, perhaps because he had already paid a price with the Obama administration. Yet Trump administration officials have apparently signaled opposition to the scope of current construction, and such sentiment could slow future expansion by indicating that Israel will not have a blank check on settlements.
For the time being, though, the latest moves in Israel helped mollify hardliners and decrease turnout at Amona. Community leaders and rabbis still protested the evacuation nonviolently, but between effective policing, political actions, and the resumption of school, many young activists lacked the means or will to show up and engage in violence.
A TRICKY BALANCE
In the end, Amona's evacuation may wind up helping settlement proponents more than those who wish to restrict construction in furtherance of a two-state solution. Israel evacuated one outpost with forty families, but thousands more will now be able to live in newly built West Bank homes. The status of these and other settlers may be challenged in court as well, but it is difficult to imagine them being forced out any time soon given the protracted standoff in Amona. Similarly, various international actors have criticized the outpost legalization bill and related moves, but it is unclear whether and how they will take action now that a UN anti-settlements resolution has already been adopted.
To be sure, Israel did uphold the rule of law, and its forces demonstrated that they can effectively evacuate outposts. Yet minimizing future anti-evacuation violence will be harder if the Israeli government attempts to decrease the total number of settlements in the West Bank, or if Washington vocally opposes settlement expansion. The only way to rally public opinion in favor of such painful moves and decrease settlers' will to resist is to package evacuations in the context of a two-state deal with the Palestinians -- or, if that proves unrealistic in the near term, unilaterally convince settlers to trade far-flung illegal outposts for homes within existing settlement blocs closer to the security barrier. 
Mitchel Hochberg is a research associate at The Washington Institute and holds a master's degree from Georgetown University's Security Studies Program.