Alleged Brahmi Killer: Tracing Ties Between Aboubaker el-Hakim, Ansar al-Sharia, and Al-Qaeda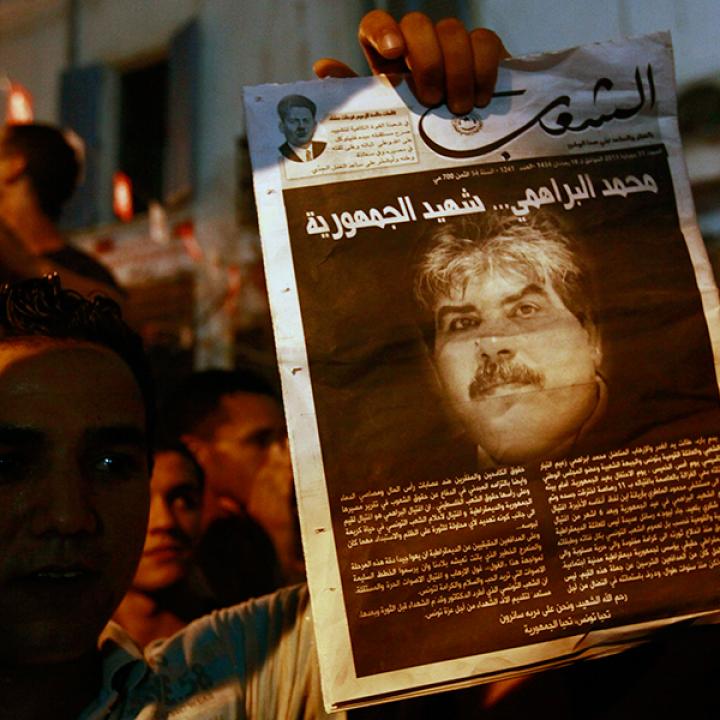 While more evidence is needed to determine whether AQIM or other jihadi factions are linked to the latest assassination of a secular politician in Tunisia, such groups will continue to play a role in the country.
For the second time in six months Tunisia has lived through what was previously unthinkable -- the cold-blooded murder of a politician. In February it was Chokri Belaid who fell to assassins' bullets in the street, and yesterday it was another secular politician, Mohamed Brahmi, who was slaughtered in front of his family in Cite el-Ghazela, outside of Tunis.
The killing comes at a sensitive time for Tunisia, as the ruling Troika coalition struggles to govern the country and the nascent Tamarod movement (ostensibly modeled on the massive street protests in Egypt last month) is grasping for any spark that will ignite larger protests against the Islamist Ennahdha party, which leads the Troika. It no doubt helped their case that Brahmi's family immediately lashed out against Ennahdha following his assassination. The government in turn responded with a press conference Friday in which Interior Minister Lotfi Ben Jeddou said that (remarkably swift) ballistics tests showed that the same weapon was used to kill Belaid and Brahmi, and that both attacks were carried out by an "Al-Qaeda-linked" cell. He even named the alleged assassin, a known Franco-Tunisian jihadi named Aboubaker el-Hakim.
To be sure, the Ennahdha-led government seems to have arrived very quickly at the theory that this Salafi-jihadi cell was behind Brahmi's killing. The fact alone that he and his weapon were identified so quickly, especially as many moved to pin the blame for Brahmi's death in part on Ennahdha, should prompt some suspicion. But if the government's claims are accurate, it is worth taking a closer look at el-Hakim himself, as well as al-Qaeda and related movements in Tunisia.
Although it is impossible to assess the legitimacy of the claims about el-Hakim or know if he is truly a member of Ansar al-Sharia in Tunisia (AST) or connected with al-Qaeda in the Islamic Maghrib (AQIM) in any manner, el-Hakim has prior involvement within the jihadi milieu. He is of Tunisian origin but grew up in Paris, and was part of an Iraq jihad recruiting network dubbed "Filieres Irakiennes" that operated from 2004 to 2009. El-Hakim's brother Redouane was also involved, ultimately dying in a US airstrike in Fallujah while fighting with al-Qaeda in Iraq in July 2004.
The first cell in this network was named the "19th arrondissement" or "Buttes Chaumont" cell, which both brothers were a part of. Farid Benyettou, a charismatic self-taught preacher who lectured outside various mosques and prayer groups, including the Addawa mosque of the 19th arrondissement, led this cell. Although Redouane died, Boubaker was in charge of a way station in Syria for French youths headed to Iraq. El-Hakim did not last long, though, since the Assad regime arrested him in 2004, imprisoned him for a year, and then extradited him to France in 2005.
El-Hakim would be sentenced in 2008 to seven years for his involvement in the recruitment ring. This would have kept him imprisoned through 2015, but he ended up only serving 2/3 of his term and was then deported to Tunisia sometime in 2012. Since then, el-Hakim's name has popped up in reports on militants around Chaambi Mountain in western Tunisia. Again, it is hard to assess these claims since there is almost no way of independently verifying them. That said, due to his past connections within a jihadi recruitment network and al-Qaeda in Iraq, it would not be far-fetched if he indeed did have some type of connection or relationship with AQIM.
At the same time, due to the murky nature of el-Hakim's presence in Tunisia and the dearth of solid information on the connections between AQIM and AST, it is too early to come to any real conclusions.
Still, el-Hakim was one of a number of Tunisians involved for years with jihadist groups. A number of these men first came into contact with the jihadi networks that would go on to form al-Qaeda in Afghanistan and later battlefields around the world. The Tunisian Islamist Combatant Group, founded by Afghanistan veterans Tarek Maaroufi and Saifullah Ben Hassine (Abou Iyadh al-Tounsi), worked closely with Osama bin Laden, helping supply the suicide bombers who killed Afghan mujaheddin leader Ahmed Shah Massoud, and later used Europe-based fundraising and people-smuggling networks to move fighters to Iraq. The 2002 suicide bombing of the historic synagogue on the island of Djerba in Tunisia was carried out by al-Qaeda, using operatives who had lived and worked in Europe.
A 2003 anti-terrorism law passed by dictator Zine el-Abidine Ben Ali helped the government crack down on terrorist networks in the country (as well as thousands of regime opponents and Salafi Muslims unaligned with jihadis). With Ben Ali's fall in 2011 these prisoners were released, including Abou Iyadh (who founded AST), Maaroufi, and other Salafi-jihadi activists like Hassan Ben Brik. At the same time, AQIM began making inroads into Tunisia.
Built on the merger of the Algerian Salafist Group for Preaching and Combat (GSPC) and al-Qaeda in 2007, AQIM until around 2011 had largely failed in its goal of integrating North African jihadi movements into one umbrella group, though the GSPC played a role in training Tunisian fighters, including the leaders of the Suleiman Group rounded up by Tunisian authorities in 2006 and early 2007, and helping send others to Iraq. However, after 2011, the picture appeared to change.
In 2011 and 2012, Tunisian authorities alleged that AQIM fighters, including Tunisians, as well as released members of the Suleiman Group were involved in clashes linked to arms trafficking in Rouhia and Bir Ali Ben Khalifa, and media and official accounts suggested an increasing AQIM and other jihadi involvement in recruitment and arms trafficking in Tunisia, as well as possible establishment of training camps in Tunisia and near the country's borders. Last December, a series of incidents and clashes in the Kasserine region, near the border with Algeria, led to the public identification by Tunisia's then-Interior Minister Ali Laarayedh of a supposedly AQIM-linked group, known as the Uqba Ibn Nafi Brigade.
This group, which according to Laarayedh recruited largely from Kasserine but also possibly among AST members and fellow-travelers, operated in the Chaambi area but slipped easily back and forth across the border. The government began aggressively searching for groups of fighters on Chaambi Mountain and further north in El Kef after Tunisian security forces were victim to landmines placed by the group around the mountain in late April. Nearly two dozen soldiers would be wounded by the mines and several killed over the next few months. While dozens of purported accomplices have been arrested and stores of explosives, weapons, food, uniforms, and other supplies recovered, the group has escaped eradication in the wooded, mountainous border area.
While we must wait for more evidence to know if AQIM or other jihadi groups are genuinely linked to Brahmi's assassination, they will continue to play a role in Tunisia, and will also no doubt remain a part of the country's political debates, not just its security outlook.
Andrew Lebovich is an analyst focused on politics and security in North Africa and the Sahel. Aaron Y. Zelin is the Richard Borow fellow at The Washington Institute.