Algeria's Role in Solving the Libya Crisis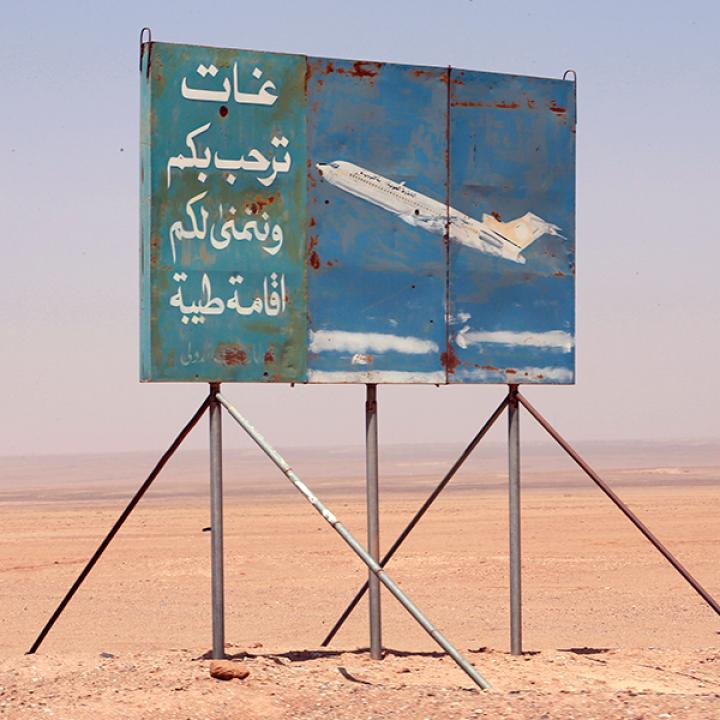 Aside from potential military intervention, the Algerian government can leverage its diplomatic ties to mediate between the conflicting Libyan parties, thwart a possible ISIS takeover, and eliminate the threat to the Sahel region as a whole.
Despite the deteriorating security situation along the Tunisian-Algerian border and the recent assassination of several Tunisian soldiers in the Chaambi Mountains by terrorist groups, the security threat that Libya poses to Algeria is different. Libya is in the midst of a massive security vacuum brought on by the absence of a central authority and a collapsing defense system, which has allowed tribal-affiliated militias equipped with dangerous weapons to gain control. As a result, the security of the Algerian border with Libya is at risk.
The disappearance of eleven civilian airplanes from Tripoli International Airport -- which has been under violent attack by armed militias for the past two weeks -- marked a huge shift in the degree of the threat posed to the entire region, not only Algeria. Following reports that the airplanes were in the hands of "jihadists" who intend to use them for terrorist purposes in Algeria, Morocco, and Tunisia, there are concerns about attacks similar to those of September 11.
To make matters worse, Algeria finds itself compelled to face these threats single-handedly. The armed forces have been engaged on multiple fronts, while neighboring countries, devoid of strong security and military forces, have failed to stem terrorist advances. For example, Mali's army has only 20,000 soldiers, the security institutions in Mauritania are not able to protect even official state institutions from al-Qaeda in the Islamic Maghreb, and Tunisia has no experience in combatting terrorism.
The inability to rely on neighbors may explain Algeria's massive military spending. Given its long borders with neighboring countries -- extending one thousand kilometers with Libya, for example -- Algeria requires large financial and human capabilities to secure its frontiers.
With the emergence of the Islamic State of Iraq and Syria (ISIS), there is fear that Libya will turn into an ISIS hotbed, with the group attempting to seize power in the country and use it as a base for the caliphate it declared in Iraq. In such circumstances, there is an expectation that the Algerian army would renounce its "non-interference" ideology concerning foreign matters. According to various Algerian newspapers, high-profile security sources have stated that the army would not wait idly as Salafi-jihadist groups take power in Libya and attack Tunisia. And a retired Algerian colonel recently said, "Any army in the world would be stupid not to confront a serious threat emanating from beyond its borders." He continued, "If Libya, and then Tunisia, fall into the hands of 'takfiris,' it would mean that Algeria has turned into an open battlefield; if Algeria does not rush to save Tunisia and Libya, that would be disastrous for its national security."
Algeria might also resort to military engagement in Libya in the case of a terrorist threat against Algeria's oil industry. The High Security Council agreed to do such after both the fall of the Qadhafi regime and the January 2013 terrorist attack on the Tigantourine gas facility in the Algerian desert.
Although the Anadolu Agency reported that Libyan officials visited Algeria at the end of June to request military intervention to help impose order in Tripoli, Algeria's foreign minister, Ramtane Lamamra, denied that there was any intention to intervene. In a statement at the Algerian-Malian Strategic Committee's sixth session, he announced that Algeria supports a comprehensive national dialogue in Libya, not a military solution.
Nonetheless, some do not see Algerian officials' constant refusal of military involvement in Libya as absolute, and believe that developments on the ground may force Algeria into a limited military intervention. Others, however, see these recurrent statements as an attempt to relieve the political and diplomatic pressure that has been mounting over the last few months. Whatever the case, there is little doubt that Algeria will play a crucial role of some sort in preventing extremist militias from taking over Libya.
In the event of military intervention, there would certainly be repercussions within Algeria. Given the difficulties of monitoring Algeria's borders, there is a strong possibility that Libyan militias would carry out cross-border revenge operations. That said, Algeria has a number of options. It has extensive experience with antiterrorism efforts, and given its direct and indirect relationships with the conflicting parties in Libya, it can play an important diplomatic role as well. The Algerian government is also on good terms with Algeria's Brotherhood-affiliated Islamic parties, which can serve as the connecting link to Libyan Islamists.
In countering the Islamist threat in Libya, military intervention need not be the only option. The Algerian government can leverage its diplomatic ties to mediate between the conflicting Libyan parties in an attempt to reach a solution -- one that thwarts the possibility of an ISIS takeover and eliminates the threat to the Sahel region as a whole.
Yacine Boudhane is an Algerian journalist. This article was originally published on Fikra Forum.