Abbas Still Faces Unattractive Alternatives to Peacemaking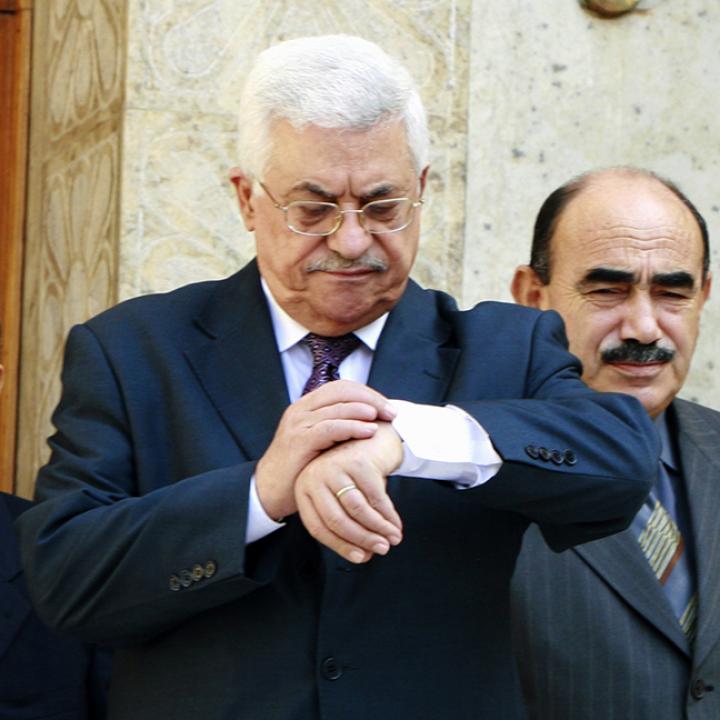 Despite the inflammatory rhetoric in his latest speech, the Palestinian leader is unlikely to foreclose the two-state process and opt for armed struggle, Islamist domination, or other risky options.
On January 14, Palestinian Authority president Mahmoud Abbas delivered a speech at the PLO Central Council that included highly objectionable references to the United States and Israel, signaling a temporary halt in direct Palestinian involvement with Washington toward a peace deal. The particulars of his speech will be picked apart by analysts in the days ahead, and while he may or may not be able to walk some of them back in media interviews, the larger questions about the PA's outlook on diplomacy will persist.
In particular, one might wonder if his comments mark the end of Palestinian interest in a two state-solution and a turn to radical options. Yet given Abbas's track record—and the author's personal observations during a visit to Ramallah shortly after the speech—this does not seem to be the case so far.
POOR ALTERNATIVES
Abbas's professional life has been dedicated to the two-state approach, even if one can legitimately ask why he did not agree to key compromises during the Olmert peace initiative of 2008, or why he failed to answer Washington's entreaties in March 2014. Although such questions put Abbas in a problematic light, he clearly knows that the alternatives to the two-state model—Islamism, armed struggle, or a one-state "solution"—are dead ends.
First, Abbas hates the Islamists, in no small part because they tried to kill him after the 2007 Hamas coup in Gaza. The recent Palestinian reconciliation talks have foundered on precisely the same issue that drives much of Israel's sharp opposition to Hamas, namely, the group's refusal to give up its weapons. Abbas may yet proceed along the reconciliation route at Egypt's insistence; indeed, a Fatah delegation is expected to visit Gaza soon to discuss the matter. Yet major obstacles remain to any final accord between the two factions. Under the current circumstances, Abbas views the resumption of PA responsibility over Gaza as more of a trap than an opportunity. He also opposes Hamas's request to enter the PLO unless the group takes the unlikely step of yielding its weapons. In short, he does not want to turn the keys of the Palestinian national movement over to Hamas.
As for armed struggle, not even domestic death threats have been enough to make him rescind his publicly held view that militarization of the 2000-2004 intifada was a mistake. He has always believed that Palestinians cannot defeat Israel by force given its superior security capabilities, and he knows that violence shattered the Israeli peace camp during the second intifada. Although many criticize him for referring to individuals killed in the midst of attacks on Israel as "martyrs," not a single Israeli security official believes that he operationally encourages violence.
The third option is even less realistic—Abbas is too experienced to think that Israelis would commit suicide by renouncing Zionism in favor of creating a single binational Israeli-Palestinian state. It may be useful rhetorically to threaten that Palestinians might pursue such an option, but his advisors confirm that he knows it is not realistic.
Resignation does not seem to be on the table at the moment either. Given Abbas's previously aborted threats to step down, Palestinians and Israelis do not him see taking this route in the near term—despite the fact that he turns eighty-three in March and has seen poll after poll showing the public wants him to quit. The reason behind his refusal to resign is unclear. Is it because he has a sense of national responsibility, or is he addicted to power? Both possibilities could be in play.
As for suggestions that Abbas may now turn to Arab states to resolve the Israeli-Palestinian issue, this seems more theoretical than real at present. He is known to be deeply disappointed with these states for eschewing deep support in favor of safeguarding their own interests. His speech even included a rare public shot at Arab leaders when he hinted at but did not explicitly name Emirati foreign minister Abdullah bin Zayed. Sources say Zayed was the one who complained at a recent Arab League meeting that Palestinian demonstrations for Jerusalem were not big enough. According to Abbas, this spurred PA foreign minister Riyad al-Maliki to retort that protesting is hard when Arab states prohibit pro-Palestinian demonstrations against the Trump administration.
NEXT STEPS
Considering this parade of bad or unrealistic options, Abbas is likely to do as he said in his speech: reiterate his commitment to two states. Tellingly, the PLO Central Council gave him and the executive committee he chairs full discretion on how to proceed with the operational aspects of Palestinian policy, enabling him to keep the cards in his hands. Arab governments conveyed that this was their preference in advance of the PLO meeting. In any case, Abbas has ignored the council's recommendations with impunity in the past, so any PLO rhetoric rejecting the two-state model is not necessarily a reliable indicator of how he will proceed.
So how exactly can Abbas advance the two-state approach at a time when he is unwilling to meet with American officials, traditionally the main mediators of two-state peacemaking? To begin with, he will likely embrace the idea of internationalizing the diplomatic process in order to avert violence. On January 22, he will hold a prescheduled meeting with European foreign ministers in Brussels. The original impetus for the meeting was to give the Palestinians parity with Israel following Prime Minister Binyamin Netanyahu's December appearance before the European Council. Yet the timing of Abbas's trip does not seem entirely coincidental—it will take place the same day that Vice President Mike Pence visits Israel, giving Abbas a pretense to avoid meeting with him.
As for the substance of the Brussels meeting, one can safely assume the Europeans will use the occasion to underscore their commitment to a two-state solution. Whether they call on the United States to do the same will be interesting; so far, Trump administration officials have taken the more limited approach of saying they will accept two states if both Israel and the Palestinians do the same. Another question is whether officials in Brussels will request additional funding for the UN Relief and Works Agency (UNRWA). On January 16, the United States announced that it will release only half of its normal aid to the agency, but European officials may conclude that this is a classic American ploy—that is, appearing to make a cut when in fact it is merely delaying the release of the remaining funds for a few months.
Finally, Norway will host the Ad Hoc Liaison Committee emergency meeting later this month to discuss humanitarian provisions for Gaza. More UN General Assembly sessions on the Palestinian issue are a possibility as well, especially since Abbas knows that any new resolutions will have no operational impact given the U.S. veto power in the Security Council, making them a relatively safe way of burnishing his defiant credentials.
CONCLUSION
Even before Abbas's speech, Israeli and Palestinian officials had very low expectations about a Trump-led peace breakthrough, despite White House advisor Jason Greenblatt's assiduous efforts toward that end. The contents of the Trump peace plan have not been seen, but both sides generally assumed it would not come near the parameters issued by the Obama administration, and would therefore be rejected out of hand by the Palestinians. The parties have seemingly been preparing to play the blame game for some time, and Abbas's speech made clear his view that the U.S. plan would fall short. For example, he complained that U.S. officials were offering Abu Dis—a Palestinian village outside the Jerusalem municipality—as the capital of a Palestinian state. (The irony of this complaint is rich, since a 1995-1996 plan associated with Abbas called for the same thing, though he has since distanced himself from that initiative.)
In other words, Washington is bound to interpret his speech as a preemptive strike, with Abbas setting the contours of near-term discourse by depicting the United States as a dishonest broker.  Yet this posture may suit the PA and the Trump administration just fine for now. U.S. officials will be satisfied as long as the PA exists and Israeli-Palestinian security cooperation continues. The question is whether the PA leadership intends to simply hang on until the next Israeli election (i.e., no later than fall 2019) and find a means of maintaining their institutions in the interim.
In that sense, Abbas's post-speech approach may provide a sense of motion but little actual movement. For now, his posture is strong enough to block other unattractive options—which, to his credit, he opposes. Ultimately, however, it seems unlikely to get him to the political promised land.
David Makovsky is the Ziegler Distinguished Fellow at The Washington Institute and author of its new interactive map website Settlements and Solutions.