Why Turkey Is Unlikely to Alter Its Syria Policy in Wake of Prime Minister's Exit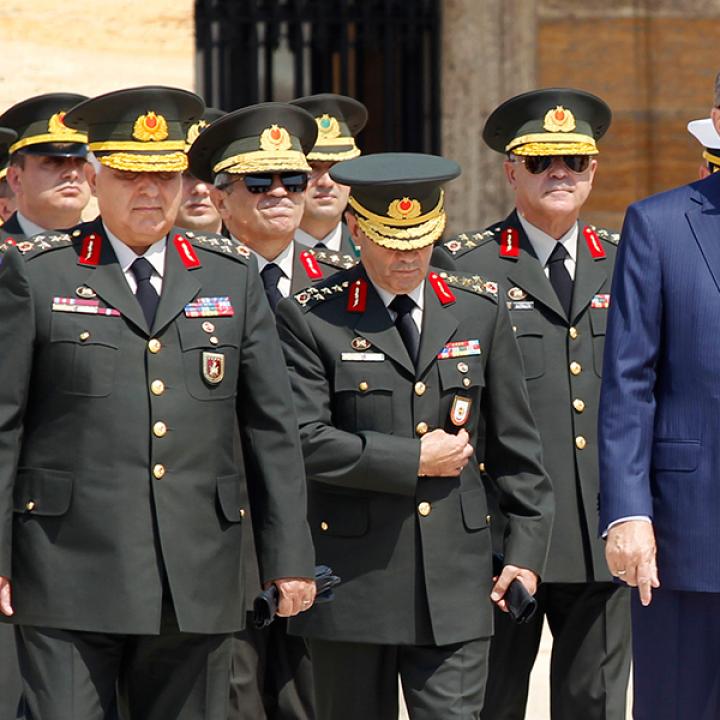 Davutoglu's departure probably won't change President Erdogan's perception that Turkey has the moral high ground by supporting Sunni rebels in Syria against the Assad regime.
Turkish Prime Minister Ahmet Davutoglu has announced his resignation, the latest sign of fallout from President Recep Tayyip Erdogan's determined consolidation of power. Those expecting the Erdogan government to recalibrate its policy toward Syria or the Middle East more broadly, however, may be waiting for a while.
By several measures, Turkey's Syria policy is in shambles: The rebels Ankara supported against the regime of Bashar al Assad were wasted by Russian airstrikes. Islamic State has killed more than 120 Turks and wounded hundreds of others in terror attacks in recent months. Since Turkish forces shot down a fighter plane involved in Russia's military campaign in Syria last year, Mr. Erdogan's government has been on the outs with Russian President Vladimir Putin. Russia, a historic nemesis, has effectively encircled Turkey with a troop presence in the Caucasus, Syria, and Crimea. Turkey, meanwhile, has just one ally in the region: Qatar.
U.S. and European policy makers are watching all this as the Syrian refugee crisis has intensified and the threat of terrorist attack in Turkey has grown. Events and geography have enhanced Ankara's role on the global stage, which is why the European Union made efforts to meet Turkish demands for the March deal on refugees and why Germany acquiesced to Mr. Erdogan's demands to bring a legal case over a video satire. Whether or not the Turkish leader is reasonable, Ankara is the ally they've got at a critical juncture. Already, Mr. Erdogan's rejection of EU demands to facilitate visa-free travel for Turkish citizens -- "We will go our way, and you can go your way," he said in Istanbul on Friday -- is a sign of his unwillingness to veer from his preferred course.
What's critical is how Turkish leaders perceive the results of Turkey's involvement in Syria's civil war. To elites in the ruling Justice and Development Party (AKP), they have the moral high ground. They see supporting fellow Sunni Muslims and political Islamist movements such as the Muslim Brotherhood as not only a political choice but also a moral one. This fusion makes the AKP highly unlikely to dial back its support to Sunni rebels in Syria or its support to the Muslim Brotherhood movement across the Middle East. In their view, doing so would be akin to doing something evil or wrong. Mr. Davutoglu said in October 2013, when he was foreign minister, that Turkey's involvement in the Syria conflict is doing the "morally right thing" by "wanting democracy for neighboring Arab people." Mr. Erdogan, too, shrouds remarks in moral references. "Turkey is with the people and among the righteous in the Middle East," he said in 2014.
When the Syrian uprising began in 2011, Turkey did not build bridges with a variety of the diverse ethnic and political groups fighting across its border. Turkey has no peaceful Sunni allies in Syria, nor friends among its Kurd, Christian, Druze, or Alawite minorities. Turkey's proxies are Sunni fighters, many of whom identified with the Muslim Brotherhood movement in 2011. The conflict in Syria evolved from a pro-democracy uprising to a civil war involving jihadists who have directly targeted Turkey; still, Turkey's stated goal has remained ousting the Assad regime.
The effect has been to empower Islamists, some of whom have morphed into radical jihadists, particularly in Syria. Since the Arab uprisings began in 2010, Ankara has backed parties in Tunisia, Egypt, and Libya aligned with the Muslim Brotherhood. The Islamist political party was ousted from power in Egypt, lost elections in Tunisia, and was sidelined by jihadists on the battlefield in Libya. Ankara has bet heavily on one faction in the Middle East, and repeatedly lost. Still, to Mr. Erdogan, "Turkey's stance in Syria has saved humanity's common dignity," as he put it in February. The conflict has displaced millions of Syrians, and Turkey has taken in many refugees. Mr. Davutoglu's exit, however, is unlikely to shake Mr. Erdogan's perception that Turkey has the moral high ground by supporting Sunni rebels in Syria against the Assad regime.
Foreign diplomats have been pushing for a cease-fire, and many have come to accept that Mr. Assad may remain in power in Syria. Turkey is less likely to abide by a negotiated deal that maintains the Assad regime and more likely to say publicly that it supports a U.S.-backed deal recognizing the Russian stakes and Assad regime gains while, behind the scenes, continuing efforts to arm anti-Assad rebels. Turkey's position effectively ignores the jihadist threat in Syria, but to Mr. Erdogan and other AKP elites who identify with political Islamists, they are on the right course.
Soner Cagaptay is the Beyer Family Fellow and director of the Turkish Research Program at The Washington Institute. This article originally appeared on the Wall Street Journal blog "Think Tank."