Why Refugee Influx Threatens Lebanon, Jordan Stability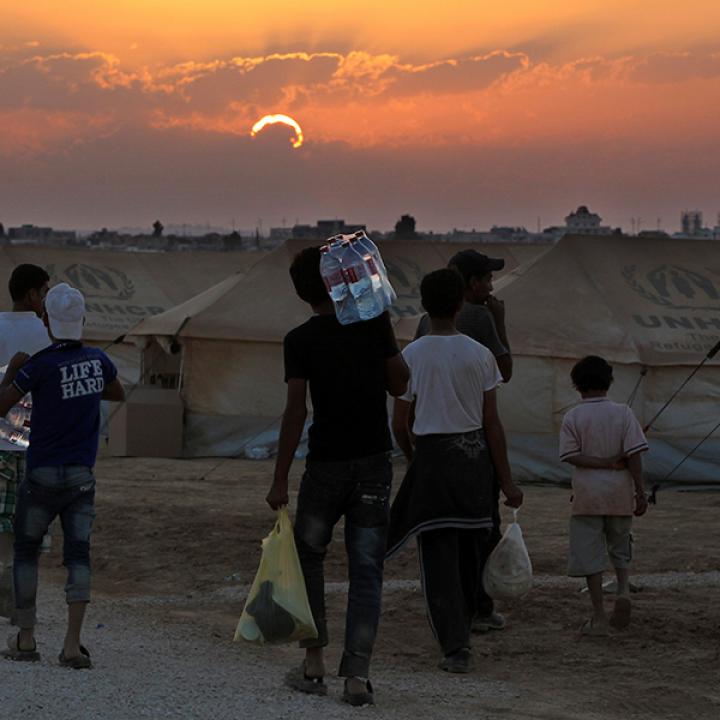 Regardless of how much relief money is spent, life for the refugees in Lebanon and Jordan will become increasingly inhospitable absent a horizon for return to Syria.
The self-immolation of a Syrian refugee in Lebanon last month is a harrowing reminder of the desperate circumstances of those who have fled the war. But the hardship extends beyond just Syrians. Today, Lebanon and Jordan provide sanctuary to one million and some 600,000 Syrian refugees, respectively -- about 20 and 10 percent of their respective populations -- and the social and economic stresses are taking a heavy toll. Worse, the prospect that many of these refugees might never return home threatens the long-term stability of these states.
Demography is a central problem for Lebanon. Syrian exiles are overwhelmingly Sunni Muslims, and the influx has skewed Lebanon's delicate sectarian balance of Sunnis, Shiites, and Christians. Adding to the religious strains are the ubiquitous complaints about Syrian workers driving down wages, and the burden refugees place on Lebanon's already overtaxed and underfunded infrastructure. According to a recent World Bank report, over the next three years, Lebanon -- which had a $4 billion budget deficit in 2013 -- will require an additional $2 billion just to provide basic services to its new residents and to "address the expected additional impoverishment of the Lebanese people generated from the Syrian crisis."
Absorbing refugees is also a burden for Jordan. While a fifth of Syrian expatriates currently reside in refugee camps, most live in the kingdom's cities, where they are driving up rents -- by up to 25 percent, the United Nations says -- and taking scarce jobs from Jordanians who are already enduring an unofficial unemployment rate estimated at 30 percent. At the same time, despite a substantial budget deficit, Amman is providing free healthcare and education to these Syrians, 63 percent of whom receive monetary assistance from the United Nations.
Not surprisingly, the kingdom's generosity toward its Syrian guests is starting to fuel resentment among the locals. As one Jordanian tribesman complained to me a few months ago, "They are taking the food out of our mouths."
As refugees continue to flow into Lebanon and Jordan, tensions are mounting. Until now, incidents of violence between Syrians and host country nationals have been relatively limited. The worst attack occurred in December, when residents of a Lebanese village in the Beqa Valley reportedly torched a makeshift refugee encampment, leaving hundreds without shelter. To date, the incidents have been isolated, but a more concerted and sustained popular backlash is likely to materialize if the Syrian refugee crisis persists.
Alas, there is good reason to believe the problem will endure for some time. Syria's nominally Shiite al-Assad regime is currently in no danger of imminent collapse. Meanwhile, the largely Sunni Muslim opposition is divided as secular fighters battle not only the regime, but rival Islamist militias, many of which are affiliated with al Qaeda. And even if al-Assad falls, Syria seems destined to face a lengthy and bloody struggle between ideologically opposed Sunni militias for the future of the state. At any rate, with an estimated one-third of all Syrian housing destroyed, there is little to which the refugees can return.
In short, a protracted refugee situation seems all but certain. Just how long Syrians will remain in Jordan and Lebanon is anyone's guess. According to the U.N. High Commission on Refugees -- putting aside the interminable Palestinian issue -- refugee crises last on average 17 years. At least in part, that's because in practice, and according to the U.N. Refugee Convention, states cannot "expel or return" a refugee unless there is a "genuinely fundamental" change of circumstance in the country of origin.
While not signatories to the convention, Amman and Beirut will find it politically difficult to violate the international principle on non-refoulement as long as al-Assad remains in power. Lebanon's Sunnis will not consent to a forced deportation that would place its community at risk. For its part, Jordan -- a state dependent on western goodwill for financial assistance -- would be reluctant to provoke international censure. In contrast to Tanzania and the Rwandans circa 2002, involuntary return is just not an option for Syrians.
The problem is the longer these refugees remain abroad, the more likely it becomes that they will plant roots in their host countries. In Zaatari refugee camp -- by some counts now Jordan's fifth largest city -- where there were once only tents, there are now more permanent caravans equipped with satellite dishes. What's more, since 2011, 500 Syrian companies have reportedly relocated to Jordan.
In Lebanon, too, Syrians are purchasing real estate and opening businesses, and IKEA is building refugee housing, seemingly in preparation for a long-term stay. According to Lebanon's Minister of Social Affairs, as of mid-2013, nearly 400 Syrian-owned unlicensed enterprises had been established in seven towns, "upsetting [the] local employment balance." By year's end, the number of businesses reportedly reached 1,000.
It's difficult to predict the trajectory of the Syrian refugees in Jordan and Lebanon. However, based on historical precedent, the host countries will eventually come to view the refugees as a threat and resist their integration, and the local population's sympathy will progress to animosity. Regardless of how much relief money is spent, absent a horizon for return to Syria, life for the refugees in Lebanon and Jordan will become increasingly inhospitable.
The United Nations and the European Union describe Syria as the "greatest humanitarian tragedy of our times." Unfortunately, things will get worse. Without a dramatic reversal of the momentum on the ground and a reduction of refugee flows, the stability of Lebanon and Jordan could be the next casualty of the war.
David Schenker is the Aufzien Fellow and director of the Program on Arab Politics at The Washington Institute.
You'll need Skype Credit
Free via Skype