Why Israel Is Hesitant About Supplying Ukraine with Air Defense Systems
Also published in
The Insider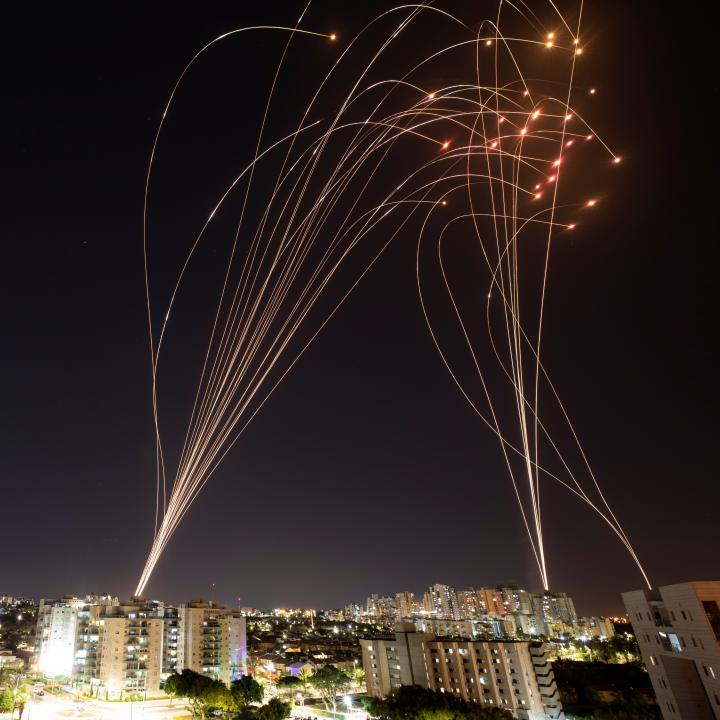 Jerusalem remains concerned that angering the Russians could jeopardize its crucial national security interests in Syria, though domestic elements and U.S. officials are still pressing it to do more.
Former Israeli prime minister Benjamin Netanyahu is returning to power. For a politician who took pride in his long-term relationship with Putin, Ukraine will be a test of his strategic stance. Since the early days of Russia's invasion of Ukraine, the Israeli government has been trying to balance the two parties' interests. Condemning the Russian aggression and offering humanitarian aid to Ukraine, Israel has nonetheless refrained from providing Kyiv with air defense systems. Israeli officials explain their refusal to supply lethal weapons primarily by the dependence of their national security on the freedom of military action in Syria. Moscow leverages this circumstance, exerting pressure on Israel by limiting its military operations in the country. In addition, Moscow threatens to curb Israel's ability to receive immigrants of Jewish descent and advances its relations with Iran. In the new reality, Netanyahu will not be able to exploit his friendship with Putin and will eventually have to pick a side.
Last month at the United Nations, Ukraine voted with 152 countries—including Russia—in support of a General Assembly resolution calling on Israel to get rid of its nuclear weapons. As a result, Russia and Ukraine symbolically ended up on one side. As Ukrainian president Volodymyr Zelensky continues to plead for more aid from Israel, Kyiv's vote highlights the complexity of the Israel-Ukraine-Russia triangle.
Since the Russian invasion of Ukraine on February 24, Israel has balanced different interests. To be sure, Israel condemned the invasion and provided significant humanitarian aid, but refused to join the Western-led sanctions against Russia. Israel has also rejected Kyiv's request for lethal military aid. Indeed, the Jewish state is among very few countries that could provide Ukraine with air defense systems—including the Iron Dome system—which Ukraine needs to counter Russian missiles targeting its civilian population. And yet Israel has declined to provide this equipment.
At the initial stage of the invasion, the Israeli government had been ambiguous rather than directly condemning the Russian invasion, and only issued this condemnation after a rebuke from Washington. Naftali Bennett, the Israeli prime minister from June 2021 to June 2022, barely mentioned Russia or Putin in public, while Yair Lapid, the then foreign minister, regularly condemned the invasion. In this sense, the Israeli government engaged in rhetorical ballet as it walked a diplomatic tightrope. More recently, when Yair Lapid took over as prime minister, he publicly condemned Moscow directly for its actions in Ukraine in October, a first such statement that came only seven months after the invasion. Still, Israel will not send lethal aid to Ukraine.
To be fair, Israeli officials have stressed since the start of the Russian invasion, both publicly and privately, that their security depends on the freedom of military action in Syria, i.e., the ability to target Iranian-backed forces and assets in a state where Russia controls the airspace and retains military and political leverage. In other words, containing Iran in Syria depends on Israel maintaining a good relationship with Russia. As Israeli ambassador to Ukraine Michael Brodsky said, "The security threats to Israel, the threats to the lives of both Israeli soldiers and Israeli citizens, are enormous...We think first of all about our own interests and have to be careful."
However, Zelensky reportedly spoke to Lapid and Bennett about purchasing Israeli air defense systems and was given a different excuse—that Israel needed the batteries for its own protection. "I understand they [Israelis] need to defend their land, but then I got information from my intelligence services that Israel provides [the air defenses] in other countries. They can sell, they can export, which is why I am shocked," said Zelensky.
The US, for its part, has acknowledged Israel's security concerns since the start of the Russian invasion but believes Israel should do more to help Ukraine. Indeed, in early March, shortly after the Russian invasion, US Assistant Secretary of State Victoria Nuland warned Israel about taking "dirty money" from Russian oligarchs and encouraged Israel to join sanctions against Russia.
Approximately fifteen percent of Israel's population are either immigrants from the former Soviet Union—mostly Russia and Ukraine—or their descendants. Polls have shown that a large majority of Israelis support Ukraine, though a sizable minority oppose arming it, while thousands of peaceful protesters demanded that the Israeli government take a stronger stand for Ukraine in the war.
Moreover, former cabinet minister, chairman of the Babyn Yar Holocaust Memorial Center board, and former Soviet prisoner Natan Sharansky has been a vocal booster of Ukraine from the beginning of the war. "The people of Ukraine need this [support], but we also need it as part of the free world, because [Russian President Vladimir] Putin has encroached on the foundations of the free world and wants to deprive us of this freedom," he said. Sharansky isn't alone. Alon Liel, the former director-general of Israel's foreign ministry, said in a recent interview, "If the war ends up with the West having the upper hand, everyone will remember that Israel declined to be part of the effort. In fact, with this policy, we are betraying the West."
To be sure, Israeli security concerns are legitimate. Most recently, Moscow has appeared to pressure Israel on its ability to remain a safe haven for Jewish immigrants by threatening to shut down the Jewish Agency, while soon after a report indicated that an Israeli defense contractor has been supplying anti-drone systems to Ukraine through Poland. More to the point, Moscow could indeed complicate life for Israel not only by pressing its Jews or limiting Israeli military operations in Syria, but also by its growing relationship with Iran overall. Russia increasingly relies on Iranian drones in Ukraine, while the relationship between Moscow and Tehran is moving towards a strategic partnership.
For years, Israeli officials believed that Russia could help deter Iranian aggression by limiting the forces Tehran deploys in Syria. It is now clear that Russia has little choice but to rely more on Iran, including in Syria. The motivation of the Israeli government is clear: for Israel, it is much better to have Russia in Syria than Iran. But now more than ever, Russia and Iran are integral parts of the same strategic set. And yes, Russia could complicate life for Israel, but Israel has power too. It is doubtful that Russia needs another full-blown bilateral crisis as it continues to suffer massive losses in Ukraine. From this perspective, Israel's and Ukraine's interests intersect.
In 2015 it was President Obama's naivete—his ill-advised belief that Russia would experience a military quagmire in Syria—that allowed Russia to come to Israel's doorstep in Syria in the first place. At the end of the day, everyone understands that Israel now is in a difficult position. But this is a state founded on certain values, a family member of free liberal nations.
This month, Israel has had another change in leadership, with Benjamin Netanyahu taking over as prime minister once more. Netanyahu, who over the years boasted of his relationship with Putin, will be even less likely to provide substantial support to the Ukrainians. Thus Ukraine will be an important test of Netanyahu's strategic posture. He could work with the Biden administration more on Ukraine, especially since there will be other points of friction. The US for its part could look for ways to help Israel to provide substantial assistance to Ukraine.
Eight months into Russia's invasion of Ukraine, Putin remains committed to this country's destruction. And while Ukrainians have had important successes in recent weeks, the war is not yet over. The future of the liberal global order remains at stake.
Anna Borshchevskaya is a senior fellow in The Washington Institute's Diane and Guilford Glazer Foundation Program on Great Power Competition and the Middle East. This article was originally published on The Insider website.