Turkish-Russian Ties after the Erdogan-Putin Breakthrough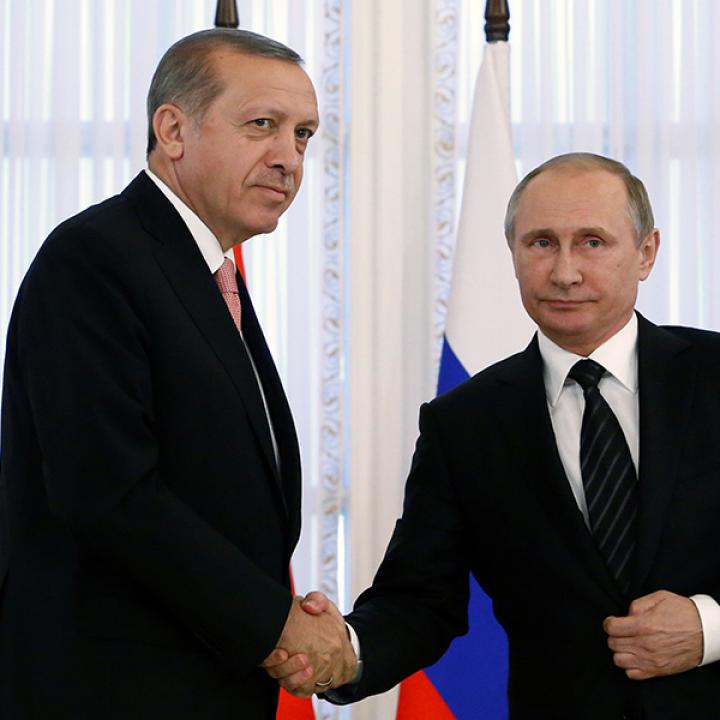 The Russian president will likely follow up today's meeting by offering to lift sanctions, along with other incentives, but the longer-term bilateral impact on political ties, especially in Syria, will remain unknown for some time.
At their meeting in Moscow today, Turkish president Recep Tayyip Erdogan and his Russian counterpart, Vladimir Putin, decided to take steps to normalize ties between their countries, a dramatic turnabout following several months of tensions in the wake of Turkey's shoot-down of a Russian plane violating Turkish airspace. After the incident, Russia slapped Turkey with economic sanctions along with applying pressure in the cyber, military, and intelligence realms. And in Syria, where the two sides oppose each other in a proxy war, conflict had escalated, with Russia providing weapons to the Democratic Union Party (PYD), a Kurdish group tied to the Turkey-based Kurdistan Workers Party (PKK), which Turkey is currently fighting. In return, Turkey increased its support to anti-Assad rebels battling the regime around Aleppo.

Recent events -- including Ankara's growing perception of being left alone by its Western allies after the failed July 15 coup, as well as ongoing Washington-Moscow talks to coordinate efforts in the Syrian civil war -- have eliminated the rationale for animus between the two countries. Indeed, Turkish-Russian ties will improve further at this stage unless Washington steps in to prevent Erdogan from being courted by Putin.
Roots of Erdogan's Vulnerability
As for U.S.-Turkish relations, the failed coup will, on the whole, complicate them. Many in Ankara share a view that because the Turkish Muslim cleric Fethullah Gulen lives in the United States, Washington is behind the coup attempt. Many analysts agree that Gulen-aligned officers formed the backbone of the coup plot, although Turkey has not yet presented evidence to Washington that Gulen himself ordered the overthrow. Meanwhile, prominent columnists in newspapers supportive of the ruling Justice and Development Party (AKP) have aired allegations about a U.S. role, and at least one cabinet member, Labor Minister Suleyman Soylu, publicly charged the United States with responsibility.
The coup plot is probably the most traumatic political event in Turkey since the fall of the Ottoman Empire. Erdogan himself was targeted and survived only because he fled the hotel where he was staying fifteen minutes before the assassination squad arrived. The bombing of the Turkish capital, Ankara, including the targeting of parliament, has deeply shaken residents of the city and, in fact, of the entire country. Ankara had not experienced a military attack in more than six hundred years, when the armies of Tamerlane occupied it in 1402.
Istanbul, too, was profoundly destabilized by an action in which F-16 planes operated by coup plotters flew at low altitudes and high speeds over the city, creating supersonic booms that produced the illusion that the 15-million-person metropolis was being bombed.
Another fundamental blow from the factional plot involved its flouting of long-established notions of Turkey's hierarchical military and history of bloodless coups. It was previously an article of faith that the military would not fire at its own people, but this time the plotters did fire, killing more than two hundred citizens; many putschists died along with them. Accordingly, the country's mood is nervous, angry, and dark.
Separately, the growing perception of U.S. responsibility for the plot explains why, for the first time in recent memory, some in Ankara are questioning Turkey's NATO membership and discussing whether the country should instead move toward becoming a "friend" of Russia. Erdogan, who already has some Eurasianist foreign policy impulses, could easily accomplish this pivot, especially since the Turkish military, the strongest link between NATO and Ankara, is disfigured following the coup plot.
If U.S. courts reject his request for Gulen's extradition, Erdogan will certainly blame the White House, enhancing Turkey's recent pivot toward Russia.
Even before the failed coup, Ankara and Moscow had taken steps to patch up their relationship. Following a June 27 letter expressing regret by Erdogan to Putin, the two leaders had agreed to meet during the first week of August to discuss "normalization." Russia is Turkey's historic nemesis, so its return as an adversary late last year worried not only Erdogan but also Ankara's broader foreign-policy-making community. This concern, together with a perception in Ankara of a likely U.S.-Russian deal on Syria, leaving Turkey in the cold, had prompted the June 27 letter of regret.
SYRIAN AND KURDISH DIMENSIONS OF RAPPROCHEMENT
If Ankara wants to intervene against the Islamic State (IS) in Syria, block Kurdish advances, and defeat the PKK at home, it may do whatever is necessary to placate Moscow, perhaps even cutting off support for certain anti-Assad rebel groups.
To defeat the PKK, Erdogan knows he must delink Russia and the Kurds, helping explain his push for normalization with Putin. Delinking Russia and the Kurds would not only allow Erdogan to defeat the PKK at home but also undermine Kurdish gains in Syria, where the PYD and its militia, the People's Defense Units (YPG), have worked with both Washington and Moscow to gain territory. Over the past two years, the PYD has united its Kobane and Jazira cantons in northeastern Syria into a self-declared territory called Rojava. The group's goal is to achieve autonomy for the Kurds in Rojava.
Intervening against the IS pocket near Manbij, in northern Syria, would further serve the Turkish interest of interrupting PKK and PYD plans. While Ankara clearly regards IS as a threat, it still sees the PKK in a similar or even more glaring light. PYD officials have often said that closing the Manbij pocket would help them unite the Kobane-Jazira and Afrin cantons. Yet by seizing control of the western part of Azaz-Jarabulus corridor bordering the Manbij pocket, Turkey could preempt any such Kurdish plans.
The Kremlin had already acknowledged a thaw with Ankara when, on June 29, the Russian airline Aeroflot lifted its ban on flights to Turkey, a signal of Moscow's willingness to lift sanctions. And today, Putin offered to lift the remaining sanctions. Following today's meeting, Putin will likely offer Erdogan financial incentives linked to boosting tourism, trade, and construction and pipeline deals, which help the Turkish president consolidate his economic power base at home. Erdogan has already reciprocated, perhaps in anticipation of Putin's next move, voicing during the meeting support for Turkish Stream, a joint Turkish-Russian pipeline put on hold after the plane incident. Revitalization of this project, which would allow Russia to export gas bypassing Ukraine, would be central to rejuvenating Turkish-Russian ties.
PUTIN'S REASONS FOR RAPPROCHEMENT
As for the Kremlin's angle, since the end of the Cold War, Russian policy toward Ankara has had one guiding principle: never completely alienate Turkey. Especially beginning with Putin's rise, the Russian strategy has been to keep Turkey close to Moscow and away from NATO. Putin knows that at this stage, further alienating Turkey will push the country closer to NATO.

Putin also knows that sustained sanctions against Ankara punish Russia more than they do Turkey. The Turks have many customers for their cheap but high-quality wares. The Russians, already suffering under European and U.S. sanctions and from collapsing oil prices, ultimately need access to the deals available in Turkish markets.
PROSPECTS FOR WASHINGTON
For the United States, it will remain unclear for some time to what extent Turkish-Russian ties will change as a result of recent developments, including today's meeting. For instance, Russia may decide it needs YPG assistance to help keep western Aleppo in the Assad regime's hands, and move more slowly than Turkey expects in abandoning the YPD/PYD. Likewise, Erdogan may come under domestic pressure for jettisoning the anti-Assad rebels fighting to keep eastern Aleppo. Whatever the longer-term outcome, Putin will, in the coming days, lure Turkey with gestures such as the lifting of sanctions. Moreover, he could lend his political muscle in the Central Asian republics, where Gulen has his oldest and strongest networks outside of Turkey, toward cracking down on Gulen-affiliated institutions, a key desire by Erdogan from all his counterparts. Such gestures, paired with the possibility that Washington will fail to persuade Ankara that its extradition request for Gulen requires a thorough review, could nudge Erdogan more fully toward Russia.
Soner Cagaptay is the Beyer Family Fellow and director of the Turkish Research Program at The Washington Institute. Follow him on Twitter @ SonerCagaptay.