Turkey's Transformation: Prospects and Limits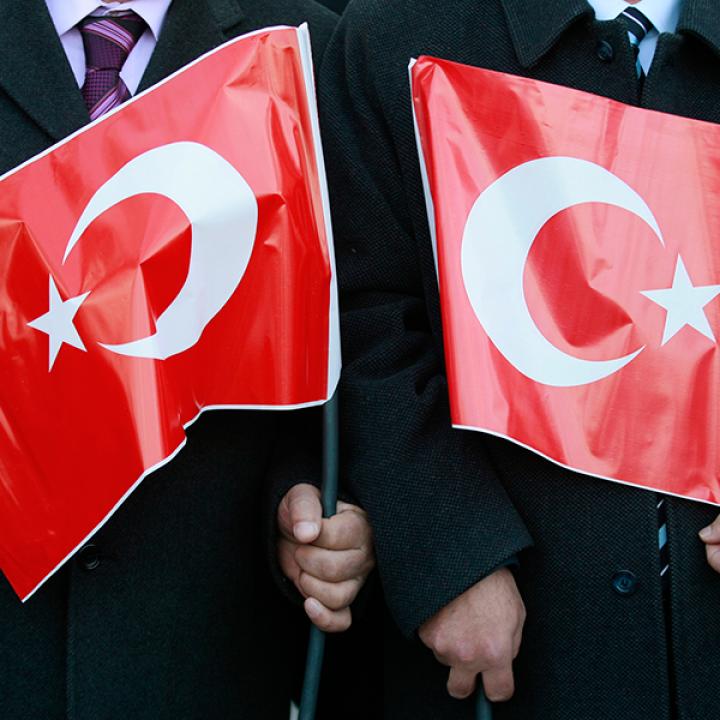 Two former U.S. ambassadors to Ankara joined the head of NATO LANDCOM and the author of a new book on Turkey to discuss the AKP government's foreign and domestic policies. Read a summary or watch video.
On March 7, 2014, Soner Cagaptay, Ben Hodges, Ross Wilson, and James Jeffrey addressed a Policy Forum at The Washington Institute. Cagaptay, the Institute's Beyer Family Fellow and Turkish Research Program director, is author of the new study The Rise of Turkey: The Twenty-First Century's First Muslim Power (Potomac Books). Lt. Gen. Hodges is head of LANDCOM, NATO's most senior land forces command, based in Turkey. Ross is director of the Atlantic Council's Dinu Patriciu Eurasia Center and former U.S. ambassador to Turkey (2005-2008). Jeffrey is the Philip Solondz Distinguished Visiting Fellow at the Institute and former U.S. ambassador to Turkey (2008-2010). The following is a rapporteur's summary of their remarks.
SONER CAGAPTAY
Turkey has made international headlines with its ongoing political debates and troubles. It faces serious domestic challenges regarding civil liberties, judiciary independence, and an ongoing corruption scandal, while the Syrian war has raised the prospect of a weak and potentially failed state emerging next door. Moreover, the good rapport between Prime Minister Recep Tayyip Erdogan and President Obama, which stemmed from their shared views on a variety of issues, has dissipated since the Turkish government cracked down on the Gezi Park protests last June, marking the end of a remarkable U.S.-Turkish honeymoon.
Even so, Turkey remains an important ally for the United States, in part because of its economic transformation under Erdogan's Justice and Development Party (AKP). Since the AKP assumed power in 2002, Turkey has become a majority middle-class society, the first such society in Muslim history. Accordingly, it can now become a regional power if it unlocks its potential in several areas.
First, Turkey will continue to grow only if it maintains political stability. While the world around it has melted down with the Eurozone financial crisis and multiple Arab uprisings, Turkey has become a more attractive location for European and other foreign investments because of its relative political stability. It has also attracted investments by diversifying its trade partners, discovering new markets, and increasing its Islamic capital.
Second, Turkey cannot become a regional power until it becomes a true liberal democracy. To promote the "Turkish model" in the Middle East, it must first guarantee democratic rights at home, including freedom of speech and press, minority rights, and freedom of -- and from -- religion. In this regard, it still needs the EU, one of the anchors of liberal democracy in Turkey. Only by guaranteeing equal rights to all its citizens can Turkey promulgate itself as a model in the Middle East with full support from Washington and other allies.
Third, Ankara must balance its Muslim identity -- which has been emphasized under the AKP -- with its traditional Western identity, as traditionally expressed in its foreign policy. In the past decade, economic growth has led Turkey to regard itself as a dominant and indispensable Muslim power in the Middle East. Yet it has not amassed the necessary hard power to match its soft power, leaving it unable to shape events in the region.
Syria is a case in point. Although Ankara has supported the uprising there, its policy has not only failed to deliver results, but also exposed Turkey to grave risks, including the prospect of an enduring al-Qaeda presence next door and an Assad-controlled rump state that will never forget Ankara's stance during the war. Syria, along with Iraq, is also an arena for Turkey's regional rivalry with Iran. At the same time, Baghdad has taken umbrage at Ankara's growing rapprochement with the Iraqi Kurds, while Turkey's pro-Muslim Brotherhood policy in Egypt has caused it to lose favor with Saudi Arabia and the current leadership in Cairo. When its frozen ties with Israel are added to the picture, Turkey has not been this isolated in the Middle East in decades.
This strategic environment has shown Turkey's political elites that they must balance their country's identity and maintain strong ties with the EU, Washington, and NATO if they hope to take a leading role in managing the Syrian war's regional fallout. Only then can Turkey become the twenty-first century's first Muslim power. It is one step away from becoming an advanced economy and will continue to rise if it remains stable.
Stability is also one of the main requirements for Erdogan to win next year's presidential election. Helping Turkey become a European-Muslim power instead of Europe's "sick man" is in his interest as well.
BEN HODGES
NATO's 2010 Lisbon Summit ushered in significant transformation, with the alliance reducing the eleven major headquarters in its command structure to six. At the time, member states agreed on the need to establish one of these headquarters in Turkey. As a result, the Izmir-based Allied Land Command (LANDCOM) has become NATO's only remaining land command.
Turkey lies at the center of a turbulent region, from the Caucasus to the Middle East and the Balkans to the Black Sea, so its geostrategic position remains of crucial importance to the alliance. Its indispensable role is not limited to that factor, however. Turkey constitutes NATO's second-largest force contingent, and it is also the alliance's largest Muslim-majority member. Its unique capabilities have been especially evident in the Afghanistan mission, where Turkish forces have effectively employed their cultural and religious insight. Additionally, at a time when nearly all NATO nations have decreased their defense spending, Turkey is one of only two to increase its military budget.
For its part, NATO has proven that it is a reliable partner for Turkey, as shown in the 2012 deployment of Patriot missile systems from Germany, Netherlands, and the United States to help protect civilians in southeastern Turkey. Besides the collective defense principle, Turkey also benefits from NATO standards and technical capabilities. In short, Ankara and NATO have both gained much from the relationship and remain committed to each other.
ROSS WILSON
To understand Turkey's potential to become a regional power, one must look at its recent transformation and future challenges. Currently, the Turkish government has become a victim of its own success. The majority of voters who brought the AKP to power have become the country's new middle-class core. This transformation of the AKP's constituency poses numerous challenges, and the party's ability to accommodate such change will determine whether it can continue to lead Turkey's rise in the coming years.
Meanwhile, the idea of a "Turkish model" for the Middle East has butted up against stark demonstrations of the limits of Ankara's power in the region, with many policy initiatives not working out as planned. Nevertheless, Turkey remains an influential, exceptional, and economically robust power, with a level of self-confidence that did not exist a decade ago. And its current foreign policy goals reflect not only the political elite's preferences, but also the demands of voters.
Of course, Turkey's growing assertiveness means that its relations with the United States will continue to be "scratchy" at times, especially given their different tactics and, in some cases, different goals. Moreover, Turkey's recent political turmoil has not only limited its ability to play a larger role in the region, it has also detracted from the U.S.-Turkish relationship and Washington's ability to objectively understand ongoing political developments in Ankara. Dr. Cagaptay's book is helpful in seeing through the layers of complexity surrounding these developments.
JAMES JEFFREY
Turkey remains an important ally due in part to the timing of its political and economic transformation. The AKP has provided sound economic policy and good governance at a time when neighboring countries have been struggling with political and financial crises. Cooperation with Western and global institutions such as the International Monetary Fund helped Turkey overcome its own financial crisis and reset its economy.
The recent deployment of ballistic missile shields in southeastern Turkey has further highlighted the extraordinary importance of Turkey's relations with the United States and NATO. Their mutual trust and reliability indicates that none of the parties will deviate from this productive relationship.
As for domestic political concerns, Turkey has a large constituency of literate and educated citizens with access to all kinds of media outlets as well as to the outside world. Accordingly, the United States should trust in Turkish democracy and the Turkish people, who are well aware of what is going on in their country.
Another reason to be optimistic about Turkey's future is the persistent idea of a "Turkish model." To be sure, the limits of this model were exposed when Ankara's soft power proved insufficient to overthrow the Assad regime in Syria. Yet Turkey's image as an island of stability in a chaotic region remains important, especially given the recent crisis in Crimea.
This rapporteur's summary was prepared by Bilge Menekse.