Turkey's Snap Elections May Not Change Much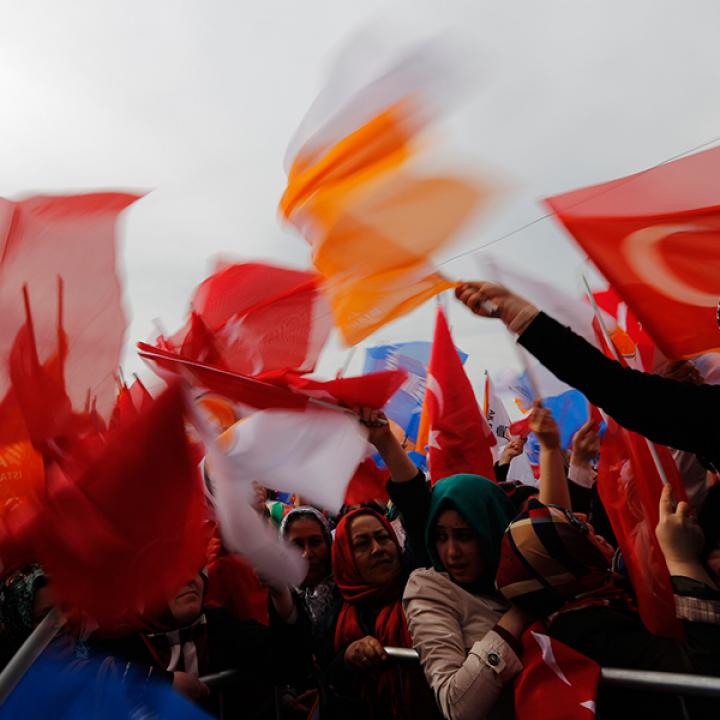 Barring a last-minute surprise, President Erdogan's efforts to return his AKP to single-party rule could be hindered by a faltering economy and declining domestic security.
As a deeply polarized Turkey approaches the November 1 snap elections, it is unclear whether the governing Justice and Development Party (AKP) will recoup any or all of its 20 percent overall drop in support during the June vote, which ended thirteen straight years of single-party rule in the country.
Judging from recent polls, the AKP may not gain much at all, owing to the resumption of fighting with the outlawed Kurdistan Workers Party (PKK) and the Turkish lira's sharp decline. Polls are showing the AKP hovering around 40-41 percent -- in line with its June outcome (40.87 percent). What is different from previous elections, however, is the tighter party control by Recep Tayyip Erdogan, the AKP's founder and erstwhile leader, who resigned from the party in August 2014 to assume the presidency. Over the past eighteen months, Turkish citizens have voted in three major elections (local, presidential, and general), all of which seemed to be referendums on Erdogan and his assertive style of governance. Five weeks before the new vote, little evidence suggests that this contest will be much different -- or that Erdogan will shy away from campaigning for the AKP, even though the constitution bars partisan affiliation by the president.
BACKGROUND
The June 7 elections effectively ended the pro-Islamist AKP's hegemony over Turkish politics and appeared to herald a new era of power sharing. Although still the top vote getter, the AKP paid a heavy price for its half-baked peace process with the PKK, simultaneously losing Kurdish and nationalist Turkish voters. Popular backlash against Erdogan's attempts to install himself as the country's de facto chief executive, in violation of the Turkish constitution, also harmed the AKP. Erdogan's handpicked successor as prime minister, Ahmet Davutoglu, delivered just 258 seats in the vote, 18 short of the 276 needed to form a single-party government. Thereafter, party leaders entered into coalition talks with the main opposition Republican People's Party (CHP) and the Nationalist Action Party (MHP), which earned 25 percent and 16 percent, respectively. But these talks failed to yield a power-sharing agreement.
PRESIDENTIAL SHADOW
Senior CHP members who took part in meetings with the AKP delegation in July and early August believe Davutoglu was sincere in his efforts to form an alliance -- and thus reclaim the center of gravity in Turkish politics.
Erdogan, however, seems to have decided on a different course. He and supportive media voices started talking about new elections -- which he called "repeat elections" -- immediately after the June 7 vote, and on his July 31 return from China, he told reporters that it was "futile to expect any benefits for the country" from coalition governments, thus making his preference clear. Although an AKP-CHP coalition initially looked likely, Erdogan easily and swiftly steered the AKP away from this and other coalition formulas, announcing fresh elections by August 24.
Whereas polls show the AKP -- and the other three major parties, for that matter -- with about the same support as on June 7, Erdogan is counting on the idea that, given a declining economy and deteriorating domestic security, voters might set aside their AKP-related grievances and opt to back a strong leader. This would turn Erdogan's main disadvantage -- an authoritarian streak -- into an advantage. Erdogan, who has maintained greater hands-on party control than ever, reportedly had the final say in determining party leadership at the AKP's September 12 convention as well as in screening names for its parliamentary lists submitted for the November 1 polls.
ERDOGAN VS. 13 PERCENT, AND VICE VERSA
Despite the constitutional ban, Erdogan will doubtless be on the campaign trail over the next few weeks seeking AKP votes -- mostly in the framework of massive antiterrorism rallies, the first of which took place in Istanbul on September 18. As preceding the June vote, Erdogan's real target will likely be not the main opposition CHP but rather the pro-Kurdish Peoples' Democratic Party (HDP), a smaller bloc that made big gains in June.
Indeed, led by the charismatic forty-two-year-old Selahattin Demirtas, the HDP was both dark horse and game changer in the June vote. A former human rights activist, Demirtas doubled the movement's previous tally, sending it above the 10 percent threshold needed to enter parliament. Moreover, the HDP successfully expanded its base beyond PKK supporters en route to its 6 million votes (13 percent), garnering support from middle-class and urban Kurds, liberal Turks, and far-left voters. Prior to the June elections, candidates representing the country's Kurdish political movement ran as independents by district, and would typically amount to twenty-five to thirty-five parliamentarians in Ankara. This time, with a campaign focused on diversity, cultural pluralism, and inclusivity, the HDP fielded a list that was half women, and also included members of the country's ethnic and religious minorities, including Armenians, as well as LGBT candidates -- a first in Turkey. In running this united party list, the HDP won 80 parliamentary seats, equal to the MHP's haul, making it a major political player to be reckoned with. The HDP's success has also brought the Kurdish issue into the Turkish mainstream: Turks can disagree with Kurdish political demands, but they can no longer simply ignore them.
In many ways, the June elections represented a stare-down between Erdogan and Demirtas, and since the vote Turkey's president has continued to target the HDP and its leader, often calling them "terrorist supporters" -- a reference to the party's kinship with the PKK. Long before the June elections, Demirtas made a name for himself by challenging Erdogan's aspiration to convert the political system to one based on an executive presidency, declaring, "We will not allow you to become [executive] president." This became the HDP rallying cry, helping attract left-wing voters and liberal-leaning Alevi voters but also leading Erdogan to halt the peace process with the PKK and its imprisoned founder, Abdullah Ocalan.
VIOLENCE ESCALATES
In July, hostilities resumed between the PKK and the Turkish government, with the first PKK attacks occurring on July 20 and 22, ending a once-promising ceasefire. Since then, the PKK has been targeting police and soldiers in eastern Turkey, resulting in a surge of Turkish nationalist sentiment. This could help Erdogan and the AKP on November 1, peeling off voters from the Turkish nationalist MHP. But fighting in the Kurdish southeast could also hurt the AKP and simultaneously boost the HDP by aligning conservative Kurdish voters, angered by the suspension of civil rights in Kurdish-majority provinces, with the HDP. In other words, Erdogan's gains from fighting the PKK could be offset by losses.
IT'S THE ECONOMY
The AKP won successive elections after coming to power in 2002 primarily by delivering prosperity and good governance. Yet over the past year, the Turkish lira has been devalued by almost 35 percent against the dollar, and the construction sector -- the engine behind the AKP's consumption-driven economic model -- is suffering. The AKP government's use of targeted tax audits to punish political opponents, with prominent cases including Koc Holding and the Dogan Media Group, has since 2011 intimidated major Turkish economic players from embarking on large-scale investments.
Erdogan believes in a state-driven capitalism, not dissimilar from Putin's model, and personally helps decide the winners in major government contracts. Yet whereas the AKP government's appeal for international investors had long been its promise of financial stability, foreign direct investment has been falling since 2013 -- aside from investment in state-sponsored infrastructure projects -- a result of waning global interest in emerging markets and questions about Turkey's political stability and business environment. The economic slowdown, meanwhile, is seemingly reflected in popular sentiments. According to a June survey by Metropoll, a Turkish polling company, 58 percent of Turks -- nearly equaling the votes cast for the combined opposition parties that same month -- believed the country's economy was "being managed poorly." Today, this number has climbed to 64.6 percent. AKP support, barring a last-minute surprise, could thus stagnate or even drop on November 1, reflecting souring views on the economy.
IMPLICATIONS FOR U.S. POLICY
Should Turkey's November vote result in continued political uncertainty, one effect could be Ankara's reduced ability to further cooperate with the U.S. campaign against the Islamic State of Iraq and al-Sham (ISIS) in Syria. A hung parliament in Ankara would result in either no government, a caretaker government, or a shaky coalition government, all leading to political stalemate. The dangerously polarized atmosphere in Turkey, a source of potential instability, is also unlikely to change. As Washington plans to push deeper into Syria against ISIS, a weak Ankara government will lack the political capital to fully support the mission.
Asli Aydintasbas is a journalist and commentator on Turkish politics based in Istanbul.
Soner Cagaptay is the Beyer Family Fellow and director of the Turkish Research Program at The Washington Institute, and author of The Rise of Turkey: The Twenty-First Century's First Muslim Power (Potomac Books), named by the Foreign Policy Association as one of the ten most important books of 2014.