Turkey's Presidential Runoff: What to Expect May 28 and After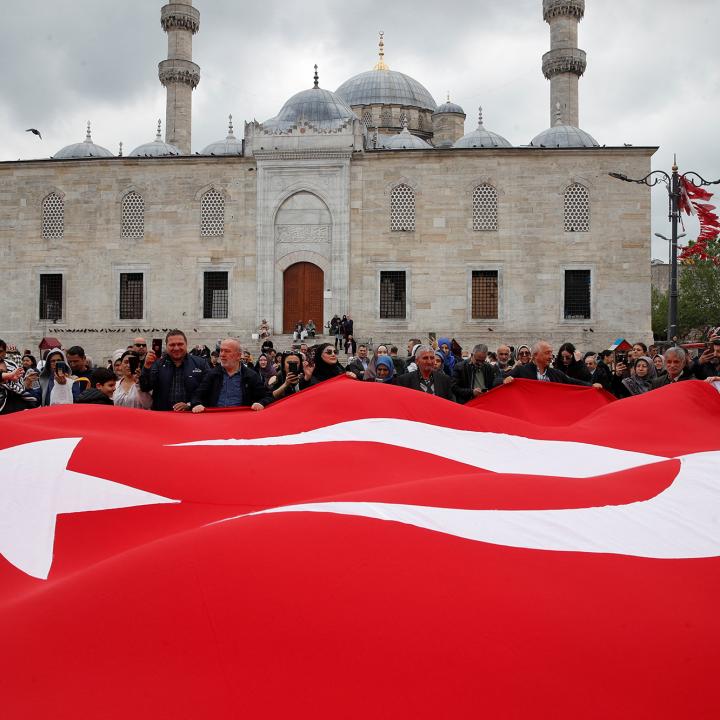 A panel of journalists and scholars discuss the policy implications of various scenarios that might emerge from the final round of Turkey's election.
On May 25, The Washington Institute held a virtual Policy Forum with Elcin Poyrazlar, Emre Peker, Humeyra Pamuk, and Soner Cagaptay. Poyrazlar is an author and journalist for top-tier international media. Peker is the director for Europe at the Eurasia Group. Pamuk is a senior foreign policy correspondent for Reuters. Cagaptay is the Institute's Beyer Family Fellow and director of its Turkish Research Program. The following is a rapporteur's summary of their remarks.
Elcin Poyrazlar
Although the Turkish populace voiced a strong desire for change leading up to this month's election, President Recep Tayyip Erdogan's bloc was very confident it would win. The opposition performed quite well in the first round, but Erdogan's cult of personality led many voters to view him as the only candidate capable of building a better Turkey, despite admitting to problems in the country.
To be sure, the results ahead of the May 28 runoff still constitute a warning to Erdogan and his Justice and Development Party (AKP), which garnered its lowest support since the 2002 election that originally brought it to power. For the first time in twenty years of Erdogan's rule, the opposition presented an organized alternative and an opportunity for positive change. Yet Erdogan took full advantage of a very polarized society and his powerful sway over the judiciary, financial, and media sectors. For example, AKP supporters whom I interviewed on the street often repeated his talking points word for word, such as, "Support for the opposition would lead to terrorist groups like the Kurdistan Workers Party (PKK) coming to power."
Meanwhile, opposition candidate Kemal Kilicdaroglu has led a completely different campaign since the first round of voting. Whereas he was previously positive and inclusive, he is now echoing certain anti-refugee sentiments and embracing some ultranationalists.
The main question now is whether Turkey will go back to the old system of democratic checks and balances or become a one-man party state like Russia or China. Two things are certain to happen: fundamental freedoms will decrease, and disadvantaged groups such as women and the LGBTQ community will be widely threatened. In the longer term, surveys indicate that as many as 75 percent of Turkish youths want to leave the country, even those who come from families that support the AKP. Brain drain appears to be increasing as well, with many doctors, engineers, and white-collar workers expressing a desire to live abroad.
Emre Peker
The results of the first round make clear that identity politics dominated the election. Despite Turkey facing its deepest economic problems since 2001, skewed campaign coverage ensured that secondary issues such as terrorism, family values, and LGBTQ rights took the spotlight. Although the opposition successfully consolidated its bloc, it failed to bring in additional votes from the conservative and right-of-center parties that make up 60-65 percent of the electorate.
The main opposition faction, the Republican People's Party (CHP), gained practically nothing by aligning with the Islamist Felicity Party and former AKP politicians such as Ahmet Davutoglu (now with the Future Party, or Gelecek) and Ali Babacan (now with the Democracy and Progress Party, or DEVA). Similarly, a CHP-allied nationalist faction, the Good (IYI) Party, saw marginal losses among its base. The prevailing politics of polarization will make it even more difficult to maintain a joint opposition bloc heading into local elections next March.
As Erdogan heads for a likely third term, the economy will be his biggest obstacle going forward, including the highest inflation rate in years and soaring unemployment. Yet he may feel so vindicated by his victory that he initially remains committed to his economic policies. This decision could also reflect his long-term goal of making Turkey more independent from Western financial markets, in part by building stronger economic ties with Russia, the United Arab Emirates, and Saudi Arabia. Fortunately for Erdogan, high projected tourism rates should be able to keep Turkey's economy afloat this summer. Yet as the weather gets colder, natural gas imports increase, and schools reopen, an economic U-turn will be needed to support the people's needs and manage external payments.
As for Turkey's ties with the EU, they are unlikely to change if Erdogan prevails again. This means no updates to the 1995 Customs Union, and no visa liberalization for Turkish travel to the EU. More broadly, the West will continue to see Erdogan as a difficult partner who is nonetheless important for strategic interests.
Humeyra Pamuk
Although the outcome is not set in stone, Erdogan has a comfortable lead after claiming over 49 percent of the vote in the first round. If he wins the runoff, opposition leaders will need to navigate Turkey's emergent nationalist mandate and revisit their lackluster election security strategy.
Unfortunately, this election has also seen the emergence of a post-truth narrative. Earlier this week, for example, Erdogan admitted that one of his campaign rallies had shown fake footage of PKK militants cheering on his opponent, while adding that it is not relevant if the video is fake. He also managed to convince much of the populace that the devastation wrought by this year's earthquake was an act of God that only he could fix. Similarly, many voters do not see him as the culprit behind the lira's plummet.
Regardless of the runoff's results, one issue will remain a major priority for U.S.-Turkish relations: Sweden's accession to NATO ahead of the alliance's next summit this July. As U.S. and NATO officials have emphasized since the beginning of the Ukraine war, failure to admit Sweden would send a bad message about transatlantic unity. Although U.S. policymakers believe that this goal would be easier to achieve if Kilicdaroglu wins the election, they are also hopeful that Erdogan would come to the same decision by July. In either case, admitting Sweden would give the Biden administration more ammunition to push for additional F-16 sales to Turkey; without that concession, however, Congress is unlikely to approve any sales.
Washington should also keep an eye on Erdogan's relationship with Vladimir Putin. Erdogan's tendency to play both sides has been met with suspicion in the West, spurring top U.S. officials to regularly visit Turkey and warn the government and private companies against violating Russia sanctions. The Biden administration regularly signals Ankara about infringements of human rights and democracy as well. Indeed, the bilateral relationship has been transactional and uncomfortable for some time, and this will not change if Erdogan is reelected. Yet Turkey could still prove valuable in advancing U.S. policy interests, as shown with the Ukraine-Russia grain deal.
Soner Cagaptay
With Erdogan favored to win the runoff, so much attention is being paid to what he has done, but not so much to what Kilicdaroglu failed to do. Garnering the most votes for a left-wing candidate in Turkey's history is impressive, but in the end he did not defeat Erdogan. Although the electorate recognized the problems with the incumbent, they were not inspired by Kilicdaroglu's non-polarizing campaign. Many voters were also convinced that the opposition was backed by terrorists—a complete lie perpetuated by Erdogan-aligned media—and never got around to assessing the merits of Kilicdaroglu's vision for Turkey.
If Erdogan wins, the margin of his victory will likely determine whether he shifts his approach to economic policy, foreign policy (i.e., leaning toward Putin), and anti-democratic crackdowns. Three scenarios are possible, ordered from least plausible to most:
Fragile Erdogan.

A narrow win (around 1 percent margin) would be contested by the opposition. Although Erdogan would shut down this challenge, he would emerge from the vote feeling vulnerable. At home, this would likely spur him to launch more crackdowns on the opposition while doubling down on his unorthodox economic model, based on a belief that he has little political room to make substantial changes. Abroad, he would lean more on Putin in order to secure further Russian assistance ahead of the 2024 local elections.

Emboldened Erdogan.

In his eyes, a landslide win (55 percent of the vote or more) would validate his economic approach and his foreign policy, including toward Russia. Feeling vindicated by the outcome, and bolstered by a new parliament with two-thirds right-wing representation, he may be tempted to push for the misogynist and anti-LGBTQ laws demanded by some of his allies in the legislature.

Chill Erdogan.

The most plausible scenario is one in which he wins comfortably but not by a landslide. This would likely result in business as usual—Erdogan would not feel the need to tweak his foreign, economic, or domestic policies, and his relationship with Washington would remain boldly transactionalist.
President Biden has attached huge importance to NATO enlargement, and approving the F-16 software update sale to Turkey was the first step in encouraging Erdogan to ratify Sweden's NATO membership after the election. Despite this opening, however, Erdogan will likely want to secure further concessions before finalizing ratification—namely, an invite to visit Biden in Washington, and a White House commitment to push the full F-16 sale through Congress.
This summary was prepared by Sude Akgundogdu, Eric Feely, and Collin Trissel. The Policy Forum series is made possible through the generosity of the Florence and Robert Kaufman Family.