Triangular Diplomacy:
Unpacking Russia's Syria Strategy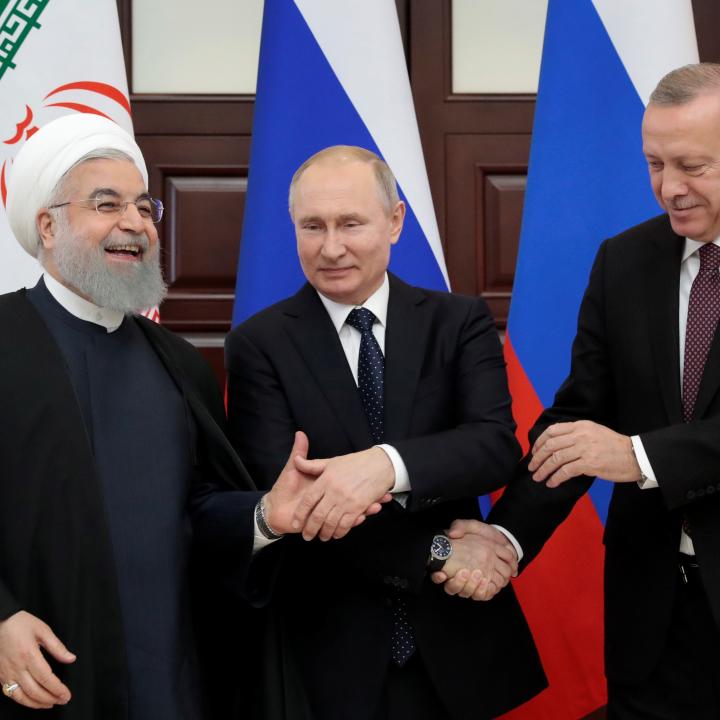 Moscow has repeatedly played actors off each other to secure its own interests and keep the Assad regime in power.
Sometime before July 10, the UN Security Council will vote on whether to extend the annual mandate for cross-border assistance into Syria, which now passes through a lone outpost at Bab al-Hawa. Securing this extension is essential from a humanitarian standpoint, but keeping the border open matters equally for reasons of stability, given the fragile ceasefire in Idlib. Looming over the process is the strategic mischief of Moscow, which has repeatedly played various actors in Syria off each other to secure its own geostrategic and economic interests and to keep the Assad regime in power. The Kremlin, to the latter end, has reliably vetoed Security Council resolutions that would check the Syrian regime, claiming falsely that such moves would facilitate Western incursions in the country.
In this Policy Note, Russia expert Anna Borshchevskaya and recent State Department senior advisor and NSC Syria director Andrew J. Tabler examine Russian diplomatic technique and subterfuge in Syria. The authors argue that by taking a strong stand and better uniting with partners and allies, the Biden administration can cut through Moscow's rhetoric and ultimately promote a sustainable future for Syria.