Treasury Increases the Pressure on Iranian Airlines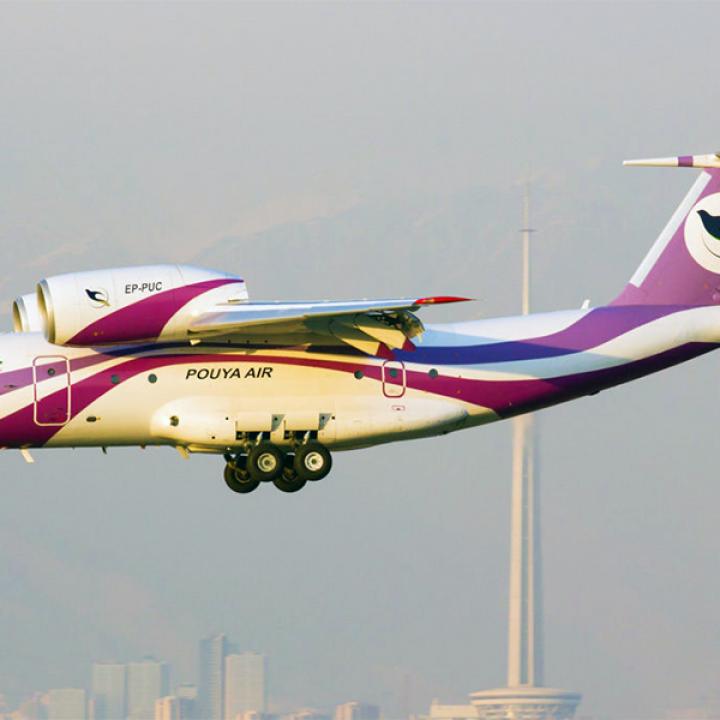 Numerous individual aircraft and front companies were added to the Treasury sanctions list, but naming even more of them could boost U.S. efforts to pressure Iran and close the IRGC's Syrian air bridge.
On May 24, the Treasury Department's Office of Foreign Assets Control (OFAC) designated nine entities and individuals associated with the provision of services to six Iranian airlines involved in abetting the regime's regional military activities. The sanctions aim to close loopholes that these companies have used over the years to source aviation parts and services. Treasury also singled out thirty-one individual aircraft directly engaged in sending arms and personnel to Syria (see table below). More actions are likely forthcoming—and the sooner the better given Tehran's proven ability to adapt to new sanctions.
REVIEWING THE DESIGNATIONS
The sanctioned firms included Mahan Air, Caspian Airlines, Meraj Air, Dena Airways, Pouya Air, and Blue Airways. The latter is just a front company with no fleet. Meraj, Caspian, and Pouya (formerly Yas Air) were all designated in August 2014 for supporting Islamic Revolutionary Guard Corps operations in Syria; in fact, Pouya is the cargo wing of the IRGC Aerospace Force and services the air bridge to Syria on a daily basis.
In June 2011, Treasury sanctioned the country's flag carrier, Iran Air, and its subsidiary Iran Air Tours for supporting the IRGC and Iranian Defense Ministry "through the transport and/or transfer of goods for, or on behalf of, these entities." This included using commercial flights to transport "military-related equipment" and "potentially dangerous cargo" to Syria (e.g., missile components).
Four months later, Treasury sanctioned Mahan Air for providing services to the IRGC-Qods Force and Hezbollah, including "secretly ferrying operatives, weapons, and funds on its flights" to Syria and Iraq. Since then, more than 200 front companies and individuals have been hit with secondary sanctions for having commercial ties to Mahan. Such actions are designed to prohibit any U.S. entities "from engaging in commercial or financial transactions with Mahan Air, and any assets it may hold under U.S. jurisdiction are frozen."
In May 2013, Treasury targeted Iran's aircraft procurement and support networks in Kyrgyzstan, Ukraine, the United Arab Emirates, and other countries, which had helped Mahan and Iran Air circumvent sanctions. Mahan managing director Hamid Arabnejad was designated as well, along with Um Air, Bukovyna Airlines, Kyrgyz Trans Avia, and other affiliates. The latter companies were accused of leasing BAe 146/Avro RJ100 jets and other aircraft to Mahan, some of which were used "to fly to Syria on numerous occasions." Last year, Mahan used its British-made BAe/RJ fleet to transport Shia militiamen from Iraq to Abadan, Iran, and then on to Damascus, as they were unable to fly directly to Syria from Iraq.
Mahan had already been under severe sanctions since 2011, resulting in about one-third of its sixteen BAe 146/RJ jets being grounded due to lack of parts. Yet many of these planes have been back in service since last year. Past sanctions were seemingly more effective on Mahan's Boeing 747s, which were almost entirely grounded and had to be replaced on international routes by secondhand Airbus A340s. Under the new sanctions, ten of the company's active aircraft are identified individually, making it increasingly difficult for them to receive services and remain airworthy. Mahan, which is now effectively the largest Iranian airline, will gradually feel even more pressure on its entire thirty-six-plane fleet, potentially forcing it to pursue costly options such as changing aircraft or rebranding itself.
(Click on table for higher-resolution version.)
TARGETING IRAN'S "AIR FORCE ONE"?
Since 2011, "Meraj Air" has been the brand name for planes operating out of the "Republic Hangar," Iran's main facility for official government VIP transport. This switch allowed state aircraft to be used for lucrative operations in the commercial market. The Republic Hangar and Meraj are maintained by the Islamic Republic of Iran Air Force (IRIAF).
More recently, a new entity named Dena Air has been taking over the VIP side of operations using two aircraft: an Airbus A340-300 (formerly Meraj EP-AJA and reregistered in November 2017 as EP-DAA) and an Airbus A321-200 (EP-AGB). Both are used by Supreme Leader Ali Khamenei (under call sign DENA-01) for vacation trips to his hometown of Mashhad and his Caspian resort. They are also used by President Hassan Rouhani and Foreign Minister Mohammad Javad Zarif for trips abroad.
The Airbus EP-DAA was purchased in 2015 through the Tajikistani intermediary Asian Express Airline, which at the time was owned by Babak Zanjani, an Iranian millionaire and economic front man for the Ahmadinejad government. The Treasury Department placed most of Zanjani's assets under sanctions in 2013, essentially targeting Asian Express in the process (all of the airline's shares were reportedly owned by Kont Investment Bank in Tajikistan, a firm founded by Zanjani holding company Kont Kozmetik).
The Airbus EP-AGB has been marred with controversy as well. In 2005, the French company Sogerma Services temporarily halted its work on fitting the aircraft with a luxury interior, citing U.S. sanctions.
Dena's two government VIP jets have yet to be individually named by Treasury or added to OFAC's designation list for secondary sanctions. To be sure, Dena itself has been designated, so both aircraft are subject to sanctions. Yet as discussed below, putting out a list that omits the Supreme Leader's two main aircraft seems like a missed opportunity for sending a message to Iranians and other foreign audiences.
The IRGC and its affiliated airlines also use a range of front companies in Armenia, Tajikistan, Thailand, Turkey, Ukraine, and Uzbekistan to purchase prohibited aviation parts and technical services. Some of those companies were named on the latest sanctions list, and more actions are likely forthcoming.
In December 2016, OFAC sanctioned Syria-based Cham Wings Airlines "for having materially assisted, sponsored, or provided financial, material, or technological support for...the Government of Syria and Syrian Arab Airlines." Yet Cham's charter company continues to fly to Tehran at least five times a week using Airbus A320 commercial jets, often with maintenance help from Mahan Air. According to an April 6 Reuters report, Cham also transports Russian mercenaries and military contractors to Damascus and Latakia, using Rostov Platov International Airport as a hub. The report estimated that Moscow has between two and three thousand mercenaries fighting in Syria.
Similarly, the IRGC still uses Pouya Air for frequent Ilyushin cargo flights to Russian cities and Damascus. One of the most active aircraft on those routes (EP-PUS) was absent from the new Treasury list, though its serial number was previously listed in September 2012 under another registration name (EP-GOM). All of these aircraft are subject to sanctions given Pouya's 2014 designation, but naming them individually could help aviation and financial firms better enforce the sanctions.
IMPLICATIONS FOR U.S. POLICY
The IRGC will keep finding ways to circumvent sanctions, so the U.S. government would be wise to maintain pressure where it is most effective and sends the most potent message. In particular, the regime will likely continue renaming airlines and creating new front companies to obtain Western planes and services; it could also turn to Russian or Chinese suppliers. The latest sanctions on parts suppliers may force Mahan and other airlines to buy secondhand or retired Airbus and BAe airframes for use as "hangar queens" (i.e., sources of spare parts).
As the noose tightens around Mahan, its domestic and international operations will become costlier and more difficult, potentially spurring Tehran to draft other airlines into maintaining the Syria air bridge—perhaps further involving Iran Air. Accordingly, Washington should warn Iran that it will not hesitate to list the flag carrier's jets (which already fly to Damascus routinely) if the IRGC uses them to fill Mahan's military supply routes. Iran Air was removed from sanctions lists as part of the 2015 nuclear deal, but Treasury has said it will reimpose sanctions on all removed entities no later than November 5, so the airline may already be on the clock.
As for the two aircraft used by Khamenei, Treasury may have any number of technical reasons for keeping them off the list for now. Even so, the department should consider naming them individually, if only to reinforce the point that U.S. sanctions are aimed at the regime, not the Iranian people. Such messaging could give more Iranians the rationale they need to openly question the Islamic Republic's regional military activities and "revolutionary objectives," which are increasingly in direct conflict with Iran's national interests.
Farzin Nadimi is an associate fellow with The Washington Institute, specializing in the security and defense affairs of Iran and the Persian Gulf region.