Soleimani's Popularity Is Largely Limited to Iran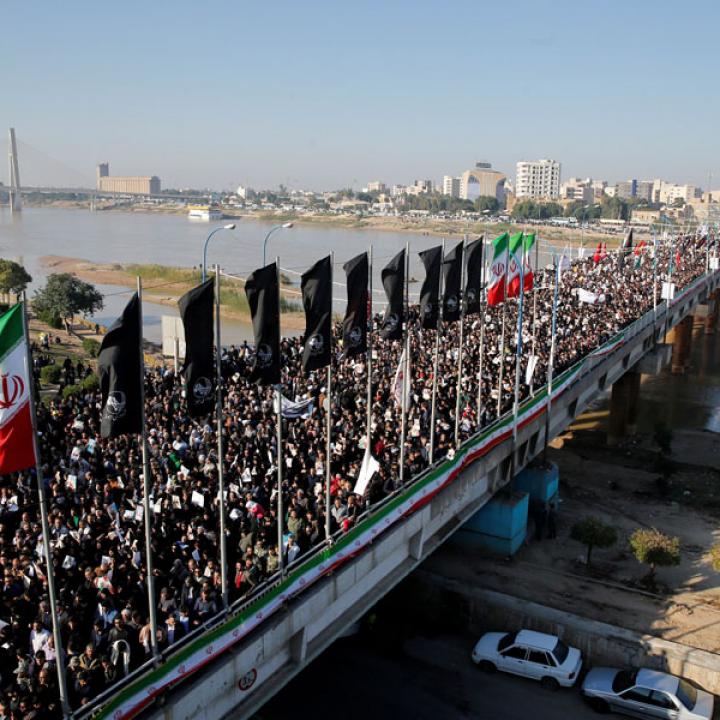 Mass funerals aside, his image as the quintessential Iranian nationalist made most Middle Easterners wary or actively hostile toward him, so the United States is unlikely to face popular reprisals following his death.
Given the reports about huge crowds turning out in Iranian cities for funeral events honoring former Qods Force commander Qasem Soleimani, one might get the impression that he was popular across the region. Nothing could be further from the truth. In most Middle Eastern countries, there has been exactly zero popular reaction to his death; the same is true in Muslim-majority countries elsewhere, apart from one small protest in Pakistan.
Most striking is how little reaction has been seen from Shia Muslims outside Iran. Consider Iraq. For months, residents of Baghdad have poured into the streets night after night to protest various problems with their government—but not now, not for Soleimani. Over the same span, hundreds of thousands of Iraqis have held demonstrations several times after Friday prayers. Last Friday, however, press and social media reports indicate that only a handful of mosques saw popular protests against the U.S. drone strike that killed Soleimani just hours earlier, along with leading Iraqi politician Jamal Jaafar Muhammad Ali al-Ibrahimi (aka Abu Mahdi al-Muhandis, head of the militia Kataib Hezbollah).
Baghdad has at least seven million Shia residents, or as many as eight million by some accounts. Yet a very small proportion of them—reportedly 2 percent at most, and perhaps less than 1 percent—showed up at Soleimani's January 4 funeral. Although that might seem large when translated into raw numbers or seen in video news blurbs of the event, it pales in comparison to the estimated one-third of all Iraqi Shia who participate in the annual Arbain pilgrimage, even in years when marchers are subject to repeated terrorist attacks. Such numbers say much about Soleimani and Iran's current popularity in Iraq.
Consider also that the funeral procession in Baghdad passed right by the International Zone with no attempt to storm into it or attack the U.S. embassy. That says much about how virulent the reaction to Soleimani's death might truly be. Many experts had worried that the event might be used for a mass attack on the embassy, leading to mass casualties if the U.S. Marines onsite responded. That did not happen, whether because the U.S. military moved in additional forces to defend the embassy, or because the funeral marchers were simply not incensed enough to go that far, or both.
This relatively muted reaction is particularly telling because it occurred in Baghdad, which has seen less overt anti-Iranian protest than southern Iraqi cities such as Najaf and Basra. There, Iranian consulates have been burned to the ground—not a symbolic scorching of a reception hall (as happened at the U.S. embassy last week, prior to Soleimani's death), but total destruction by a spontaneous mob, reflecting uncontrollable popular anger. In contrast, the crowds that rioted near the U.S. embassy on December 31 were largely composed of militia members carrying out a highly disciplined and organized operation.
These same militias are widely believed to be responsible for killing hundreds of Iraqi protestors on Soleimani's orders in recent months, greatly diminishing the popular support they gained during the war against the Islamic State. Such abuses continued this week; in Nasariyah, for example, militia members killed a protestor who declined to join the local mourning procession for Soleimani and Muhandis on January 5. In response, an enraged crowd burned down the headquarters of the militia in question. In other cases, southern protestors have shown their anger toward Iran and its proxies by attacking funeral processions for Soleimani.
To be sure, Soleimani's assassination will lead many Iranians to rally around the flag. Yet the same factor that made him popular in Iran works against him elsewhere in the region, namely, his image as the quintessential Iranian nationalist. Back at home, the regime does not portray him as a great revolutionary or Islamic figure, but rather as the man who saved the Iranian nation from the Islamic State threat. After the transnational terrorist organization conquered Mosul in 2014 and began to march on Baghdad, many in Iran had an exaggerated fear that they would be the next to suffer a terrorist invasion, or at least major internal chaos of the type seen in Syria and Iraq. Consequently, even a substantial number of Iranian reformists see Soleimani as the man who saved their country from that fate. Although the regime has certainly organized participation in his funerals, make no mistake: many Iranians truly mourn his passing.
This notion of "Soleimani the savior" is highly ironic, of course, not least because the Islamic State's victories in Iraq were largely due to the ultra-sectarian policies he pressed on authorities in Baghdad. Yes, he and the militias under his control played a key role in fighting the group, but he was also its principal recruiting agent—in other words, he was both the fireman and the arsonist.
Domestic sentiment aside, the more important point is that Muslims elsewhere in the region and around the globe will not rush to march behind an Iranian nationalist banner. In fact, Soleimani's nationalist image is what fed most of the hatred for him in Iraq. Accordingly, the United States is unlikely to face popular reprisals from the world's Muslims in the wake of his death—not even from most Shia. And while the Iraqi parliament has quickly escalated its efforts to push U.S. forces out of the country, Washington should distinguish between heated resolutions put forth by Iranian-influenced political elites on the one hand, and the public's relatively tepid anger about Soleimani's death on the other.
Patrick Clawson is the Morningstar Senior Fellow and director of research at The Washington Institute.