Resetting the U.S.-Kurdish-Baghdad Relationship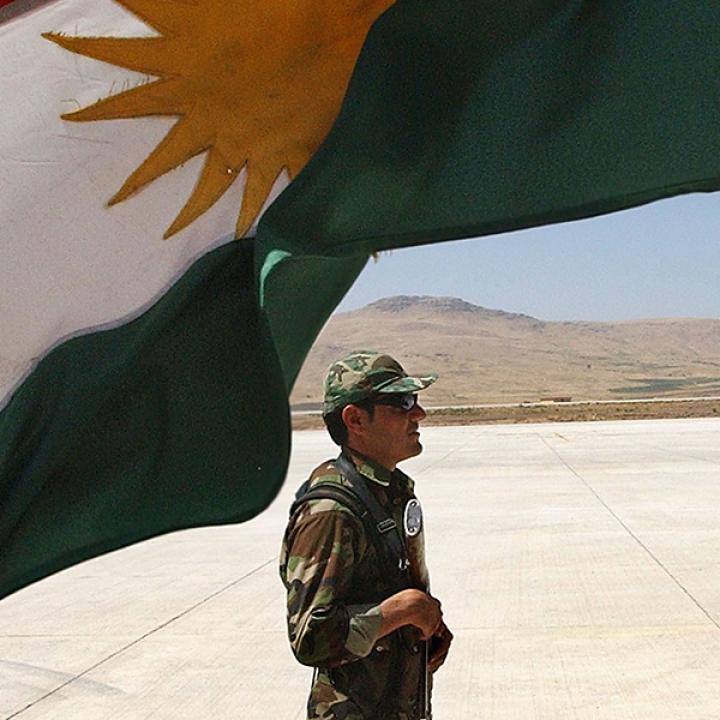 Washington should keep pressuring Baghdad to make early, ungrudging goodwill gestures toward the Kurds instead of reverting to hardball negotiations and broken promises.
A vital first step in defeating the Islamic State of Iraq and al-Sham (ISIS) is the consolidation of a base of operations in Iraqi Kurdistan, which is ideally positioned as a launch pad for joint efforts against the jihadists and their self-declared caliphate. The Kurdistan Regional Government (KRG) is squarely in the group's crosshairs now -- as a military foe and the base for inflicting defeats on the jihadists since August -- making the eradication of ISIS an urgent priority for Kurdish leaders in Erbil. The United States has a critical role to play in crafting a deal that will sustain the anti-ISIS coalition in Iraq and keep the Kurds actively engaged in the fight. In particular, Washington needs to ensure that Baghdad-KRG negotiations do not return to "business as usual" nitpicking at a time when Iraqis are embroiled in a fight to the death against ISIS.
THE KURDISH ROLE IN DEFEATING ISIS
The international community's effort to curb ISIS began in Iraqi Kurdistan, which served as the base for two signal victories last month, at Mosul Dam and Amerli. The 175,000-strong Kurdish peshmerga quickly recovered from a surprise ISIS offensive in early August, demonstrating resilience and a willingness to facilitate U.S. and federal Iraqi military operations. A wider international effort to destroy ISIS would be far longer and more costly without the KRG, which can provide secure basing and direct access to over a thousand miles of the group's front lines in northern Iraq and, importantly, Kurdish-populated parts of eastern Syria.
The KRG is vital to broader U.S. interests in Iraq as well. For one thing, it is poised to add over 200,000 barrels per day of KRG-produced oil to world energy markets by year's end. And now that ISIS has cut Iraq's northern export pipeline, the KRG could quickly bring more than 120,000 bpd of stranded federal oil out of Kirkuk via its own internal pipeline network. Perhaps most important, bolstering the U.S.-KRG relationship would give the White House a backup plan and alternative source of leverage over Baghdad if new Iraqi prime minister Haider al-Abadi's Shiite-dominated government does not live up to its promises of inclusiveness.
KURDISH EXPECTATIONS
Iraq's Kurds have laid out their requirements in a number of statements issued since Abadi's government was ratified on September 9:
Payment of backdated KRG salaries. No Iraqi budget has been ratified in 2014, so the country is working on the "one-twelfth" system whereby the KRG and other provinces and ministries are to receive a twelfth of their 2013 budget each month. Yet disagreements over control of KRG oil exports have resulted in Erbil receiving less than two months' worth of these payments since January, even as all other provinces in Iraq have received full payments. The KRG is now seeking an estimated $8.5 billion in unpaid transfers.  
Support to the peshmerga. The KRG wants the international community to provide arms and training to the peshmerga independently of Baghdad's Ministry of Defense. Reflecting international practice, the central government reserves the right to review and approve weapons shipments and issue the end-user certificate required by most exporters. Apparently, Baghdad is bent on wielding this authority to prevent the KRG from developing antitank and antiaircraft arsenals whose acquisition seems aimed at countering federal forces more than ISIS. The Kurds also want peshmerga costs (salaries, training, and equipment) to be financed mostly by the federal government as a sovereign expense. Abadi has supported the idea of arming and training the peshmerga as part of a new federally funded National Guard Force.
Revenue-sharing and oil-export agreements. The Kurds demand that an agreement be built into the 2015 budget (due by early January) allowing the KRG to export oil directly to world markets in partnership with Baghdad -- meaning without legal challenges and with most of the revenues directly channeled to Erbil as a partial advance on Baghdad's monthly budget transfers. Abadi has stated that finalizing this agreement might take as long as six months, which could delay the 2015 budget and keep Kurdish (and possibly Kirkuk) oil off the market for longer.
Disputed areas. In the longer term, the Kurds want to resolve the "Article 140 process" within two years, which would mean reversing Saddam-era ethnic resettlement efforts, conducting a census, and then holding referendums on whether certain areas will join the KRG. Erbil also wants greater control of its airspace and electronic frequency management (i.e., television, radio, and mobile telephony).
IMPLICATIONS FOR U.S. POLICY
Abadi is a tough negotiator, but that is not necessarily a bad thing: this determination has helped him push through a bruising government formation process, shrink his cabinet, and (thus far at least) resist pressure to place Shiite grandees such as Hussein al-Shahristani and Hadi al-Ameri in key ministries. Abadi's toughness might also mean that he can take any deal he makes with the Kurds, sell it to his own Arab constituents, and ensure that they honor it -- a welcome change from the Maliki formula of overpromising and underdelivering. In addition, Abadi has made important gestures to Erbil in his cabinet, appointing Kurdish official Rowsch Shaways as finance minister to signal goodwill on revenue sharing while replacing Shahristani with the pro-Kurdish Adil Abdulmahdi as the senior oil official. This team now needs to provide tangible encouragement to the Kurds, who have been without a regional budget for months while straining under the weight of 1.4 million refugees (Syrians and internally displaced Iraqis) as well as full peshmerga mobilization.
For its part, the United States should use all available influence with Abadi -- which is considerable given American military involvement -- to encourage him to make early, ungrudging offers of financial support to the Kurds and follow through with agreed actions. Washington should also continue urging him to pay attention to the diplomatic needs of coalition warfare, which is what the Baghdad-KRG relationship now represents. This includes being sensitive to the domestic pressures on Kurdish politicians, who must show their constituents that remaining part of federal Iraq is yielding tangible benefits. Only this combination of actions and sentiments can rebuild trust between the Kurds and Baghdad.
In specific terms, the United States needs to focus its efforts on three timeframes, with work beginning immediately on all initiatives due to the time lags inherent in crafting and implementing these policies:
In the coming weeks, Washington should ask Baghdad to not only pay the KRG's September salaries, but also make multi-billion-dollar lump sum installments to the Kurds for previous months in which payments were missed. This effort should be couched as a no-strings gesture of support, not as an advance on future Kurdish oil provided to Baghdad. Given that Iraq's budget is creaking under war costs, some form of U.S. or international soft loan may be needed to facilitate this lump payment -- if so, such an investment would pay great dividends in terms of cementing Iraqi unity at a critical moment in the fight against ISIS. This is no time for penny pinching. In addition, U.S. Central Command should commence symbolic provision of lethal aid (e.g., light antitank weapons) and trainers to the KRG as soon as possible, with Washington pressuring the Iraqi Defense Ministry to support the effort.
Before year's end, Washington should strongly encourage Baghdad to complete a range of milestones on both revenue sharing and funding the peshmerga. The 2015 budget is the natural vessel in which to encapsulate such a deal, so U.S. officials should offer administrative help and other support to develop the budget by early January. A major U.S. train-and-equip program for the peshmerga should be prepared for commencement early next year, with contingency plans to enact significant elements of said program even if the federal Defense Ministry is not immediately onboard. Moreover, U.S. aid should be channeled through the KRG Ministry of Peshmerga to strengthen this institution and dilute political party dominance of the most effective Kurdish units.
In 2015, the United States can help in many ways to support the design and passage of a formal revenue-sharing law that would set formulas for the KRG and other provinces. Toward that end, Washington should accelerate its educational programs aimed at bringing Iraqi politicians to the United States and other nations to witness how hydrocarbon revenue sharing is undertaken worldwide. Passage of such a law could pave the way for longer-term U.S.-backed work on a hydrocarbons framework law and a federal oil and gas council in 2016-2017.
Michael Knights is a Boston-based Lafer Fellow with The Washington Institute.