The Quartet Report (Part 2): Addressing Palestinian Incitement and Violence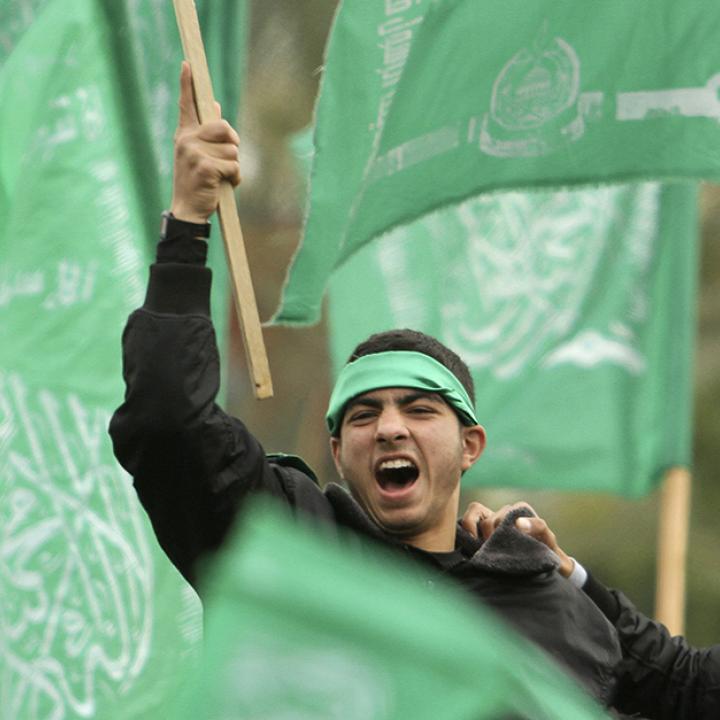 Unlike past reports, this iteration plainly acknowledges glorification of violence from both Hamas and Fatah, but it pays inadequate attention to problems associated with Palestinian governance.
This PolicyWatch is the second in a two-part series analyzing the Quartet report released earlier this month. Part 1 focused on Israeli challenges related to West Bank settlements. This part discusses Palestinian challenges.
Generally, the Quartet report is at its strongest when it puts forward a fact-based assessment of the situation on the ground, including Palestinian actions that harm Israelis or otherwise exacerbate tensions. Yet while it offers policy prescriptions, it falls short in not always being explicit on how to get from point A to point B.
Violence and Incitement
Given the common Palestinian view that the conflict results almost entirely from the Israeli occupation of the West Bank, Palestinian officials protested the criticism directed at Palestinians in the Quartet report. In their view, the report's critique of incitement and terrorism validates the Israeli narrative that Palestinian behavior represents an impediment to a two-state outcome. Palestine Liberation Organization secretary-general Saeb Erekat stated that the report "does not meet our expectations" because "it attempts to equalize the responsibilities between a people under occupation and a foreign military occupier." And Palestinian Authority (PA) president Mahmoud Abbas called on the UN Security Council to reject the report. Indeed, it is exceedingly rare that the Quartet elevates the issue of incitement to violence and glorification of violence -- as well as failure to explicitly condemn specific terrorist attacks -- as a major impediment to reaching a two-state solution.
For its part, the Quartet report declares, "Continuing violence, recent acts of terrorism against Israelis, and incitement to violence are fundamentally incompatible with advancing a peaceful two-state solution and are greatly exacerbating mistrust between the communities. Upholding the commitment to act effectively against violence, terrorism, and incitement is critical to rebuilding confidence and to avoiding escalation that will further undermine the prospects for peace." The report notes further that the recent wave of violence has included 250 attacks and attempted attacks by Palestinians against Israelis, in which at least thirty Israelis have been killed. In the most intense period, three to four attacks were occurring a day across Israel, Jerusalem, and the West Bank. The report continues, "These terrorist attacks, which have been carried out mostly by young, unaffiliated individuals, contribute to the sense among Israelis of living under constant threat. During this period, at least 140 Palestinians have been killed while carrying out or reportedly carrying out attacks. At least 60 more were killed by Israeli Security Forces during Palestinian demonstrations, clashes, or military operations."
The report also notes, "Settler violence against Palestinians, including assaults, vandalism, and the destruction of property, remains a serious concern. While there has been a significant decline in the number of attacks over the past three years, there have been some especially severe incidents, including the horrific arson attack in Douma in 2015 that left three dead and the burning to death of a Palestinian youth in 2014."
On the glorification of violence, the report remarks, "Palestinians who commit terrorist attacks are often glorified publicly as 'heroic martyrs.' Widely circulated images often depict the attackers with slogans encouraging violence. The spreading of incitement on social media has gained momentum since October 2015, and is particularly affecting the youth." The report, however, avoids mentioning the extensive payments the PA provides to families of terrorists.
While blaming Hamas for the most flagrant forms of incitement, the report also implicates Fatah. On Hamas, it alleges: "Hamas and other radical factions are responsible for the most explicit and widespread forms of incitement. These groups use media outlets to glorify terrorism and openly call for violence against Jews, including instructing viewers on how to carry out stabbings. Following the April 2016 bombing of an Israeli bus that injured at least 21 people, Hamas staged a rally celebrating the attack." On Fatah, the report declares: "Some members of Fatah have publicly supported attacks and their perpetrators, as well as encouraged violent confrontation. In the midst of this recent wave of violence, a senior Fatah official referred to perpetrators as 'heroes and a crown on the head of every Palestinian.' Fatah social media has shown attackers superimposed next to Palestinian leaders."
Moreover, the report notes the PA's failure to directly condemn attacks against Israelis: "The Palestinian Authority leadership has repeatedly made statements expressing opposition to violence against civilians and senior officials have publicly maintained a commitment to non-violent resistance. Regrettably, however, Palestinian leaders have not consistently and clearly condemned specific terrorist attacks. And streets, squares and schools have been named after Palestinians who have committed acts of terrorism." By contrast, although not acknowledged in the report, Israeli officials do explicitly condemn attacks against Palestinians, such as the incident last summer when a Palestinian teen was kidnapped and killed in the Jerusalem Forest. Such a discrepancy raises the broader question of how government officials from the two sides respond to extremist attacks emerging from their respective constituencies. On this front, Jewish extremist "price tag" attacks against Palestinians have decreased, according to the report, but their perpetrators are not always incarcerated. This is obviously an important detail.
In its recommendations section, the report calls on the PA to do everything in its power to cease incitement to violence, including "clearly condemning all acts of terrorism," enhancing security coordination with Israel, and -- in a suggestion too seldom put forward -- increasing Israeli-Palestinian people-to-people exchanges, a policy that sadly deviates from the public PA stance, and certainly from that of Hamas. 
Palestinian Governance
The topic of Palestinian governance receives short shrift in the report, which says only that "the Palestinian leadership should continue their efforts to strengthen institutions, improve governance, and develop a sustainable economy. Israel should take all necessary steps to enable this process, in line with the Ad Hoc Liaison Committee recommendations." The AHLC is a fifteen-member group developed during the Oslo years and focused on economic development assistance for the Palestinians.
Gaza Instability and Arms
On the Gaza Strip, the report criticizes Hamas for its weapons arsenal: "The illicit arms buildup in Gaza by Hamas and other Palestinian groups is continuing...Such activities increase the risk of renewed conflict, divert resources from humanitarian efforts, and threaten the lives of civilians in Israel and Gaza...While the 2014 [Gaza] ceasefire is otherwise holding it remains fragile, with at least 160 rockets and mortars fired at Israel, keeping thousands of people on both sides under constant threat of attacks." It also addresses the threat of cross-border tunnels: "In the course of the 2014 conflict, Israel discovered 14 tunnels penetrating its territory. Recently, two more tunnels were discovered, leading to a temporary escalation in which militants fired 40 mortars and eight rockets at Israel and the IDF conducted 13 airstrikes. At least four civilians in Gaza have been killed in Israeli airstrikes since the 2014 ceasefire."
As for Gaza's humanitarian situation, the report says that despite some progress, it remains dire: "Severe poverty, a crippling unemployment rate, and the chronic underdevelopment of Gaza further feed instability and frustration that could create the conditions for renewed conflict. 1.3 million Gazans are in need of sustained humanitarian assistance, including temporary shelter and food. Most people have electricity less than half of the time, while only 5 percent of the water is safe for human consumption." It adds: "Reconstruction also remains inadequate, despite notable easing measures implemented by the Israeli government and some visible signs of progress. With international support, more than 90 percent of schools as well as 80 percent of electricity and 60 percent of water infrastructure have been repaired or rebuilt following the 2014 Gaza conflict. 1.3 million tons of construction material has entered Gaza since the last conflict, including a recent average of over 10,000 tons per day, allowing for reconstruction of the housing, electricity and water infrastructure as well as rejuvenation of the private sector. Over three-quarters of houses that suffered severe damage have yet to be repaired, however, in part because only 40 percent of the donor funds pledged for Gaza in Cairo in 2014 have actually been delivered."
The report also weighs in on the slight improvement in Gaza exports since Israel eased restrictions two years ago: "In 2014, Israel partially lifted a seven-year ban on all exports from Gaza to Israel and the West Bank, which led to an increase in goods exiting Gaza. Nevertheless, total exports out of Gaza are currently only 17 percent of what they were before Hamas took control."
The report, meanwhile, tiptoes around the PA's not being a serious factor in Hamas-controlled Gaza -- even if the PA pays many salaries in Gaza -- noting in passing "the lack of control of Gaza by the Palestinian Authority." It further asserts that Palestinians should be unified but avoids offering an explanation for why this is not happening. It declares vaguely, "Reuniting Palestinians under a single, democratic and legitimate Palestinian authority on the basis of the PLO platform and Quartet principles remains a priority." Whose priority is less clear. Whereas the PA and Hamas claimed a breakthrough in unity negotiations five years ago, no actual unity has commenced. The truth is that Hamas does not want to concede Gaza control to the PA, and the PA is not contesting Gaza so long as Hamas is there.
The report goes on to warn that, given the lack of PA control of Gaza and the humanitarian crisis, "the risk increases of a new escalation of hostilities." This is a diplomatic way of saying another war in Gaza is highly possible.
The Price of Paralysis
The Quartet report does not constitute a blueprint for U.S. action as the Obama administration heads into its final months. (Core issues for a proposed Palestinian state that could appear in a final UN Security Council resolution, sharply derided by Israeli prime minister Binyamin Netanyahu as an "imposed solution," are not discussed.) Rather, it functions more as a warning to both parties that paralysis has a price. For Israel, the price of settlements, as discussed in Part 1 of this PolicyWatch, is a one-state reality. Israeli leaders oppose a one-state outcome because it contradicts their desire for Israel to remain a nation-state of the Jews with equal rights for all citizens. For the Palestinians, the price of not condemning specific incidents of terrorism and the failure to unify ranks over Gaza means continued violence and disarray. As such, the parties must look inward instead of following the impulse to blame each other or the United States.
David Makovsky is the Ziegler Distinguished Fellow and director of the Project on the Middle East Peace Process at The Washington Institute. He was a senior policy advisor in the Office of the Secretary of State to the Special Envoy for Israeli-Palestinian Negotiations in 2013-2014.