Political Crisis in Tunisia: U.S. Response Options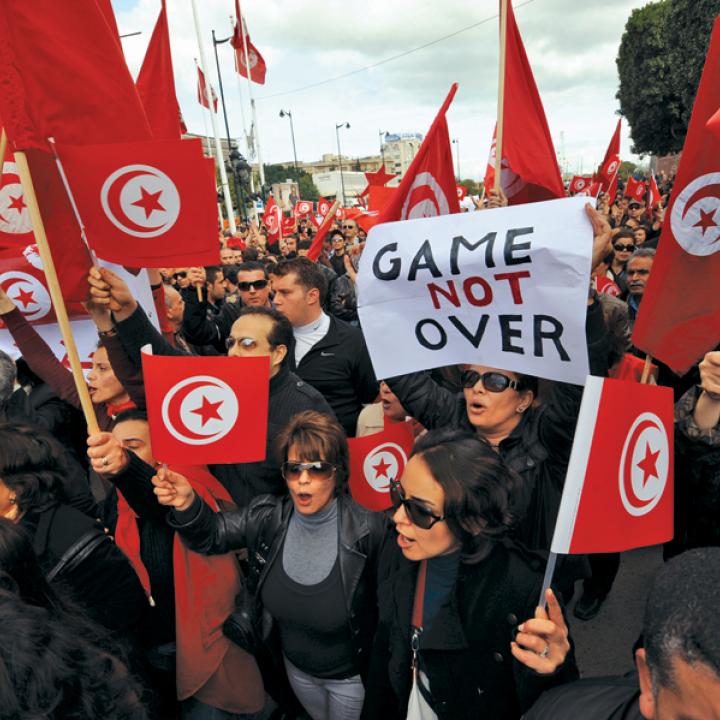 As the fragile Arab democracy faces its most serious test in nearly a decade, Washington should oppose any unconstitutional centralization of power, urge President Saied to clarify his roadmap for ending the impasse, and consider additional economic and medical assistance.
On July 25, following a day of anti-government demonstrations across the country, Tunisian president Kais Saied informed the public that he would be dismissing Prime Minister Hichem Mechichi, freezing parliament for thirty days, stripping its members of their legal immunities, and assuming all executive power alongside a new prime minister of his choosing. According to Saied, these extraordinary measures were required by the country's dismal situation and were fully in keeping with the constitution. The next day, the military blocked the entrance to parliament. In response, Speaker Rached Ghannouchi—who heads the main Islamist party, Ennahda—joined his fellow legislators outside the building to hold a parliamentary session via online video. Afterward, they announced their complete rejection of Saied's moves.
The president appears undeterred for now, dismissing the interior, justice, and defense ministers and decreeing a cessation of work in all public administrations except the military, security organizations, health services, and schools. The dramatic developments are putting Tunisia's fragile democracy under enormous strain, and the coming days will likely determine whether the country is headed for a temporary blip in its democratic transition, a deeper consolidation of power, or violence.
A Crisis in Context
Three major stories have converged to produce the current crisis. The first is an economic one that has unfolded since the 2011 overthrow of autocrat Zine al-Abidine Ben Ali. A spate of terrorist attacks in subsequent years decimated the tourism industry, which traditionally accounted for around 10 percent of the country's GDP. Meanwhile, decades-old structural inefficiencies made for a bloated public sector, and when officials proposed trimming it to free up funds for other expenditures, a powerful labor union helped rebuff major cuts. Despite the bloat, overall unemployment remained stubbornly high, especially among youths. The situation was worsened by sluggish economic prospects in Europe (where Tunisia directs roughly 70 percent of its exports) and the COVID-19 pandemic. By late 2020, unemployment officially stood at 17 percent (36 percent among youths), and the government calculated it would need $6.9 billion in loans just to finance the projected 2021 deficit. In response to these growing problems, protests have erupted repeatedly over the years, reflecting widespread frustration with the hemorrhaging economy and the government's apparent inability to stop the bleeding.
The second story is a political one that began with the bitter political fight between Islamists and secular groups in 2011-2013. Settling this conflict required difficult compromises that were later enshrined in the 2014 constitution, by far the most progressive charter in the Arab world in terms of individual liberties and other basic underpinnings of democracy. Yet even as it gave broad powers to an elected legislature, it also reserved key responsibilities for the presidency, which had previously been the sole governing institution. This hybrid system eventually produced near-constant tensions between presidents and prime ministers.
At first, the post-revolutionary emphasis on political consensus and compromise was credited with maintaining social peace and facilitating the transition away from authoritarianism. In recent years, however, consensus became a paralyzing force, rendering most political parties weak, highly personalized, and unable to make bold policy decisions. Even Ennahda, institutionally the country's strongest party, has experienced internal turmoil of late, with some accusing Ghannouchi of refusing to cede space for new leadership and overstepping his limits by running for speaker of parliament.
The net effects of this deterioration have been sobering: a deeply polarized electorate and political class; near total gridlock in parliament; widespread public disillusionment with political parties; and an escalating standoff between Saied and Mechichi. The legislature's inability to govern has also delayed the establishment of key institutions, most notably a Constitutional Court. Article 80 of the constitution empowers the president to implement exceptional measures in the event of an imminent security threat or a "danger...hampering the normal functioning of the state," but it conditions such measures on the president informing the head of the Constitutional Court, among other authorities. In addition, the article prohibits the president from halting parliamentary activities during such a crisis, and mandates that the court weigh in after thirty days to determine the legality of a continued state of emergency.
As a former constitutional law professor, Saied is well aware of Article 80. Yet he is also an independent with a strong populist streak and no prior political experience, so he may be betting that his supporters' anti-establishment sentiment and distaste for parties will insulate him from problematic interpretations of the law.
The third story is a public health tragedy. COVID-19 has all but collapsed the healthcare system in Tunisia—its hospitals have reported running out of oxygen, its mortality rate from the virus is now the second highest in the world, and only 6 percent of its 11 million residents have been vaccinated. Mechichi recently dismissed the health minister amid the worsening medical crisis, but only after the prime minister himself and several other cabinet members were photographed vacationing at a resort town instead of convening to address the pandemic (they had claimed they could not meet as planned due to virus-related restrictions). At the time, President Saied offered an apparent prelude to his July 25 announcement by ordering the military to take over management of the pandemic response.
With roughly 50,000 personnel, Tunisia's military is a small but professionalized institution that has generally eschewed political activity, and for now it appears to be heeding Saied's commands, as yesterday's confrontation outside parliament attests. Yet the army has long been focused on border control and counterterrorism operations, so it may not be equipped to handle serious domestic unrest. That task would likely fall to the Interior Ministry, which has purview over a far larger collection of police units and other domestic security forces. Whether Saied will continue to enjoy the obedience of these institutions remains to be seen.
How Washington Should Respond
Beyond the tragic symbolism of the region's lone democracy collapsing, severe instability in Tunisia would be a boon for bad actors in Libya, Algeria, and elsewhere who are eager to overrun the country and thereby endanger U.S. allies—not only the people of Tunisia, but also partners across the Mediterranean in Europe. Washington therefore has a strong interest in helping the country stabilize its democratic experiment. The Biden administration and Congress have rightly issued clear statements urging Tunisian officials to respect the constitution and uphold the nation's democratic gains. Biden's team should now press President Saied to clarify his roadmap for swiftly ending the crisis. Naming new cabinet ministers would be an important first step in this regard.
Given the underlying economic and health conditions fueling the crisis, Washington should also consider measures aimed at shoring up Tunisia's resilience in these sectors. Prior to his dismissal, Mechichi was in the midst of negotiating a $4 billion loan package with the IMF, and securing that loan—with all the attendant reforms it would require—is crucial to ensuring the country does not suffer another downgrade in its credit rating. Accordingly, Washington should facilitate the loan while privately conveying to Saied that disbursement of funds will depend on him clearly articulating a democratic roadmap. On the medical front, the United States has provided Tunisia with $36 million in COVID-related assistance since March 2020, along with 500,000 vaccines through the COVAX program and over one million liters of oxygen for the Health Ministry. Even so, the Biden administration should continue exploring ways to send additional medical supplies to the embattled country. In all of these efforts, Washington should be coordinating with European allies who share a strong interest in seeing Tunisia's democracy succeed.
Sarah Feuer is the Rosenbloom Family Fellow at The Washington Institute.