Organizational Split and Radicalization Within Egypt's Muslim Brotherhood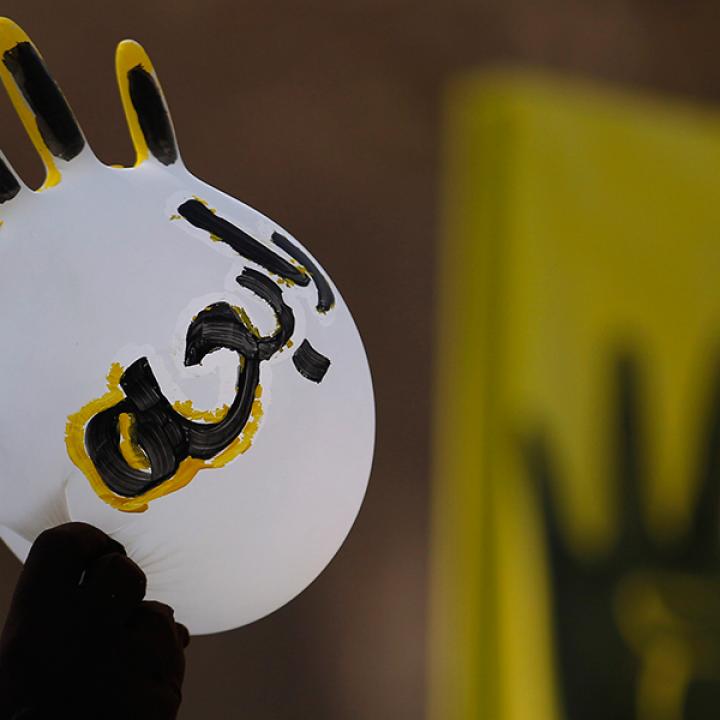 Internal structural changes and ideological rifts have given rise to new strategies for legitimizing violence.
On February 20, Egypt executed nine Muslim Brotherhood members convicted of taking part in the 2015 assassination of Hisham Barakat, the country's top prosecutor. Although the MB's traditional leadership denied involvement in the crime, they do not enjoy the rigid control they once had over the membership. Amid ongoing repression since the 2013 ouster of President Mohamed Morsi's MB-led government, the group has split into two camps that maintain separate organizational structures and follow antipodal views on how to deal with the current situation. One camp believes the MB should confront Abdul Fattah al-Sisi's government peacefully. Yet the other camp advocates a revolutionary path that legitimizes violence while distinguishing it from the jihadist bloodshed Egypt has been plagued with in recent years—a message that may resonate more strongly within the country's Islamist mainstream. 
IDENTITY CRISIS AND ORGANIZATIONAL SPLIT
The ouster of Morsi amid waves of protests and military intervention was followed by one of the most severe periods of repression against the MB since its inception in 1928, intended to dismantle both its bureaucracy and its social basis of support. During the forced dispersal of the Rabaa and Nahda protest camps in August 2013, 800 MB members were killed. Since then, an estimated 40,000 members and sympathizers have been imprisoned, with courts sentencing scores of them to death or life imprisonment in mass trials. Many other members have fled the country. Meanwhile, the state has declared the MB a terrorist organization and seized its assets, including its network of 1,225 charitable associations, 105 schools, 83 companies, 43 hospitals, and 2 large medical centers.
The arrests dealt a severe blow to the MB's organizational structure. Only six of twenty-one members from the group's Guidance Office remained free after the mass crackdown, and three of them left the country. Similarly, only 14 members of its 121-seat Consultative Council were still alive, free, and active. The depletion of its central institutions opened deep divisions within the MB—an unfamiliar problem for an organization that traditionally drew much of its strength from its unity, coherent structure, and internal loyalty.
As the MB's institutions became dysfunctional, the question of who should lead the group became a central debate, leading to the rise of two rival camps that are now competing for followers and the right to use the organization's name. The first camp comprises remnants of the pre-2013 leadership. It is headed by three men: acting general guide Mahmoud Ezzat, whose location is unknown; secretary-general Mahmoud Hussein, based in Turkey; and international secretary Ibrahim Munair, based in London. Its members still view the traditional Guidance Office and Consultative Council as the MB's legitimate organs. They also believe it is impossible to hold new internal elections within Egypt's current security environment. Perhaps most significantly, they control the organization's foreign assets.
The second camp established a new organizational structure in 2014, further consolidating it in 2016. The initial process of breaking away was led by Muhammad Kamal (later killed in 2016), Muhammad Taha Wahdan (later imprisoned in 2015), and Ali Batikh (based in Turkey since 2015). Members of this camp cite MB bylaws to argue that the Guidance Office and Consultative Council cannot operate unless at least half of their officials are present. Since this was no longer the case after the mass crackdown, they declared the old versions of these institutions void and held bottom-up elections inside Egypt to form new versions in 2016. They also established an office in Turkey to run the MB's affairs outside Egypt, headed by Ahmed Abdulrahman.
Since the split, each camp has frequently denounced the other as illegitimate and declared that prominent rival officials are no longer MB members. They also have separate spokespersons and run websites that claim to be the group's official mouthpiece ("ikhwanonline.com" and "ikhwanonline.info"). Yet both camps still regard Morsi as Egypt's legitimate president and the imprisoned Muhammad Badie as the group's general guide.
RADICALIZATION TRENDS
The MB's ideological rift centers on the use of violence against the Sisi government. Ezzat's camp has called on members to remain peaceful, emphasizing that the group has survived several waves of repression in its long history by sticking to its hallmark strategy: namely, a nonviolent, evolutionary approach to fostering incremental change from below by reforming individuals first and then society, with the ultimate goal of changing the political system. As Mahmoud Hussein put it, "The struggle against tyranny should be grounded in absolute peacefulness" even if this causes "abuse, arrest, murder, torture, and persecution." This camp also aims to re-create the subculture of mihna (ordeal), or the collective feeling of victimization that helped the MB control its members and sideline violent defectors in the past (e.g., during the Nasser government's crackdown in the 1950s and 1960s).
Yet the second camp has moved away from this tradition and seeks to reinvent the MB as a revolutionary movement—one permitted to use violent tactics against the Sisi government if necessary. Its legitimization of violence is not based on the jihadist concept of takfir, that is, labeling fellow Muslims as unbelievers. Instead, it uses the sharia notion of qisas (retribution), relying on a 2015 fatwa that permits violence in Egypt's exceptional context of severe repression. The fatwa was signed by 150 Islamic scholars; some are prominent regional figures affiliated with the MB (e.g., Ahmed al-Raysuni, cofounder of Morocco's Justice and Development Party; Abdul Majid al-Zindani, founder of Yemen's Islah Party), while others are preachers, university professors (e.g., Hamdi Arslan in Turkey; Salah Qadiri in Malaysia), or representatives of Islamic organizations that lean toward the MB (e.g., Hussein Halawa, secretary-general of the European Council for Fatwa and Research).
More specifically, the MB splinter group's concept of qisas allows for acts such as killing state security personnel, judges, and even journalists involved in incitement against the group. They believe that qisas is to be applied immediately and by their own hands, instead of through a court system.
By invoking the concepts of qisas and self-defense, which are more compatible with the Muslim mainstream, the revolutionary camp has opened the door to cooperation with other groups in confronting the government. Indeed, several militant opposition groups have formed from mergers between MB members and other figures, including Lijan al-Muqawama al-Shabiya and al-Iqab al-Thawri—factions that have conducted attacks against the security apparatus and local infrastructure (e.g., electrical networks). Evidence of operational linkage has also been found between members of the revolutionary camp and the U.S.-designated terrorist organizations Hasm and Liwa al-Thawra.
In addition to ideology, the revolutionary camp's decentralized command structure makes such ties easier to form. Members no longer need to seek prior approval from the leadership to conduct actions on the ground, as long as they are in line with the faction's general vision.
CONCLUSION
The struggle between the MB's pacifist and revolutionary camps is unlikely to be settled soon. While the former argue that the latter are deviating from the group's peaceful tradition and should form a new organization of their own, the revolutionaries are busy reinterpreting the legacy of MB founding father Hassan al-Banna, emphasizing militant episodes in his and the group's history. Many MB members are susceptible to such narratives in the current context of repression, which has locked them out of numerous opportunities for social work and politics. Over time, this appeal could broaden to other groups and individuals, since MB officials are being careful to avoid jihadist concepts and seek ideological approval from more mainstream sources. Foreign policymakers should therefore pay close attention to how the rift unfolds, and on which side Egyptian public sympathies lie.
Annette Ranko is the Konrad Adenauer Foundation's resident representative to Jordan and a former research fellow at the German Institute of Global and Area Studies. Mohammad Yaghi is a research fellow and program manager at Konrad Adenauer.