OFAC Designates Iraqi Militiamen (Part 1): Kataib Hezbollah Commanders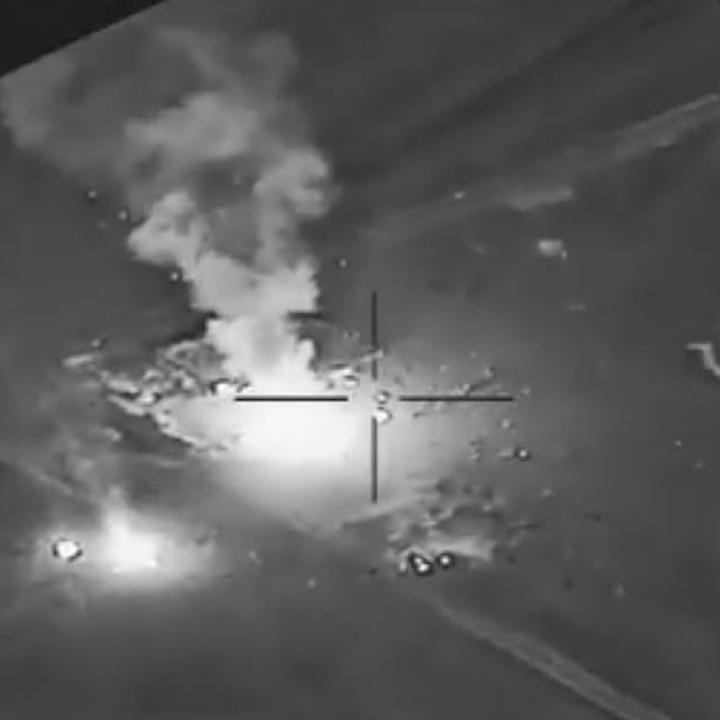 Washington has signaled that its patience is wearing thin with the group's pivotal role in two dozen attacks on U.S. forces in Iraq and Syria in a month.
On November 17, the U.S. Treasury Department's Office of Foreign Assets Control (OFAC) sanctioned seven individuals associated with the Iran-backed militias Kataib Hezbollah (KH) and Kataib Sayyid al-Shuhada (KSS), and designated KSS as a whole. This first part will cover the KH designations; Part 2 will look at KSS and its leader, Abu Ala al-Walai.
Kataib Hezbollah Designations
OFAC designated five KH commanders for their involvement in "a spate of recent attacks against the United States and partners in Iraq and Syria." Three are well-known:
Basim Mohammad Hasab al-Majidi (age 55) is described by OFAC as "the KH commercial development chief" and previously "the executive director of KH-affiliated satellite TV station Al-Ittijah" (see our profile of this station). The author previously misidentified his first name in a 2020 article, referring to him as "Sheikh Jassim al-Majedi (Abu Kadhim)." According to the preponderance of available evidence, he is critical to the Abu Fadak wing of KH, running its customs offices on the Kuwaiti, Iranian, and Jordanian borders as well as its investments in real estate, hotels, restaurants, security companies, and illicit clubs and bordellos.
Jafar al-Husseini (56) is described by OFAC as "one of KH's main media spokesmen and has coordinated with KH fighters planning attacks against U.S. military commanders in Iraq." He has previously been identified as KH's military spokesman and part of its Abu Hussein wing. On October 18—the day after the explosion at Gaza's al-Ahli Hospital and the first KH strike on Iraq's al-Asad Air Base during the current wave of attacks

—

Husseini openly threatened to attack U.S. forces.
Imad Naji al-Bahadli (48) is described by OFAC as "a member of KH's governing Shura Council," involved in developing "U.S. military installations and U.S. companies" in Iraq for future attacks, organizing the training of militants in Lebanese Hezbollah camps, carrying out attacks and kidnappings, and intimidating Iraqi politicians who do not support the removal of U.S. forces. He is also known by a variety of other Kurdish and Arabic names: Adhab Kaytan al-Bahaliay, Sattar Jabbar al-Taaban, and, most typically, Abu Iman. He currently serves as director of intelligence for the Iraqi state-funded Popular Mobilization Forces (PMF)

.
Two more-obscure KH commanders were also sanctioned:
Khalid Kadhim Jasim al-Sukayni (aka Abu Humayyid) (51) is described by OFAC as "a senior KH military commander who has worked with [Iran's Islamic Revolutionary Guard Corps] to train KH fighters."
Habib Hasan Mughamis al-Darraji (aka Abu Ridha) (47) is described by OFAC as "KH's foreign affairs chief" who "coordinated the training of KH fighters in Iran with the IRGC" and who played a role in cross-border smuggling to provide weapons for KH fighters in Iraq.
The final person designated was Mojtaba Jahandust Marghub, an Iranian national with alleged terrorist connections to the IRGC and KH. OFAC describes him as an official with the IRGC's Qods Force "who facilitates the travel and training of KH fighters in Iran."
The Treasury designations and supporting materials appear aimed at putting the spotlight on KH as one of the lead players in the current wave of attacks on U.S. targets, which began on October 17 and number more than 70 as of this writing. According to Militia Spotlight's attack tracker, KH has undertaken at least 24 of these strikes during this period (based on our calculation of each militia's geographic areas of responsibility; KH is deemed responsible for attacks on al-Asad in Iraq and al-Tanf in Syria). One U.S. citizen died as a result of these KH attacks, suffering a heart attack during a rocket attack on al-Asad.
The designations also underline the tight connection that the Biden administration is drawing between attacks in Iraq/Syria and the support that militias receive from training camps and cross-border weapons shipments involving Iran and Lebanese Hezbollah. Moreover, the terrorist designation of groups like KH, the IRGC, and Lebanese Hezbollah could foreshadow U.S. kinetic strikes on the newly sanctioned officials or their colleagues.