Looking for Legitimacy: Taliban Diplomacy Since the Fall of Kabul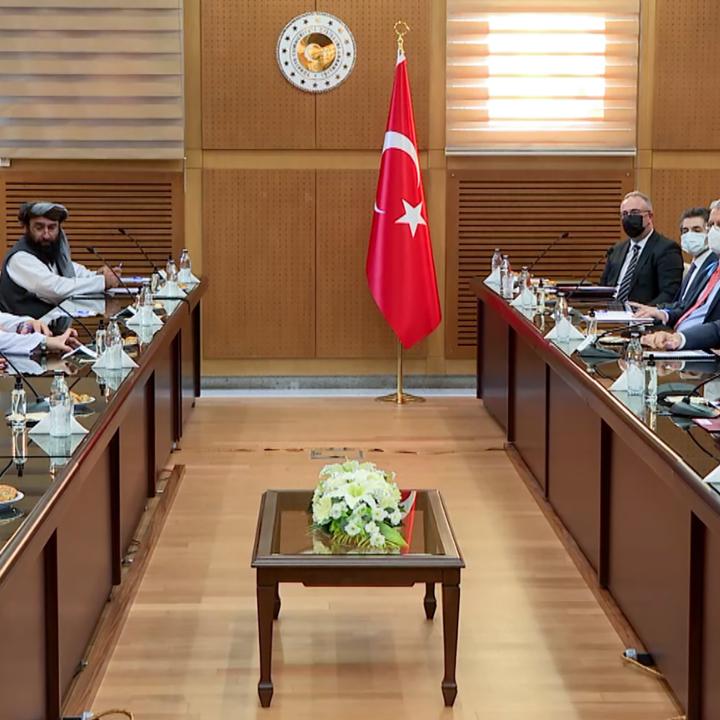 The group's international profile has risen substantially with help from China, Turkey, and other states, but Western leaders should curtail their engagement so long as Kabul keeps gaslighting them about its al-Qaeda ties.
When the Taliban first ruled Afghanistan from 1996 to 2001, only Pakistan, Saudi Arabia, and the United Arab Emirates recognized its "Islamic Emirate." Yet while no country has officially recognized the new government established after the group recaptured Kabul one year ago, the Taliban is far less isolated today than it was during its first iteration. In March, for example, Turkish foreign minister Mevlut Cavusoglu called for international recognition of the Islamic Emirate, while his Russian counterpart Sergei Lavrov argued that it should be granted a seat at the United Nations. Just how extensive is this diplomatic momentum? And how might it be affected by the July 31 targeted killing of al-Qaeda leader Ayman al-Zawahiri, who was reportedly being sheltered in Kabul by Taliban interior minister Sirajuddin Haqqani?
Who Is Meeting with the Taliban?
Unlike the prior two decades, when the Taliban's power derived from its insurgency and armed forces, the group is now making greater use of a key instrument of state: diplomacy. This is a natural continuation of the negotiating skills it garnered while working out its 2020 peace and withdrawal agreement with U.S. officials during meetings in Qatar.
Similar to other states, the Islamic Emirate has regularly promoted its meetings with foreign officials over the past year, using official government and media websites and Twitter accounts. As of August 12, it had publicly announced 378 diplomatic meetings with at least 35 countries, or 440 meetings if one includes each country's mutual presence at a multilateral event. These encounters covered a wide range of issues, including humanitarian aid, governance assistance, economic opportunities, industrial investment, and religious exchanges. In other words, despite not being de jure recognized, the Taliban is de facto recognized—its Islamic Emirate has been steadily acknowledged via numerous noncommittal acts.
Of the 440 engagements, 153 (35%) were held with Middle Eastern states—the highest proportion of any regional bloc. Moreover, Western engagement with the Taliban has generally taken place at multilateral events, while states from other regions have favored bilateral meetings. This trend highlights the continued Western discomfort with the group beyond international forums focused primarily on humanitarian aid.
In contrast, China has met with Taliban officials more often than any other country, illustrating how the Islamic Emirate's return has a great-power competition angle that transcends the West's focus on potential counterterrorism ramifications. Foreign Minister Wang Yi and other Chinese officials have been careful to emphasize their policy of non-interference in Afghanistan. On March 24, Wang planted a commemorative tree at the Taliban's Foreign Ministry compound "in hopes of a prosperous Afghanistan." Since then, much of Beijing's engagement has been related to business opportunities through the Afghanistan-China Business Association, an organization whose mission reportedly focuses on helping Chinese companies invest in Afghan industries (e.g., antiquities preservation, coal and copper mining, infrastructure, oil and gas extraction, slaughterhouses) while bringing Afghanistan into the Belt and Road Initiative. Two of the largest projects signed thus far are the development of an industrial park in eastern Nangarhar province and a 20 percent stake agreement between the firm Oxus and the Afghanistan Oil and Gas State Company to extract oil from the Qashqari site in northern Sar-e-Pol province.
Notably, this warming relationship has been accompanied by shifts in some of Kabul's rhetoric toward the United States. For example, Taliban officials such as Abdul Wahid Rayan, director-general of the state-run Bakhtar News Agency, have been increasingly parroting Chinese disinformation about America.
Where and How Often Are They Meeting?
Although most of the Taliban's diplomatic meetings have taken place in Kabul, the second most-used venue has been Doha, Qatar, where Western nations can engage the group more comfortably without granting it as much legitimacy as going to Afghanistan would. Yet more direct Western engagement has occurred as well. In January, for instance, Norway hosted Taliban Foreign Ministry officials in Oslo, which created opportunities for greater international dialogue. Afterward, Norway reopened its embassy in Kabul, officials from the Swiss National Bank visited Afghanistan's central bank, the Taliban's minister of mines and petroleum hosted representatives from a British company to discuss business opportunities, and the minister of energy and water hosted officials from a Swedish company.
Taliban engagement has expanded even further over the past few months, likely due to multilateral events such as the Antalya Diplomatic Forum in early March, the Tunxi Neighboring Countries Meeting in late March, and the Tashkent International Conference in late July. Such meetings enabled the group to cultivate relations with states that they may not have engaged with before while deepening relations with those they already met. The pace of engagements seems to have slowed somewhat this month, perhaps due to Zawahiri's death and the resultant fallout, or because of the Taliban's preoccupation with planning celebrations for the anniversary of its takeover.
Recent embassy activity has been noteworthy as well. Sixteen countries have reopened their embassies in Kabul since the Taliban takeover: China, the European Union, India, Indonesia, Iran, Japan, Kazakhstan, Kyrgyzstan, Norway, Pakistan, Qatar, Saudi Arabia, Turkey, Turkmenistan, the United Arab Emirates, and Uzbekistan. Other countries such as Germany and Malaysia have hinted at reopening their embassies soon. Likewise, the Taliban has reestablished Afghan embassies in eight countries: China, Pakistan, Qatar, Saudi Arabia, Turkey, Turkmenistan, the United Arab Emirates, and Uzbekistan. Despite the gap between countries willing to reopen embassies in Afghanistan versus those willing to grant the Taliban a diplomatic presence in their own territory, the overall trend is telling: the group is much less isolated than it was in the late 1990s, even if official recognition is not coming as quickly as its leaders would like.
Ramifications
Going forward, the Taliban will likely continue expanding its diplomatic reach and international legitimacy, with China at the forefront of the latter effort. Yet the group's profile in the West will remain limited so long as it persists with threatening actions—namely, harboring al-Qaeda leaders and then gaslighting foreign officials about the fact that it is still doing so despite pledging it would stop. Washington may need to rethink its approach to both fighting al-Qaeda and engaging the Taliban given the latter's reported ties to Zawahiri. U.S. officials should also consider pushing other nations to stall, cancel, or lessen their engagement with the group in order to sap some of the legitimacy it has gained in the past year. Humanitarian aid should be continued, of course. Yet behind the facade of improved public relations, the Taliban's response to Zawahiri's death and its months-long effort to curb freedoms in Afghanistan make clear that old habits die hard.
Aaron Y. Zelin is the Richard Borow Fellow at The Washington Institute and founder of the website Jihadology.net.