A Killer Goes Free in Cairo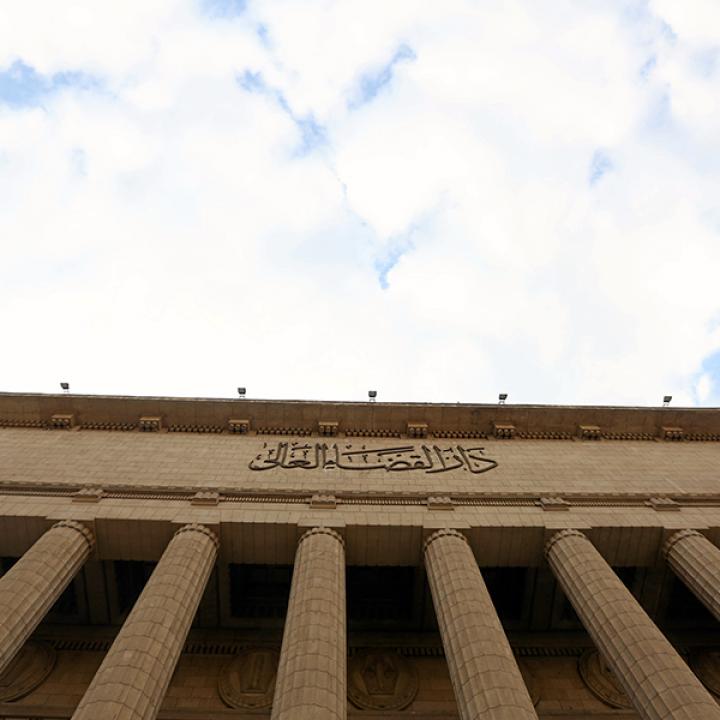 In the Egyptian capital, the Sisi government frees a billionaire imprisoned for a sensational murder, for reasons only known to itself.
On June 23, Egypt's President Sisi granted clemency to some 500 convicted criminals, a common practice of Arab leaders on the eve of Eid al-Fitr, the end of the month-long Islamic fast of Ramadan. Among those discharged was Hisham Talaat Mustafa, a billionaire real-estate magnate and politico with close ties to the Mubarak regime. In 2009, Mustafa was convicted of contracting to have his girlfriend, the Lebanese diva Suzanne Tamim, murdered in Dubai. Eight years and multiple political upheavals later, the release of Mustafa highlights how little Egypt has actually changed.
The story of Suzanne Tamim's murder is a sensational tale. Tamim, a Lebanese singer who won Arab Star Search in 1990, became Mustafa's paramour while he was serving as a parliamentarian member of the policy secretariat of then-President Hosni Mubarak's ruling National Democratic Party (NDP). He was also a close associate of Mubarak's son and heir apparent Gamal. Mustafa, who was already married, reportedly wanted Tamim to be his second wife, but she refused and subsequently took up with Iraqi kickboxing world champion Riyad al-Azzawi.
Jilted and furious, Mustafa paid a former Egyptian security official $2 million to kill his erstwhile lover. In July 2008, retired police officer Moshen al-Sukkary flew from Cairo to the United Arab Emirates, where he executed Tamim in her apartment -- nearly severing her head with a large knife. Alas, Sukkary left a trail of bloody footprints while fleeing the scene, and Emirati police eventually traced the sneakers that made them to a Dubai mall, where Sukkary had purchased them just days earlier. Sukkary was subsequently identified and extradited to Egypt, where he implicated Mustafa in the conspiracy.
In the spring of 2009, the trial mesmerized Egyptians. It appeared to be a slam-dunk case. Not only had Sukkary confessed to the crime and fingered Mustafa, the evidence included recorded phone conversations between Mustafa and the hitman. The question was whether Mustafa -- notwithstanding his wealth and connections -- would receive a fair trial in a judicial system notoriously manipulated by an authoritarian regime.
The Mubarak regime initially placed a gag order on the trial, but after two local newspapers released details about the killing, the government instead decided to use the trial to showcase the state's "independent" judiciary. The media affairs secretary of Mubarak's ruling NDP, Ali Din Hilal, pointed to the indictment of Mustafa as proof that "the ruling party knows no cronyism and that nobody in Egypt is above the law." Most Egyptians knew better, and were genuinely shocked when Mustafa and his trigger man were found guilty and sentenced to death in May 2009.
While the judgment against Sukkary stuck -- though his sentence was subsequently commuted to life in prison -- the state's highest court soon threw out the guilty verdict for Mustafa due to alleged procedural errors. The 2010 retrial again found Mustafa guilty, but sentenced him to just 15 years. When he was released just before the Eid, Mustafa had served less than half of his term. At the time, many concluded that he was receiving special treatment due to his social status. But the fact that he was sentenced at all was nonetheless noteworthy given his connections with Egypt's seemingly entrenched autocracy.
Since his incarceration, there have been two uprisings and four regime changes, but media interest in Mustafa's story has nonetheless persisted. On several occasions, Mustafa reportedly appealed for his release based on alleged medical conditions, but those appeals were denied. Meanwhile, his company, the Talat Mustafa Group (TMG), was sued for various indiscretions regarding its $3 billion Madinady ("My City") project. TMG reportedly purchased land from the state for a gated community and golf course along Cairo's ring road for nearly $1 billion under market value, a sweetheart deal for a regime associate. The legal proceedings caused shares in TMG stock to plummet by nearly 10 percent.
After his release, however, the value of TMG stock surged by nearly 15 percent. Was this business-friendly signal what Sisi had in mind when he released Mustafa? Perhaps. Egypt's business community, which strongly supported the July 2013 overthrow of Muslim Brotherhood leader Mohamed Morsi and backed Sisi's presidential bid a year later, remains an important constituency for the Egyptian government. Or was the pardon a signal to the Egyptian judiciary, which has at times been at odds with Sisi? Or maybe it was simply a holiday goodwill gesture to a figure who, if the reports are accurate, has suffered medically in prison.
Nobody knows, which is par for the course in Egypt. Indeed, one of the most persistent features of Egyptian decision-making through all the turmoil of recent years has been opacity. Seven years after the revolution, Mustafa's release represents business as usual in Cairo.
David Schenker is the Aufzien Fellow and director of the Program on Arab Politics at The Washington Institute.