Jordan's King Abdullah Comes to Washington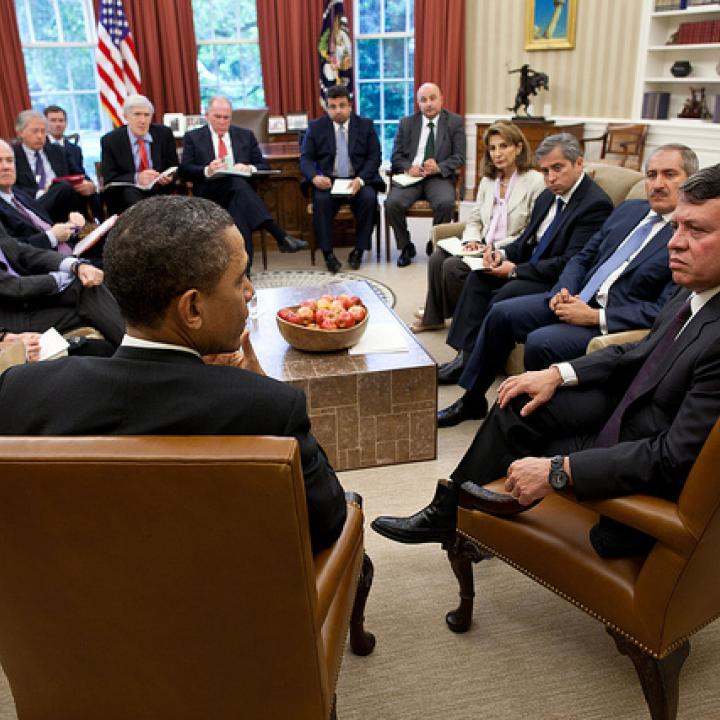 To avoid upsetting the kingdom's stability, Washington should be more discreet about U.S.-Jordanian security cooperation on Syria.
On April 26, President Obama will host Jordan's King Abdullah II for a meeting at the White House. The summit takes place just five weeks after their last get-together in Amman, and only days after Secretary of Defense Chuck Hagel announced that U.S. Special Forces would deploy to Jordan to "improve readiness and prepare for a number of scenarios," a revelation that has already sparked demonstrations in the kingdom. Under these circumstances -- with Jordan hosting nearly half a million Syrian refugees, concern mounting about the kingdom's internal stability, and Damascus accusing Amman of flooding Syria with Islamist insurgents -- the president and the king have much to discuss.
REFUGEE ISSUES
According to the Office of the UN High Commissioner for Refugees (UNHCR), some 460,000 Syrians have crossed into Jordan over the past two years. To put this figure into perspective, the influx has increased the kingdom's population by nearly 7 percent. These refugees have exacerbated Jordan's extant financial problems (including a 30 percent budget deficit in 2012), overburdened its health and education infrastructure, and forced it to make exorbitant security expenditures. While the actual costs remain an open question, Jordanian officials have requested $1 billion from the international community to offset both the $500 million already spent and the anticipated expenditures through year's end. According to UNHCR, the kingdom has received less than $133 million in donations thus far. Meanwhile, Amman has had to implement austerity measures -- including cuts to food and energy subsidies -- in order to secure a $2.1 billion loan from the International Monetary Fund (IMF).
Although most of the refugees reside in Jordan's cities, nearly 150,000 have been sent to two camps, one of which (Zaatari) has already been filled to capacity. Living conditions and security in these camps have been a problem, so much so that refugees set dozens of tents on fire late last year to protest the situation. The impact of the refugees has also been felt beyond the camp walls. Higher demand for apartments is driving up housing prices throughout the kingdom, while heightened competition for scarce jobs has increased unemployment and depressed wages. And according to IMF predictions, Jordan's inflation rate will increase to 5.9 percent this year, compared to 4.8 percent in 2012.
In Mafraq governorate, where Zaatari is located, the potential repercussions are especially serious. Last week, Hamza al-Khazala, a parliamentarian representing the province, criticized the government's "lack of strategic planning" and warned that the decision to build Zaatari next to the local aquifer could have environmental consequences. "The absence of a sewer drainage network in the camp," he wrote, "will lead to contamination of the reservoir in a very short time." Even more worrisome is the long-term impact on Jordan's delicate demographics, as well as the potential for Islamist radicalization among the refugee population.
SALAFISTS TAKE ROOT
Current reports indicate that some 500 Jordanian Salafists are fighting in Syria alongside jihadist group Jabhat al-Nusra. Press accounts in Jordan routinely speak of martyred Salafists returning home for burial, seemingly confirming that number. More problematic for Amman, however, is the radical movement's apparent exponential growth within the kingdom. One Salafist sheikh, Yousef al-Jaghbir, recently told the Jordanian daily al-Ghad that his movement had nearly 500 members in Balqa governorate alone. And last June, Salafists in Ain al-Basha -- just twelve miles north of Amman -- reportedly executed a resident accused of blasphemy and apostasy by firing squad.
In the past, Salafism was not a particularly popular trend in the kingdom (notwithstanding prominent exceptions like Abu Musab al-Zarqawi, the Jordanian national who led al-Qaeda in Iraq in 2004-2006). Instead, Jordan's Islamists -- whether East Banker tribal or Palestinian in origin -- tended to gravitate toward the Muslim Brotherhood and its local political party, the Islamic Action Front (IAF). Lately, however, the Jordanian Brotherhood leadership has grown increasingly close with Hamas, leading some East Bankers to view the organization as more Palestinian. This and other factors have seemingly enhanced the appeal of Salafism.
WASHINGTON TO THE RESCUE?
This week, amid Amman's struggles to contain the economic, political, and security fallout of the war next door, U.S. officials confirmed that 200 Special Forces soldiers would be deployed to Jordan to help it prepare for the consequences of Syria's collapse. They also confirmed that President Obama had brokered an agreement during his recent trip to the region allowing Israeli drones to fly over Jordanian airspace to surveil developments in Syria. And on April 19, the pan-Arab daily al-Sharq al-Awsat cited a Jordanian report that U.S. Patriot missile batteries stationed in Qatar and Kuwait would be deployed to the kingdom's border with Syria.
These developments are no doubt related to King Abdullah's growing concern about the threat posed by Bashar al-Assad's regime. Terrorists emanating from Syria have long targeted Jordan, and in November 2011, Abdullah became the first Arab leader to advocate that Assad step down. During a televised interview last week, the embattled Syrian leader accused Amman of facilitating the movement of insurgents into Syria and threatened the kingdom's stability. "The fire does not stop at our border," he warned; "everyone knows that Jordan is exposed to what Syria is exposed to."
Unsurprisingly, and despite the clear and present danger from Damascus, some Jordanians have reacted angrily to news of the U.S. troop deployment and the Israeli laissez passer. On April 18, the kingdom's largest opposition party -- the IAF, which actually supports Assad's ouster -- demanded that the government rescind its decision to allow "foreign forces on Jordanian territory," arguing that the deployment only served "the interests of [America's] strategic ally, the Zionist entity." The U.S. troop announcement also prompted the National Front for Reform (a prominent secular opposition group headed by former interior minister Ahmed Obeidat) to express concern about Jordanian involvement in Syria.
Perhaps the most vocal opposition, however, has come from East Banker Jordanians. In Karak, East Banker tribesmen affiliated with al-Hirak (The Movement) have been demonstrating against the U.S. deployment since the news broke. More troubling, eighty-seven non-Islamist tribal leaders sent an open letter of warning to King Abdullah on April 22. In addition to demanding that no Jordanian forces be used to interfere in Syria, the letter threatened that "any American soldier present on Jordanian soil is a legitimate target for every honorable Jordanian concerned with his country and his nation."
U.S. POLICY IMPLICATIONS
U.S.-Jordanian military cooperation has been robust for years; for example, American C-17 transport planes routinely fly low over Amman en route to Marka Airport with few local complaints. Yet a hallmark of that cooperation has been its relatively low profile. The popular backlash that greeted the latest initiatives is directly attributable to their regrettably public nature. Secretary Hagel's deployment announcement, and the subsequent Los Angeles Times leak by another senior official regarding Pentagon plans for potentially sending 20,000 troops to Jordan, have been both indiscreet and injurious to Abdullah. The king was already engaged in damage control from his controversial interview last month in the Atlantic, where he publicly maligned his East Bank supporters.
Of course, local opposition to U.S. military assistance could flip if the situation along the border dramatically deteriorates, if the current tide of refugees turns to a flood, or if Assad sponsors active subversion, terrorism, or chemical attacks against Jordan. Contingency planning for all of these scenarios -- as well as a conversation about increasing U.S. and international funding for refugees in Jordan -- should be on the president's agenda for Friday's summit. Another critical issue to discuss is lowering the public profile of essential bilateral security cooperation. More important, as the administration begins a slow, uneven, and reluctant march toward greater involvement in the Syria conflict, both leaders should be clear with each other about actions they can take -- separately and together -- to advance Jordan's stability, which remains a top U.S. priority.
David Schenker is the Aufzien fellow and director of the Program on Arab Politics at The Washington Institute.