Israel Goes to the Polls: The State of the Race Less Than One Week Out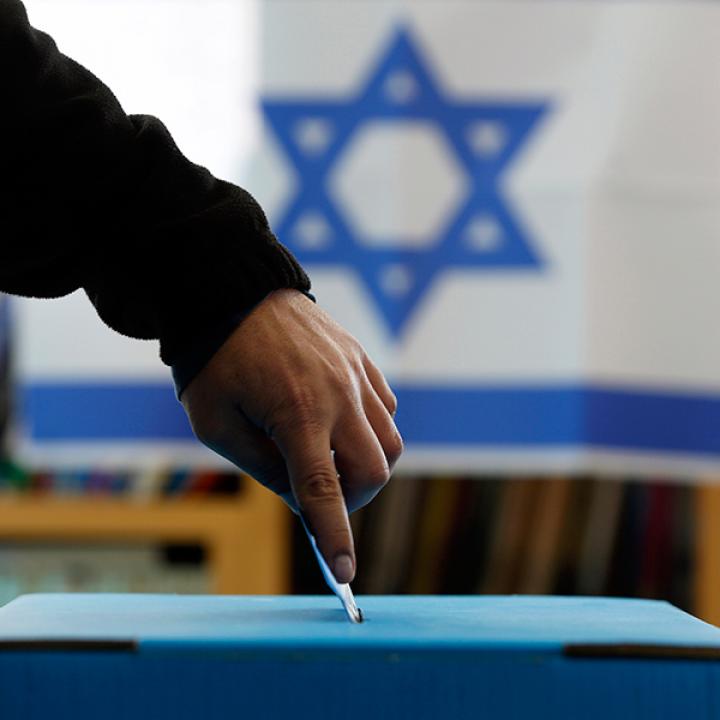 Pollsters are finding little movement between the two main camps, though the dramatic rise of a new hard-right party has many observers on edge.
On October 27, The Washington Institute held a virtual Policy Forum with Ziegler Distinguished Fellow David Makovsky and Tamar Hermann of the Israel Democracy Institute. The following analysis is based on their remarks during the forum.
David Makovsky
When Israel goes to the polls on November 1, some may see this round of early elections as interchangeable with the previous four rounds held since 2019. Yet this is not the case. Although the other campaigns touched on major debates at times (e.g., annexing the West Bank; drafting young ultraorthodox citizens into the military), the current round has been marked by two trends that cut to the very heart of Israeli democratic norms and ethnic coexistence.
First, senior parliamentarians in opposition leader Binyamin Netanyahu's coalition have challenged the independence of the judiciary, openly suggesting that it be subordinated to the majoritarian impulses of the next governing party. In the background of such proposals is Netanyahu's ongoing effort to have the three corruption charges against him dismissed.
Second, support has been surging for the hard-right Religious Zionist Party (RZP), a newer faction that has hijacked the name of a more moderate and established movement. The party's popularity has been driven by the provocative Itamar Ben-Gvir, who is promising to crack down on terrorism at a time of high tensions in the northern West Bank, and with the 2021 riots at home fresh on people's minds. He has attracted young men across Israel to his cause, without providing any blueprint for what he will do if he wins a key post in the next government. Although he claims to have distanced himself from the idea of ethnic cleansing, he openly calls for facilitating the expulsion of Arab citizens who have supposedly demonstrated disloyalty to the state.
If Netanyahu's bloc reaches a 61-seat majority in the 120-member Knesset, as a few recent polls have predicted, RZP would be the second-largest party in his coalition. Netanyahu has not endorsed Ben-Gvir's views, but in an October 27 interview he conceded that the RZP leader would be part of his cabinet. Specifically, Ben-Gvir has demanded that he be appointed as minister of public security, whose portfolio includes supervision of the national police force. Each of these developments would effectively mainstream hard-right parties in Israel.
Given the foundational issues at stake, it is difficult to escape the impression that the outcome of this vote will affect Israel's democratic norms in one direction or another. If this election were a referendum on normal political issues, the right could theoretically command a coalition with as many as 72 seats, compared to 48 on the center and left. Yet because Netanyahu has made so many enemies on the right—due to concerns about rule of law, among other matters—his bloc continues to hover at just 60 seats in most polls, compared to 56 for the opposing bloc and 4 seats not joining either side. 
Another key question is how a government that includes RZP would affect foreign relations. Israel's partners abroad have refrained from making public statements on this possibility, in part to avoid playing into Ben-Gvir's claims that he is an underdog with powerful forces arrayed against him. Yet there are strong indications that the Biden administration has raised this issue privately at senior levels. And during a visit to Israel in September, Foreign Minister Abdullah bin Zayed of the United Arab Emirates apparently conveyed to Netanyahu that forming such a government would affect relations with his country.
State of the Race
At least three factors could tip the outcome of this tight race. The first is violence—Palestinian terrorist attacks and militant mobilization in Jenin and Nablus over the past few months have given Ben-Gvir a major boost within the right-wing bloc. Netanyahu's Likud Party has dropped in the polls to around 30 seats, while RZP has almost doubled its support to 14.
Second, fears of a Netanyahu-Ben Gvir government have led many supporters of small parties on the center-left to gravitate toward current prime minister Yair Lapid's larger Yesh Atid party. A Channel 13 poll conducted this week put Lapid at 27 seats—his highest tally in seven elections. Yet candidates for the smaller parties contend that this voter migration could push them below the four-seat electoral threshold required for entry into parliament. Indeed, four center-left parties (including two Arab factions) are currently teetering on that threshold, and if any of them fail to cross, their votes would essentially be rendered meaningless—a potentially consequential factor given that none of the parties in Netanyahu's camp is at risk of falling short.
A third crucial factor is turnout, which is consistently large in Israel despite predictions of voter fatigue. The current turnout projection is 67% and will likely be higher when accounting for Israelis living abroad. Both Netanyahu and Lapid are hoping for increased turnout from their bases. In 2021, around 280,000 typical Netanyahu voters did not vote for him, either staying home or casting their ballots for smaller fringe parties with the expectation that he would be the overall victor without their help. Now that he is running from the opposition, he is seemingly hoping that this will galvanize supporters to vote for him.
As for Lapid, he would like to see Arab Israeli voters head to the polls in larger numbers as they did in 2020, when they reached 60% turnout (in contrast with last year's mark of 45%). Accordingly, his campaign has emphasized the gains that Arab citizens made when one of their parties was actively participating in the outgoing coalition. Meanwhile, Netanyahu has avoided his past combative approach toward this community, presumably recalling that his antagonistic tactics created a backlash that increased Arab turnout in 2020, while turnout fell when he toned down such rhetoric in 2021.
Coalition Scenarios
If pro-Netanyahu parties reach a total of 61 seats, he will likely lock in his majority by granting RZP its requested cabinet appointments, and only then invite other parties to enter the coalition on his terms. Yet he is unlikely to find many takers, even if he whispers that joining his coalition would dilute RZP's power.
There is also a chance that neither side reaches 61. In that scenario, one possibility is a sixth election, with Lapid remaining as caretaker in the meantime—though the lack of substantial variation in voting patterns in previous rounds gives little reason to believe that a new round would be any different. Alternatively, Lapid could try to form a minority government, with an Arab party providing a parliamentary safety net outside the coalition to avoid no-confidence votes. Yet such arrangements have not proven durable in the past.
In light of these scenarios, Netanyahu may face pressure to step aside if he fails to win a majority in this round, with right-wing leaders likely hoping that his departure would lead to reunification between Likud and the wayward faction led by Gideon Saar, who has vowed not to join a government led by the former prime minister. Yet Netanyahu has shown no signs of wanting to retire, apparently viewing high office as his only means of avoiding legal consequences from his corruption trial. Moreover, his fervent ultraorthodox supporters are unlikely to make a sudden turn and join a coalition led by a third candidate such as Defense Minister Benny Gantz (who is seen as more supportive of religious demands than Lapid). Their hesitation to shift allegiances may be strong despite losing budgetary support over the past year as part of the political opposition.
In the event that 61 is unattainable and a protracted stalemate emerges in the weeks after the election, party leaders might even have to contemplate a seemingly unthinkable scenario. Namely, if the center-left's fear of Ben-Gvir continues to build, and if the right's hopes for a different outcome in a sixth election seem fruitless, Lapid and Netanyahu may face public pressure to put aside their bitter differences and reunite in order to stabilize Israel's increasingly vulnerable political system.
Tamar Hermann
It remains to be seen whether this Israeli election cycle will differ from the previous four. A reassuring sign for the country's democracy is that while the current cohort of young voters has already participated in the same number of elections in just three years as some previous generations did in two decades, there is no indication of decreased voter turnout. Citizens may be frustrated with the frequent balloting but remain as engaged as any other democracy, with turnout exceeding 70%.
Moreover, 60% of respondents in recent surveys believe that their voting decisions really matter. For example, given the close state of the current race, former Yamina Party voters have become a decisive group of undecided voters. Although most of them are religious, they must now decide whether a secular party is a better choice than religious parties that are further to the right than they might be—assuming they vote at all.
Ideologically, the current electoral stalemate is unlikely to change so long as Netanyahu is on the scene and polarizing voters into largely static blocs for and against him. Although 60% of Israelis lean right, many within this majority support the anti-Netanyahu camp, so future elections would look different if he leaves the Likud. Therefore, many expect him to retire if he is unable to form a governing coalition in this election.
Despite this overall stalemate, however, the individual factions that make up the two main blocs have been quite volatile over the past five election cycles, with many parties either merging, dropping out, changing names, or making major leaps in popularity. For example, Netanyahu is responsible for promoting the RZP, which has in turn legitimized far-right leader Ben-Gvir. Yet while RZP's growing popularity has not affected the pro-Netanyahu bloc's total projected seat share, it is responsible for draining a large number of votes from Likud, with Ben-Gvir's anti-establishment message resonating among young Jewish voters across the denominational spectrum.
Another notable shift has occurred within the Joint List, the Arab-majority coalition that originally comprised four parties: the nationalist Balad, communist Hadash, nationalist Taal, and Islamist Raam. Two elections ago, the list held 15 seats in the Knesset, but Raam's departure in the previous cycle and Balad's more recent split may leave it with as few as 8 seats, damaging the Arab Israeli community's ability to affect politics.
A final concerning trend for Israeli democracy is that 39% of voters—51% of Arab Israelis and 36% of Jews—say they are skeptical about the integrity of the country's elections. Despite government efforts to counter conspiracy theories, many citizens believe that the "deep state" is responsible for distorting election results.