Iran and Russia's Growing Defense Ties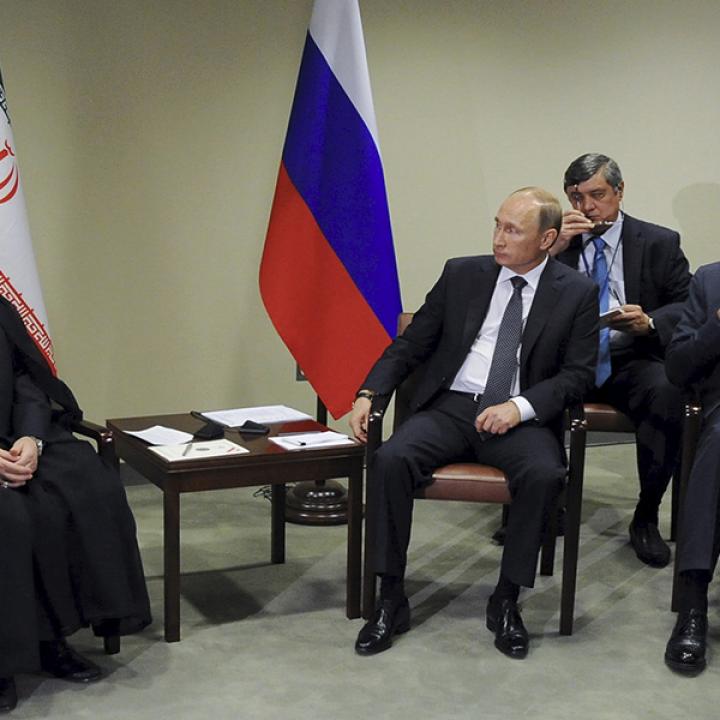 The lifting of international sanctions and the region's vastly changing geopolitical environment have opened a window of opportunity for Tehran to buy potent arms from Russia and modernize its arsenal.
Heading a high-level military and security delegation, Iranian defense minister Hossein Dehghan is visiting Moscow this week to negotiate a series of important weapons deals with Russia. If these deals are actually implemented, they could prove to be Tehran's largest foreign military purchase since the 1979 revolution. Dehghan's trip follows Iran's October military mission to Moscow and Russian defense minister Sergei Shoigu's early 2015 visit to Tehran. President Vladimir Putin and Supreme Leader Ali Khamenei also reiterated the need for strong military and security ties during their November meeting in Iran.
FIGHTER DEAL
Russian and Iranian media report that Tehran is close to purchasing a significant number of Sukhoi Su-30SME Flanker multirole fighters, assuming Moscow can overcome international opposition to the deal and, presumably, secure UN Security Council approval. A few of these will be delivered fully assembled, while the rest will be put together from semi-knocked down kits by Iranian aviation firms near Isfahan.
The exact configuration of the Iranian Flankers is yet to be determined. The two-seat Su-30 can carry a combination of advanced air-to-air and air-to-ground weapons, including the R-77 air-to-air missile (which is similar to the American AMRAAM and has a range in excess of 90 km) and the Yakhont antiship missile (maximum range 300 km). It is yet to be seen whether the jets will be delivered with any of the advanced electronically scanned array radar packages or uprated AL-31F engines offered to other Sukhoi customers, but they will be equipped entirely with Russian avionics, some of which is to be assembled in Iran. After entering service, the jets will presumably be dispersed among six air bases around the country, where they could significantly improve Iran's air defense, aerial intercept, and multirole long-range strike capability up to 5,000 km with aerial refueling.
Iran also lacks advanced jet trainers, so it is expected to order a few Yakovlev Yak-130s from Russia, which can be armed with rockets and missiles for counterinsurgency roles. Most Iranian fighters are showing their age, and despite numerous upgrades they are due for replacement. Yet they are unlikely to be retired any time soon.
In addition, press reports suggest that negotiations are well underway to set up joint design and production of Kamov helicopters and aircraft engines, though it is unclear whether any contracts will be signed during Dehghan's visit. Iran will need a reliable source of modern engines for its future indigenous fighter projects, but its previous collaborative aircraft R&D programs have often turned into lengthy affairs with little or no tangible results. For example, the Antonov An-140 program with Ukraine and the Shafagh program with Russia both fizzled due to chronic management shortfalls, corruption, and continually shifting priorities. The head of the Iranian Air Force's Self-Sufficiency Jihad directorate is part of this week's delegation in Moscow, so Iran may once again be seeking Russian help with its fighter and missile projects.
Tehran also recently announced a possible deal with Russia's United Aircraft Corporation (UAC) for around a hundred of the new Sukhoi SSJ-100 Superjet regional airliners, even before they receive appropriate Iranian civil aviation certifications. This prompted speculation that Moscow is using the potential fighter deal as leverage to push forward the sale of the small passenger jet, which has struggled to compete against similar Western aircraft. UAC has been trying to obtain permission from its American part suppliers to go ahead with the delivery.
S-300 MISSILES
Russia will shortly begin delivery of up to five Almaz S-300PMU-2 Favorit long-range surface-to-air missile systems to Iran. The much-anticipated air defense batteries can normally track up to a hundred targets and engage six of them simultaneously at a range of 200 km. The system will probably come upgraded with a new command post that is also capable of controlling the S-200 (SA-5 Gammon), which is already in service in Iran. Moreover, individual firing units will likely include dedicated 96L6/96L6E phased-array acquisition radars, giving them an additional 100 km detection range and autonomous capabilities that are well suited to Iran's asymmetric style of warfare.
Iranian officials have indicated interest in Russia's newer S-400 Triumf system as well, but an ongoing production backlog makes such a purchase highly unlikely any time soon. Moscow ceased production of S-300s in 2011, so the batteries intended for Iran are ones that have been gradually replaced in Russian service with the S-400. The Kremlin intends to withhold foreign sales of the S-400 until all domestic orders are fulfilled.
The S-300PMU-2 cannot track as many targets as the S-400, and it is less capable of detecting stealthy targets and countering electronic countermeasures. Yet it can include a new 46N6E2 missile with an extended range of 380 km; the S-400 is currently limited to engaging targets at a maximum range of 250 km.
NEW TANKS
Tehran is reportedly close to finalizing a deal for purchase and licensed production of Russia's modern T-90S main battle tank. Iran bought a large number of T-72S tanks from Russia and Eastern Europe in the early 1990s and also set up its own T-72 assembly line in western Iran. In addition, it has conducted R&D to build an Iranian main battle tank, the Zolfaghar/Zulfiqar, using T-72 components. Even the third generation of the Zolfaghar, which closely resembles the American M1A1 Abrams, has yet to enter operational service, but closer military ties with Russia could eventually yield essential technologies for completing such projects.
SPACE COOPERATION
Iran has had problems getting its space launch vehicle (SLV) boosters up and running, with few launches over the course of the program and none in the past year. A Russian technology injection would therefore be highly welcome in Tehran. In October, the Iranian Defense Ministry won a contract from President Hassan Rouhani's office for several related projects, all using foreign help if necessary: completing the new space launch station near Semnan; fully developing the apparently dormant first-generation Simorgh SLV (which is capable of placing a 100 kg satellite into 500 km orbit) for a debut launch next year; and fabricating an earth observation satellite. Currently, Tehran's best sources for such assistance are Russian and Chinese companies, which might be willing to provide manpower, training, and technology transfers.
CONCLUSION
In the wake of the P5+1 nuclear deal, and as a result of the ongoing Syrian conflict, strategic ties between Iran and Russia have reached unprecedented levels. This is not surprising given that their forces have been fighting alongside each other in Syria for some time. Consequently, bilateral military relations can be expected to grow, and new levels and areas of cooperation opened for exploration. That said, their military relationship has been spotty in the past, with long negotiations and memorandums of understanding often leading nowhere, sometimes due to outside pressure. The consummation of any of the agreements discussed above would be a sign that things are changing.
Farzin Nadimi is a Washington-based analyst specializing in the security and defense affairs of Iran and the Persian Gulf region.