Inside the Complex World of U.S. Military Assistance to Egypt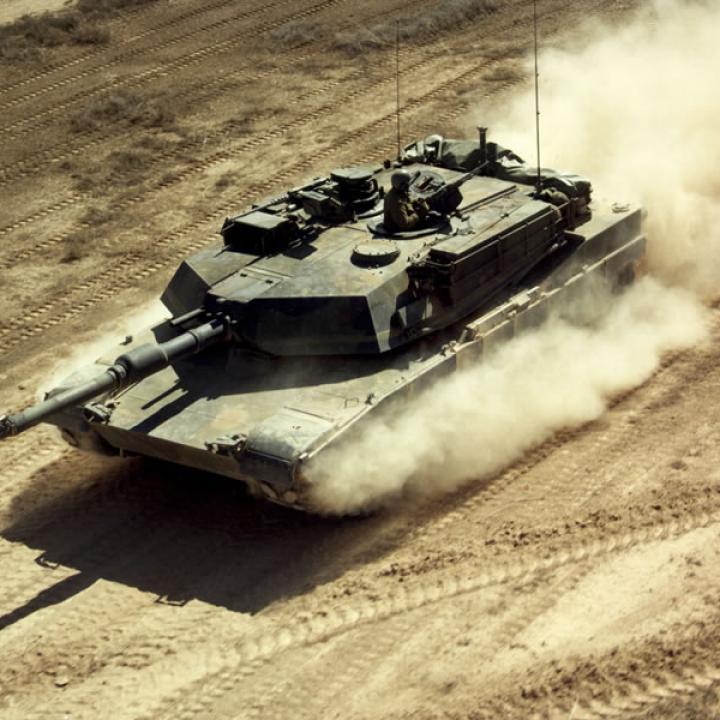 Under current conditions, suspending military assistance to Cairo would be counterproductive for U.S. interests and contractors alike.
Over the past three decades, Washington has provided Egypt with over $40 billion in military assistance, a program that today accounts for 80 percent of the country's total annual military procurement budget. Since July, the army's ouster of President Muhammad Morsi and violent crackdown on his supporters have spurred calls in Washington to suspend this assistance. Yet the size and structure of the State Department's Foreign Military Financing (FMF) program with Egypt -- America's second-largest such program worldwide -- would make a policy shift of this nature complicated, lengthy, and costly on several fronts.
SPECIAL PROVISIONS
Currently, Egypt receives $1.3 billion per year in FMF under a program that allows it to purchase U.S.-produced military hardware and technical assistance in coordination with the State and Defense Departments. At the Office of Military Cooperation (or OMC-Cairo, housed in the U.S. embassy), American officers work closely with their Egyptian counterparts to determine procurement priorities, such as phasing out old Soviet equipment and improving interoperability with U.S. forces.
Along with Israel, Egypt is one of only two FMF recipients provided the courtesy of "early disbursement" -- at the beginning of the year, U.S. funding is deposited in an account at the New York Federal Reserve, and Cairo is allowed to use the interest accrued on these deposits to purchase additional equipment. Once payments are made, funds are transferred from the Fed to a trust fund. This year, Egypt will receive slightly less than $1.3 billion due to sequestration, assuming the program continues. As of July, $649 million had been moved to the trust fund, leaving $585 million remaining in the Fed.
Another special provision allows Cairo to "cash-flow finance" its purchases from American defense contractors. Unlike most other FMF recipients, the Egyptian government does not have to pay in advance for its expensive U.S.-contracted weapons systems; instead, it can make financial commitments that are covered by projected future FMF grants. Typically, Cairo will have more than $2.5 billion in outstanding commitments to purchase weapons and support services from American companies at any given time.
Technical aspects of FMF sales and transfers are managed by the Defense Security Cooperation Agency (DSCA), a highly specialized procurement branch headed by a three-star general and overseen by the Office of the Undersecretary of Defense for Policy at the Pentagon. Even with this expert monitoring, cash-flow financing makes Egypt's FMF program inordinately complex. To wit, according to a 2006 Government Accountability Office report, even DSCA could not track Egypt's FMF commitments against its disbursement requirements and available appropriations prior to 1998.
EGYPT'S FMF PURCHASES
Currently, Cairo allocates roughly a third of its FMF to new purchases, another third to equipment upgrades, and the remainder to technical support from U.S. contractors. The bulk of its procurement has focused on several large, multiyear programs, including the purchase and local assembly of more than 1,100 M1A1 tanks, 224 F-16s, 10 Apache Longbow helicopters, thousands of Humvees, various munitions (e.g., Stinger MANPADS; Hellfire and Harpoon missiles), communications and radar systems, and naval vessels. The most prominent recent big-ticket item was the December 2012 purchase of 20 additional F-16s, a contract worth nearly $3 billion. To date, eight of these aircraft have been delivered, including four in February.
Notwithstanding America's commitment to Israel's qualitative military edge, Washington usually sells Egypt whatever highly sophisticated weapons it requests. Occasionally, however, some systems are modified or denied to preserve Israel's edge. For example, the 2013 sale of 90 Harpoon II antiship cruise missiles was reportedly delayed for five years due to concerns that the land-attack capabilities they offered would alter the military balance between the two states. To mitigate these concerns, the missile's capabilities were apparently downgraded.
CURRENT STATUS
According to some estimates, Egypt has up to $4 billion in outstanding contractual commitments to be paid by cash-flow financing, or more than three years' worth of FMF. After hundreds of Morsi supporters were killed during last month's crackdown, President Obama announced that Washington would review Egypt's FMF program. Although no official suspension has been announced, DSCA has reportedly delayed delivery of four F-16s and ten Apache helicopters.
Cairo is believed to be current with its payments to contractors through October. Should Washington continue to prevent delivery of equipment, however, U.S. taxpayers would become responsible for meeting the obligation. And if contracts with Egypt are terminated altogether, the cancellation costs due to American companies may be funded from the FMF; more likely, though, the U.S. government would hold onto the equipment until the transfer could be made.
Although Washington could pay the contractors from existing funds in the Fed account, assume the contracts, take possession of the equipment, or even sell it to other countries via direct Foreign Military Sales, these options are not optimal. The U.S. government has no use for the sizable service and maintenance components of these contracts, and some of the equipment would be less than appealing to those countries most able to foot the bill. Egyptian F-16s, for example, are not equipped with AIM-120 advanced medium-range air-to-air missiles (AMRAAMs), but with decidedly lower-capability AIM-7s.
IMPACT OF A CUTOFF
In addition to hurting military-to-military relations between the United States and Cairo -- which are especially important now that the army is running Egypt again -- suspending the FMF program would undermine relations with the civilian government, further erode Washington's already low standing among Egyptians, and perhaps fray fragile U.S. relations with Saudi Arabia, which has vocally supported the July coup. Moreover, Riyadh, the United Arab Emirates, and Kuwait could fill the gap, enabling Cairo to continue funding military purchases. These Gulf donors have already stepped in once since the coup, providing $16 billion to help Egypt's distressed economy.
Other scenarios could diminish U.S. leverage as well. For example, the Egyptian military may be able to fund procurements itself, given that it loaned the Central Bank $1 billion in December 2011. Worse, news of a U.S. cutoff might buoy the Egyptian Muslim Brotherhood and strengthen their resolve to fight the military, further destabilizing the state. Alternately, China or Russia might try to capitalize on a suspension and supplant Washington by funding Egypt's purchases of their own systems, though this is unlikely.
It is unclear whether halting FMF would entail cessation of the $1.8 million in annual U.S. International Military Education and Training (IMET) funds, a grant that brings hundreds of Egyptian officers to study in the United States. Equally uncertain is what a pause in U.S. equipment transfers and training would mean for the country's already-limited readiness and operational capabilities.
Cutting assistance might also put key U.S. strategic interests in Egypt at risk, including counterterrorism cooperation, priority access to the Suez Canal for U.S. warships, and relatively unrestricted U.S. military overflights. Between 2001 and 2005, American military aircraft made more than 35,000 flights through Egyptian airspace, often on short notice, while U.S. military vessels made nearly 900 expedited Suez passages. In addition, the Egyptian military's support for the Camp David peace treaty -- and the excellent Israeli-Egyptian coordination on Sinai security it has fostered -- might also suffer.
As for domestic repercussions, suspending the program would represent at least a short-term blow for American military contractors, including Lockheed Martin (which manufactures the F-16s) and Boeing (Apaches). Dozens of smaller companies and subcontractors would likely face even more serious economic consequences.
CONCLUSION
The potential suspension of the FMF program with Egypt could entail some high strategic and domestic costs for the United States. And given the Egyptian military's view of the struggle with the Muslim Brotherhood, such a move would likely prove ineffective in shaping decisionmaking in Cairo. Therefore, even if cutting aid is deemed consistent with past legislation, it would be counterproductive in terms of policy.
If Washington wants to send a message to Cairo without suspending the program entirely, it could end the early disbursement of FMF, which has long been an unnecessary perquisite. More important, the Obama administration should encourage Congress to revise the legislation granting Egypt the privilege of cash-flow financing. Absent significant changes to the FMF program, the United States will be left with few palatable options to calibrate its military assistance to Egypt for the foreseeable future.
David Schenker is the Aufzien Fellow and director of the Program on Arab Politics at The Washington Institute.