An Innovative Approach to Countering Violent Extremism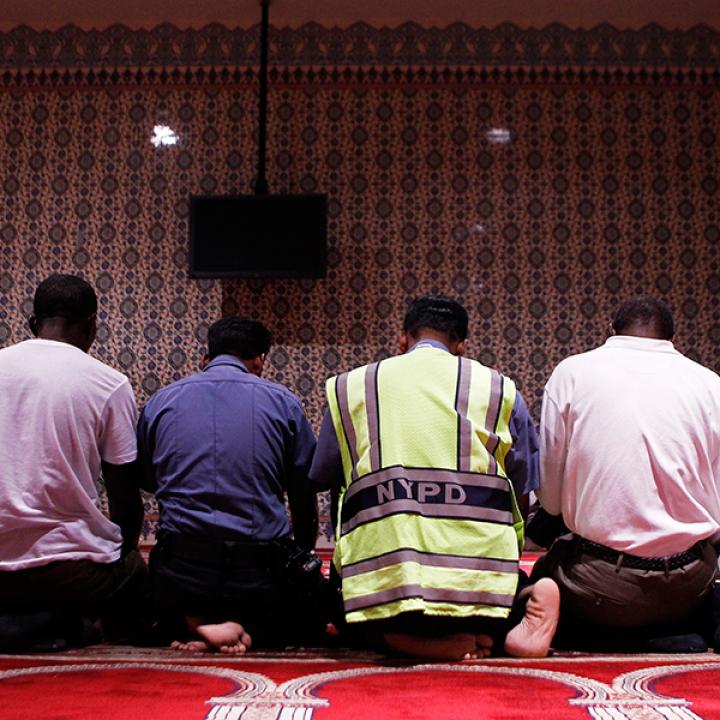 This article is part 2 of a series on violent extremism in the United States; read part 1, which discusses the Fort Hood case.
Homegrown violent extremism (HVE) remains one of America's greatest national security threats. According to former homeland security secretary Janet Napolitano, "One of the most striking elements of today's threat picture is that plots to attack America increasingly involve American residents and citizens." Since the terrorist attacks of September 11, 2001, hundreds of individuals have been implicated in more than fifty homegrown plots or attacks. Federal law enforcement has worked tirelessly to reduce terrorism and has thwarted many terrorist plots. However, the Boston Marathon bombing underscores the urgency of developing a preventive strategy to reduce HVE at the state and local levels, in partnership with at-risk communities.
Approaches at the Federal Level
Despite the millions of dollars spent on counterterrorism strategies, the U.S. government has still failed to implement a coherent multipronged HVE prevention strategy that addresses the many factors that lead individuals to violent extremism, such as social alienation, psychological disorders, political grievances, and al-Qaeda-inspired violent ideologies. Current models for countering violent extremism are largely limited to 1990s community policing strategies that focus on preventing gang violence, participation in neo-Nazi groups, and other forms of organized crime. In 2011, the White House released the "Strategic Implementation Plan (SIP) for Empowering Local Partners to Prevent Violent Extremism in the United States." But this plan has several limitations. Although the SIP recognizes the potential role of communities in collaborating with law enforcement to address the threat of violent extremism, it does not specify how public officials should establish those relationships, nor does it include any benchmarks for partnership. Furthermore, the SIP does not provide guidelines for how law enforcement can refer radicalized individuals for community interventions. At the same time, the federal government provides little guidance to community groups on how to conduct interventions with at-risk or radicalized individuals.
Several factors may explain the government's struggles to craft a preventive intervention model and how, ultimately, the solution lies with the community. Most important, the U.S. government "does not do religion." As Americans, we believe fundamentally that government should not interfere in religious matters. Since al-Qaeda-inspired ideologies represent a deviant understanding of Islam, the government cannot develop Islam's counternarrative -- that responsibility lies with Islamic scholars, academics, and activists. Unfortunately, most of the scholars with the theological and intellectual expertise to develop these counternarratives are not doing so because the mainstream community is not demanding it. The average mosque-goer, for his or her part, is unaware of the hateful material produced by the likes of deceased al-Qaeda cleric and U.S. citizen Anwar al-Awlaki -- material that is, in turn, made available on the internet and sold to teenage consumers as "authentic" Islam. Therefore, this average mosque-goer would also not be concerned about how to respond to such material. All this leads to the next major obstacle -- the lack of funding for community-based solutions. Without financial resources dedicated to the creation and dissemination of literature countering jihadist ideology, this critical component will remain absent.
It is also important to recognize that the Muslim community writ large is fed up with being isolated and identified as "at risk" of committing acts of violence and terrorism, so its members resist programs meant to "deradicalize" them. We saw such a response to the British government's "Prevent" counterterrorism strategy, and similar resistance has been observed in the United States. Though the Muslim community holds the ultimate responsibility for reducing the threat of Islamist violent extremism, violent extremism itself is by no means exclusive to any one religion. In fact, of the more than sixty-three al-Qaeda-inspired plots since 9/11, about twenty-six involved converts to Islam. Thus, more than one third of those involved grew up in a religion other than Islam. Moreover, 45 percent of those individuals indicted on terrorism charges since 9/11 were not inspired by al-Qaeda. This diversity of potential extremist recruits and perpetrators reinforces the need for an inclusive and holistic approach to addressing and countering the dangers of radicalization.
Local Innovation: The Faith Community Working Group
In Montgomery County, Maryland, a public-private initiative has recently been formed with the specific aim of addressing obstacles to countering radicalization. The Faith Community Working Group (FCWG), established by the county executive, is a community-led initiative with a subcommittee dedicated to public safety and preventing violent extremism. With the involvement of the Montgomery County Police Department, the FCWG is designed to reduce homegrown radicalization by creating public awareness about the risk factors and empowering the appropriate figures to intervene with vulnerable individuals. Alongside police officers, the FCWG includes government officials, trauma-informed counselors, youth activists, faith leaders, and violence-prevention experts who are committed to stemming the precursors of violent extremism, such as social alienation, psychological disorders, political grievances, and al-Qaeda-inspired ideologies. In its August 2013 kickoff meeting, more than seventy members of various faith communities joined county officials and the police to show their support for the effort.
The success of the program relies on a trusting relationship among local police, schools, health and human services agencies, and the faith community, whereby persons who may be radicalized, regardless of the reason, are identified as possibly benefiting from an intervention. Each potentially radicalized individual is referred to the community partner best suited to counsel him or her away from the path of violence. As for the trust factor, this comes into play particularly if the community partner recognizes that an intervention has been unsuccessful and that the individual must be referred back to law enforcement, if necessary, to ensure public safety.
Although new, this program shows great promise. Many local imams have demonstrated a commitment to conducting the theological interventions, and a counselor has been hired to address acculturation and alienation problems. Whether it's in the tragic reality of the Boston terror attack or the Newtown school shooting, we are reminded of the need to build awareness about the social, psychological, and ideological factors that can lead to violent extremism and about the need to enlist community experts to help deal with these factors. Likewise, particularly in the case of the marathon bombing, we see how faith communities must create the space within their institutions to address these issues.
New Models to Fit New Realities
If such public-private partnerships are to succeed, they must receive adequate resources. One way to ensure such funding is to reevaluate existing definitions of at-risk individuals for violence. In the United States, the traditional definition encompasses low-income individuals with a tendency toward involvement in gangs or drugs. Hundreds of millions of dollars are allocated to gang-prevention programs across the country, but these programs are not equipped to deal with cases of violent extremism. One new reality in our country is a multitude of young adults who may be suffering from the social and psychological trauma of war or conflict, especially from Muslim-majority countries and including immigrants from Iraq, Africa, Pakistan, or Afghanistan. The rising incidence of anxiety- and stress-related disorders can also make an individual subject to violent outbursts. As U.S. demographic trends change, the allocation of resources must also change to reflect the critical service needs of emerging populations.
The Global Fund for Community Engagement and Resilience represents a critical step in defeating al-Qaeda-inspired narratives, but officials must continue to explore innovative solutions here at home. The Montgomery County model deserves the U.S. government's attention and could certainly be scalable and replicated in other parts of the country.
Hedieh Mirahmadi is a visiting fellow at The Washington Institute and president of the World Organization for Resource Development and Education (WORDE), whose mission is to enhance understanding between Muslim and non-Muslim communities in order to mitigate social and political conflict.