Idlib and Its Environs:
Narrowing Prospects for a Rebel Holdout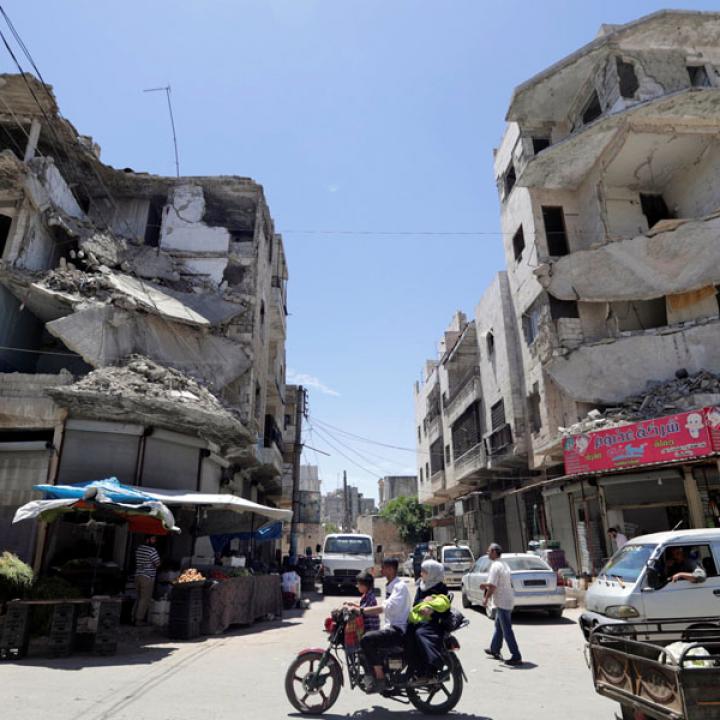 During the war years in Syria, the northwest, specifically Idlib, has become a site of heavy internal displacement. Observers on the ground recognize the green buses traveling to Idlib carrying migrants who have refused reconciliation agreements with the Damascus regime. Since around 2014, a range of jihadist, Islamist, and Salafi actors have wielded control in the area, the most recent being the al-Qaeda offshoot Hayat Tahrir al-Sham, which has ruled—ineffectively and brutally—through its so-called Syrian Salvation Government. But the group's reign is unlikely to last long if current trends persist. The regime's recent move against the town of Maarat al-Numan suggests plans for a broader takeover in the northwest, aided by Russian firepower and other allies such as Iran.
In this Policy Note filled with local insights, jihadism expert Aymenn Jawad Al-Tamimi presents the current scene in and around Idlib province, the last Syrian outpost still run by independent rebels. Absent an intervention by Turkey, the Assad regime will likely prevail in a campaign that quashes the insurgency at a high humanitarian cost.
THE AUTHOR
Aymenn Jawad Al-Tamimi is an independent analyst and a doctoral candidate at Swansea University, where he focuses on the role of historical narratives in Islamic State propaganda. His insights have been cited in numerous outlets, including the New York Times, Washington Post, and Agence France-Presse.