The Fragile Thaw in U.S.-Turkish Relations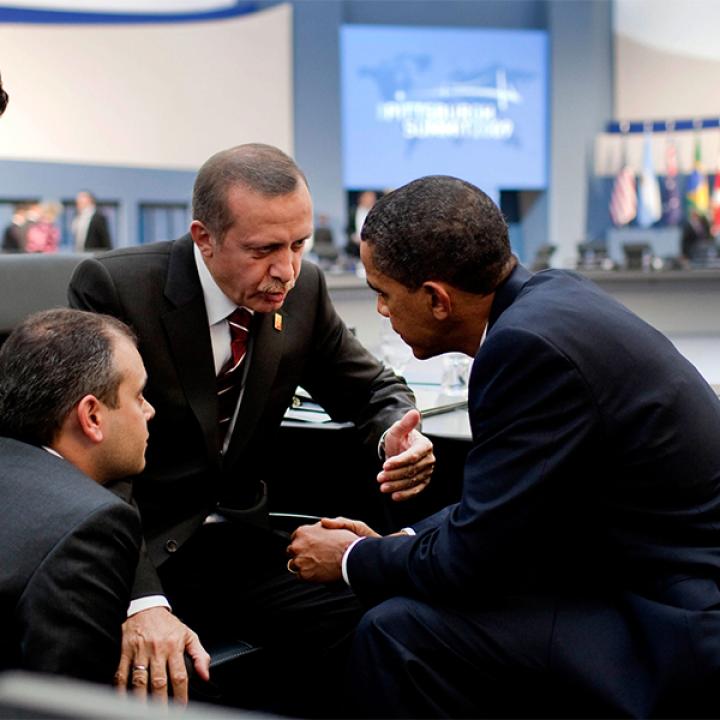 If Ankara and Washington can manage the complications surrounding various domestic and foreign issues, particularly in Syria, then the coming months hold promise for reviving the bilateral relationship.
President Obama's March 27 phone call to Turkish president Recep Tayyip Erdogan was a welcome development that ended a six-month period of silence between them. It comes at a time when the United States would like access to Turkish air bases for armed drone flights and potential combat missions to help recapture Mosul, Iraq, from the "Islamic State"/ISIS. Thus far, Ankara seems eager to meet some U.S. demands. Such developments could lead to a thaw in bilateral ties, which have suffered since 2013.
Yet any thaw could prove short-lived if Washington and Ankara do not settle a number of outstanding issues -- particularly their divergent policies in Syria, where Turkey sees ousting Bashar al-Assad as its overarching goal while Washington has prioritized degrading ISIS. They also need to navigate various Kurdish issues, Turkey's air-defense purchases, the wording of the White House statement on the upcoming Armenian Remembrance Day, and Turkish commitments to monitor the Syria border more diligently in order to stem the flow of radical fighters, all at a time when Turkish national elections are approaching.
ARAB SPRING, U.S.-TURKISH FALL
Bilateral ties hit a roadblock two years ago during the liberal Gezi Park protest movement against Turkey's long-governing Justice and Development Party (AKP). On June 2, 2013, the White House criticized Ankara's violent crackdown on the demonstrators, saying "We expect Turkish public authorities to act with restraint." Later that year, Ankara blamed Washington for Gen. Abdul Fattah al-Sisi's takeover in Egypt -- no surprise given that the AKP had supported the Muslim Brotherhood in Cairo since the fall of the Mubarak regime.
These developments damaged the amiable relationship between Obama and Erdogan, which had been carefully cultivated following a previous bilateral cold spell. In June 2010, Turkey had voted against a U.S.-sponsored sanctions bill targeting Iran at the UN Security Council, spurring tensions with Washington. Later than month, President Obama had a candid conversation with Erdogan on the margins of the G-20 Summit in Toronto, largely repairing the relationship and paving the way for frequent consultations between 2010 and 2013.
TURKEY'S HESITANCE ON ISIS
As U.S.-Turkish differences over the Gezi Park protests and the Muslim Brotherhood escalated, interactions between Obama and Erdogan came to a standstill. Prior to the March 27 call, the two leaders had not spoken since October 2014, when Obama notified Erdogan of a U.S. weapons drop to the Democratic Union Party (PYD), the Kurdish group defending the Syrian enclave of Kobane against ISIS. The PYD is aligned with the Kurdistan Workers Party (PKK), which Turkey fought for decades before opening as-yet-unconcluded peace talks with the group. When Erdogan objected to the U.S. move, Obama informed him that the United States would proceed anyway.
Previously, as ISIS went on the offensive last summer, Ankara had deliberately shied away from provoking the group out of concern that it might overrun Suleyman Shah, a small Turkish exclave in Syria. Ankara was also worried about saving the forty-six Turks taken hostage by ISIS during its June 2014 Mosul campaign. Yet even after securing their release in September, Ankara did not join the anti-ISIS front in Syria (though it eventually took other positive steps, as described further down).
Combined with the AKP's tentative 2013 decision to buy Chinese air-defense systems, Turkey's unwillingness to fully commit to the anti-ISIS effort in Syria greatly exacerbated tensions with Washington. From Ankara's perspective, however, the real root of the problem was Washington's hesitance to commit to a comprehensive Syria strategy that includes ousting the Assad regime.
MEETING HALFWAY ON SYRIA?
Despite these policy differences, Obama's latest conversation with Erdogan holds particular promise because it comes on the heels of recent Turkish moves to increase cooperation against ISIS. Ankara has apparently boosted coordination with Western intelligence agencies to prevent the flow of fighters into Syria, and the New York Times recently reported that the government was considering closing its two remaining border crossings with Syria.
To build on this progress, Washington and Ankara will need to acknowledge each other's main interests in Syria. The White House believes that preempting the growth of ISIS overseas is crucial to preventing potential terrorist attacks against the United States and its allies. Accordingly, stronger Turkish cooperation against ISIS-held territory is a very positive development that could establish a new working relationship between Obama and Erdogan. In any case, the White House will no doubt expect the intelligence cooperation on foreign fighters to continue.
For its part, Washington has agreed to support a large-scale mission to train and equip Syrian rebels in Turkey, along with similar programs in Qatar, Jordan, and Saudi Arabia. The program will begin in the Turkish province of Kirsehir in May and could train as many as 10,000 Syrians by year's end. To be sure, the program's main goal is to degrade ISIS, so it falls short of Turkey's ambition to build a force capable of ousting Assad right away. Yet the language of the U.S.-Turkish agreement outlining the mission is intentionally vague -- it does not necessarily rule out the Assad regime as a future target. Turkish policymakers therefore seem content at the moment, believing that the program's expressly anti-Assad recruits could one day be used to fight the regime.
Ankara will also insist on U.S. help in enforcing a no-fly zone across northern Syria to protect rebel-held areas. Washington is reticent about formally delineating such a zone, but the current pattern of U.S. airstrikes could help create a patchwork of de facto no-fly zones should Washington decide to tackle the Assad regime. Turkey would try to keep these flight-exclusion zones as large, contiguous, and well-defined as possible, while Washington would likely envision a fluid, informal patchwork covering strategic areas.
OTHER MOVING PARTS
As they sort out their differences on Syria, both governments will also need to stay on top of several other important issues.
Role of the Kurds. Recently, Ankara moved to eliminate a key weakness that had been impeding more robust action against ISIS -- on February 22, Turkish troops entered Syria and evacuated the Suleyman Shah exclave. Also notable was the fact that Turkey reportedly executed the operation in coordination with the PYD. Ankara was likely emboldened to pursue such cooperation because of its recent peace talks with the PKK. Yet Washington will need to tread more carefully than Ankara -- should the PKK talks collapse and violence in eastern Turkey ensue, many Turkish officials would quickly impugn the U.S. relationship with the PYD and equate it with support for the PKK.
At the same time, Washington should promote the ongoing rapprochement between Turkey and the Kurdistan Regional Government (KRG) in Iraq. Current relations between the two serve as a model of Turkish-Kurdish coexistence, benefitting both parties as well as the United States. In addition to economic and other ties, Turkey has been supporting the KRG militarily against ISIS.
The Armenian issue. The White House will carefully consider the wording of its official statement on Remembrance Day (April 24). In past years, President Obama and his predecessors have avoided using the word "genocide" in their statements memorializing the deaths of Armenians in the Ottoman Empire beginning in April 1915. With the hundredth anniversary approaching, there will be extra domestic pressure to use that word. Yet the White House is aware that calling the events of 1915 a genocide would likely freeze bilateral military and security cooperation and stall efforts to keep Turkey in the anti-ISIS coalition.
Help with Mosul. The Incirlik base in southern Turkey is a vital asset for any future U.S. operations to help liberate Mosul, as are the nearby bases at Diyarbakir, Batman, and Malatya. Batman, for instance, is one of the closest airfields to the Iraqi city. In addition to search-and-rescue operations, intelligence efforts, logistical support, and drone flights, Washington will press Turkey to allow use of its bases for U.S. combat strike missions. Whatever operations Ankara chooses to okay, its willingness to support a Mosul campaign would greatly improve near-term ties with Washington and help smooth out any issues along the way.
Turkey's domestic politics. Parliamentary elections are slated for June 7, and although the AKP will likely maintain its upper hand, Erdogan knows that helping Washington against ISIS could provoke direct retaliation from the group. This could in turn severely erode the AKP's popularity. Ankara will therefore be careful about the nature and visibility of its support to the United States, while Washington will likely refrain from making further demands about Turkish bases until after the elections.
An AKP victory on June 7 would consolidate the party's rule until the next elections in 2020, perhaps spurring the White House to take a more pragmatic view of a government that will be its counterpart in Ankara for the foreseeable future. At the same time, continued AKP crackdowns on dissent and media liberties would dampen Washington's public enthusiasm toward the relationship.
Air defense. In September 2013, Turkey announced plans to purchase Chinese-made air-defense systems. This angered Washington and other NATO allies, who said that they would not allow a member state to integrate Chinese-made hardware into NATO's defense architecture. Ankara was tempted to buy the Chinese systems in part because Beijing promised to transfer air-defense technology to Turkey as part of the deal. Ankara has since signaled its willingness to buy French- or U.S.-made systems instead; these too would be accompanied by technology transfers.
CONCLUSION
If Turkey and Washington manage to navigate their differences until then, the latter half of this year could witness a thaw in bilateral ties. Indeed, President Obama's attendance at the November G-20 summit in Antalya, Turkey would crown these positive developments just as Ankara takes the helm of the prestigious international group.
Soner Cagaptay is the Beyer Family Fellow and director of the Turkish Research Program at The Washington Institute, and author of The Rise of Turkey: The Twenty-First Century's First Muslim Power, named by the Foreign Policy Association as one of the ten most important books of 2014.