The Evolving National Security Threat Landscape: Treasury's Expanding Toolkit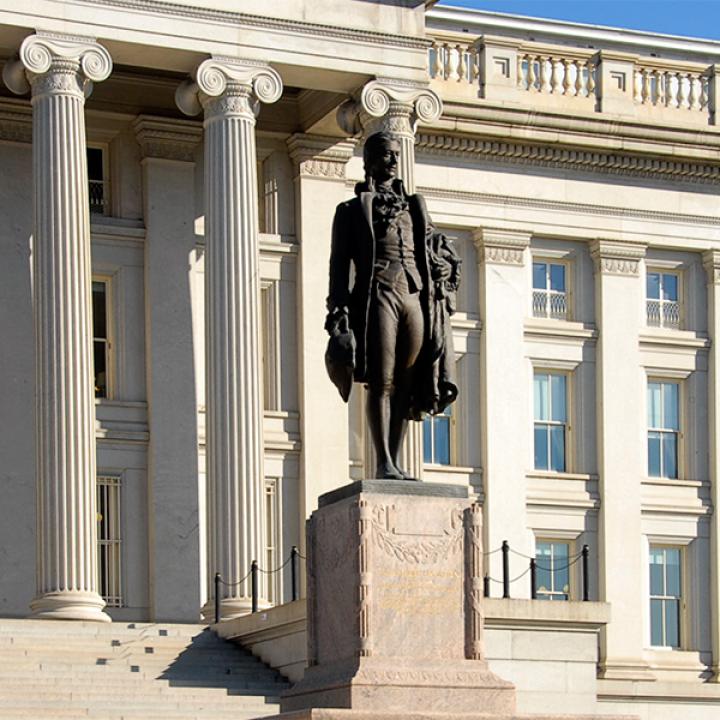 Editorial note:
The following is Mr. Burwell's prepared statement for the record.
A senior Treasury official explains the department's growing mission to prevent terrorists, proliferators, human rights violators, and corrupt government officials from abusing the global financial system.
Good morning, everyone. My name is Carter Burwell, and I serve as Counselor to the Secretary for Terrorism and Financial Intelligence at the United States Department of the Treasury. I am sorry to be giving these remarks remotely, and that we all could not be together in person. But in this unusual time of virtual events and social distancing, it is nice to see so many people gathered together who are interested in the Treasury Department's work.
I want to thank The Washington Institute, and especially Matt Levitt, for inviting me to speak and for the kind introduction. For years, The Washington Institute has put out tremendous work on various threats posed by illicit actors. My colleagues and I continue to benefit significantly from your excellent analysis and research on a regular basis. It is an honor to be here today to discuss the tools that the Treasury Department is deploying to counter evolving national security threats.
But before I offer some brief remarks on that subject, I thought it would be important to remind everyone of how we got here today. The founders of The Washington Institute established this organization forty-five years ago to advance security, peace, prosperity, democracy, and stability in the Middle East. They also recognized that effective policy to spread these values needed to be informed by the realities on the ground.
At Treasury, we share those same goals of promoting democracy, stability, and transparency in the Middle East and all over the globe. We understand that we must be clear-eyed about the threats that we face to formulate policy and achieve these goals. And, as I mentioned previously, The Washington Institute has been a tremendous resource to our efforts to evaluate these threats. Thank you for giving me the opportunity to recognize your contributions and join you in supporting security, peace, and democracy.
Overview of TFI
I come to you today from Treasury's Office of Terrorism and Financial Intelligence, or what we call TFI. TFI has a long and meaningful history of combatting illicit finance and promoting financial transparency. TFI's Office of Foreign Assets Control actually had its roots in the Treasury's effort to prevent Nazis from taking control of U.S.-held assets in Nazi-invaded countries in Europe.
But, like The Washington Institute, Treasury changed in the aftermath of the 9/11 attack. TFI was brought into existence after 9/11 and took its current form in the years following the attacks. After 9/11, the U.S. government greatly expanded the Treasury Department's role and authorities to target terrorists and their financiers around the world. I understand that The Washington Institute similarly pivoted to focus on Islamist extremism, terrorism, and the proliferation of weapons of mass destruction. The government's expanded effort has now revolutionized Treasury's ability to identify and target not just terrorists but other bad actors who want to abuse the U.S. and international financial system.
Today, TFI comprises four main components:
The Office of Foreign Assets Control (OFAC), which administers and enforces our various economic and trade sanctions.

The Office of Terrorist Financing and Financial Crimes (TFFC), which leads our international engagement efforts and Treasury's efforts at the Financial Action Task Force (FATF).

The Office of Intelligence and Analysis (OIA), Treasury's own financial intelligence unit and a member of the U.S. Intelligence Community.

The Financial Crimes Enforcement Network (FinCEN), which helps to collect and analyze financial information and identify bad actors.
These components all work together to protect the national security of the United States and our allies and to safeguard the U.S. and international financial system from abuse.
Almost twenty years after 9/11, TFI continues to evolve, and our authorities have become among the top non-kinetic national security tools of choice for the United States government. Treasury continues to use its tools to counter terrorists and their financial networks, and I'll speak about some of that focus in a moment. But today I want to try to highlight how we also use those same tools to address the illicit finance activities of corrupt government officials, human rights abusers, and other bad actors.
As Treasury has evolved, however, so have our adversaries. So we have also expanded our focus to include illicit finance risks related to digital assets, including ransomware payments and the use of cryptocurrencies to promote illegal activity like child sexual abuse.
Economic sanctions are a key component and tool, but Treasury is also using other tools—including extensive international and private sector engagement and greatly increased financial intelligence—with great success to achieve long-term strategic goals. Today, I would like to highlight a few of those tools and our successes.
Terrorism
It is not possible to discuss TFI's tools and the threat landscape without talking about Treasury's counterterrorism efforts. TFI's new and expanded toolkit was developed in the aftermath of 9/11, and we have been applying our economic authorities at a rapid pace to cut off and disrupt funding for terrorist groups.
As a former counterterrorism prosecutor at the Department of Justice who grew up working on the investigation and prosecution of al-Qaeda operatives and Islamic State (ISIS) jihadists who were plotting terrorist acts against the West, I knew that Treasury was in the lead on working to prevent the flow of funds to those groups. But what I did not know is how active a role Treasury plays in the National Security Council and with our colleagues at the State Department.
I have also learned about how active a role Treasury plays in the international community with our foreign counterparts across the world. And thanks to the incredible and focused work at TFI, including international cooperation like the Counter ISIS Finance Group, Treasury and the international community have decimated the financial backbone and resources of ISIS.
Treasury also continues to target al-Qaeda's financial facilitators across the globe. Just this past October, Treasury imposed sanctions on an Australia-based businessman and his gemstone company for helping al-Qaeda move money across the globe to sustain its operations. And in July, Treasury sanctioned two key ISIS facilitators in Turkey and Syria.
Despite the successes of the counterterrorism program against al-Qaeda and ISIS, Treasury has not taken its eye off those groups. Treasury actions have also kept up maximum pressure on the Iranian regime and disrupted its ability to support terrorist groups like Hezbollah in Lebanon and elsewhere.
We remain focused on these terrorist groups as they continue to evolve and adapt to maintain sources of revenue and channels to move funds. Treasury will continue to work together with international partners to ensure that terrorists cannot exploit the international financial system to support their destabilizing goals.
Human Rights and Corruption
It should not surprise anyone that Treasury is focused on combatting terrorists and their financial networks. But it may surprise some of you that another key and important national security threat that TFI and other members of the international community are now focusing our economic and financial tools on is human rights abusers and corrupt public officials.
Human rights violators and corrupt actors misuse the U.S. and international financial systems. This abuse of the financial system is not just destructive to people's lives, it also undermines local governments, global economic development, and the rule of law. It can fuel conflict, destabilization, and mass atrocities. And local corruption and human rights abuses are themselves the wellspring of terrorist ideology.
Over the past few years, TFI has demonstrated its resolve to identify and hold accountable human rights abusers, facilitators of human trafficking, and corrupt actors who undermine peace, stability, and the rule of law. Treasury uses all of our economic tools to identify, address, and remediate underlying vulnerabilities in financial systems that enable corruption and human rights abuse. TFI's financial tools are a central element of the U.S. government's broader efforts to pressure authoritarian regimes and impose costs on insiders who exploit their official positions to commit human rights abuses, undermine democracy, and engage in other illicit activities.
In fact, roughly half of Treasury's sanctions programs include criteria for sanctioning persons engaged in human rights abuses or corruption. So for example, just yesterday, Treasury sanctioned two Iranian officials for their role in the abduction and detention of Bob Levinson under an Executive Order related to human rights abuses by Iran that was issued back in 2010.
Treasury's use of economic tools to go after human rights abuses and corruption is not a new phenomenon, but with the passage of the Global Magnitsky Act in 2016, and subsequent executive order, Treasury has helped to lead the effort to specifically target perpetrators of serious human rights abuse and corruption worldwide. The Global Magnitsky Act expanded a prior Russia-focused law, the Sergei Magnitsky Rule of Law Accountability Act of 2012. That legislation was intended to identify and punish the individuals responsible for the death of Sergei Magnitsky and other gross human rights violations in Russia.
But since the passage of the Magnitsky Act in 2016, and the signing of the Global Magnitsky Executive Order in 2017, Treasury has aggressively used this authority to counter serious human rights abusers and their networks. So far, Treasury has designated over 240 corrupt actors and serious human rights abusers pursuant to our Global Magnitsky authorities, commonly referred to as GloMag.
Just last week, in conjunction with International Anti-Corruption Day and International Human Rights Day, Treasury designated twenty-six individuals and entities pursuant to these authorities. These targets spanned the globe, including security and intelligence officials in Yemen, a former customs official in the Kyrgyz Republic, and former security officials in Haiti. The global nature of these targets illustrates that corruption and human rights abuses know no borders, and this action made clear that neither do U.S. sanctions.
One individual targeted in these actions was South Asia-based Wan Kuok Koi, also commonly known as "Broken Tooth." Broken Tooth is a member of the Communist Party of China and a leader of the 14K Triad. The 14K Triad is one of the largest triad organizations in the world and engages in drug trafficking, illegal gambling, racketeering, human trafficking, and a range of other criminal activities.
Treasury also designated three entities owned or controlled by Broken Tooth in Palau, China, and Cambodia. Broken Tooth used one of these companies, the World Hongmen History and Culture Association, to paper over his illicit activities by framing their actions in terms of major Chinese Communist Party initiatives.
We have also used our GloMag authorities in the Middle East. In November, Treasury designated Gebran Bassil, president of the Lebanese Free Patriotic Movement party and a member of parliament, for his role in corruption. Bassil has consistently taken advantage of Lebanon's broken system to advance his own interests. He embodies the political establishment's corruption and mismanagement that protestors have rallied against for the past year. Meanwhile, the political party he leads is closely aligned with Hezbollah. Treasury's action illustrates America's support for the Lebanese people and their call for reform and accountability in their government.
In addition to our designations, the United States has been leading the charge for our international partners to implement and expand their own anti-corruption and human rights sanctions regimes. We have worked intensely with our partners in nations around the world to encourage the adoption of similar laws to create a powerful, global framework to support human rights and halt corruption.
In the last few months, we have seen developments in sanctions programs from the United Kingdom and most recently the European Union. Last Thursday, the UK imposed sanctions on eleven security figures and current and former officials from Russia, Venezuela, Pakistan, and Gambia. And on December 7, the EU implemented its own Global Human Rights Sanctions Regime.
These new sanctions regimes allow nations to identify and disrupt access to the international financial system by human rights abusers and their networks. We look forward to our continued cooperation with these allies in combatting human rights abuse.
Let me give you one more example of our efforts in support of human rights, and here I want to focus on our efforts to end human trafficking, or what many refer to as a modern form of slavery. Treasury has historically treated human trafficking as not only an illicit finance threat, but also a human rights and corruption issue. At Treasury we see how human trafficking is fueled by conflict and goes hand-in-hand with corrupt leadership.
In October, the U.S. government released a National Action Plan to Combat Human Trafficking. Treasury committed to leveraging the Department's economic tools to target, disrupt, and counter those who undermine American values and engage in human trafficking. We will also support government-wide investigations and engage with our financial sector partners on illicit finance activities related to human trafficking.
I have spoken a great deal about our counterterrorism and human rights and corruption efforts, but so much of our work at TFI happens when we regularly participate in ongoing and productive conversations with the private sector on a wide range of illicit finance issues. We truly depend on the private sector to share information and effectively implement our policies to mitigate illicit finance threats.
As part of this cooperative relationship, TFI regularly meets with private sector entities to explain our sanctions regulations and actions, share information on illicit activity, and discuss best practices. Based on robust laws, practices, and regular engagements, financial institutions across the globe have erected safeguards in their own financial systems to prevent malign actors from abusing their financial networks, and those same institutions are happy to share that information directly back with the government. This dialogue creates a positive feedback loop in which we can share with the broader financial community the typologies from these exchanges, enabling other financial institutions to identify and report similar activity.
To continue and promote this feedback loop, Treasury has been issuing more advisories to help the private sector identify priority threats and key corrupt activity and human rights violations. For example, in July 2020, the department joined with other executive agencies to issue a business advisory on supply chain issues related to forced labor and human rights abuses in Xinjiang. And in October 2020, FinCEN published an advisory focusing on human traffickers' use of money laundering tactics to evade detection, hide their proceeds, and grow their criminal enterprise.
Civil society organizations are another critical partner. Last month, Treasury hosted the 2nd Annual Partnership to Combat Human Rights Abuse and Corruption, which brought together NGOs, the financial industry, and government partners to discuss emerging issues and challenges in our shared battle against human rights abusers and corrupt government officials. NGOs have provided much-needed context for the private sector to understand human rights and corruption risks in the supply chain and helped to identify new means and methods human rights abusers and corrupt actors are using to exploit the international financial system.
International Engagement and the FATF
I have already mentioned international engagement in our battle to combat ISIS and international terrorism, but it's worth highlighting here the extensive engagement from TFI at the FATF. Last year, the United States had the honor to lead the FATF, and I want to highlight two important initiatives and their impact on the international financial community.
First, the FATF expanded an international standard on illicit finance risks to cover counter-proliferation financing, including the risks of breach or evasion of United Nations sanctions. This means that financial institutions will now be required to identify and assess the risk that their networks are being abused by individuals and entities from places like North Korea and Iran who are sanctioned by the UN and involved in the spread of weapons of mass destruction.
Second, the FATF also clarified that the international standards against money laundering and terrorist financing apply to financial activities involving virtual currencies. These efforts to update and modernize our international standards are critical, as illicit actors are constantly looking for ways to raise and transfer funds without detection or tracking by law enforcement.
For example, malicious actors have targeted critical sectors amid the COVID-19 pandemic, increasing the threat of ransomware attacks, which often involve payments in cryptocurrencies. To address this threat, TFI released advisories from both OFAC and FinCEN addressing the illicit finance risks of ransomware and giving the private sector tools to combat it. Additionally, Treasury worked with the rest of the G7 under the U.S. presidency to publish a statement on ransomware. The statement, among other things, declares that the G7 intends to take coordinated, tangible actions against ransomware going forward.
Conclusion
As you can see, TFI and the Treasury Department have aggressively used a wide range of tools and authorities to identify and target a wide range of illicit actors for their abuse of the U.S. and international financial system. These tools and authorities are persuasive and powerful, and they play a critical role in an active and assertive economic and foreign policy.
To be sure, the complexity and sophistication of these tools have increased, but so have our targets, and so has the geopolitical and geo-economic environment of the twenty-first century. This morning, I have spoken with you about how TFI is using these tools against the evolving threat from human rights abusers and corrupt government officials, but we are witnesses to the rise of great power competition and the growing effort to use these tools in this new, challenging, and evolving environment. That subject is better left to a future conversation, but I can assure you that TFI and the Treasury Department will continue to work closely with the international community and the private sector to address these challenges and to ensure, to the greatest extent possible, that our tools are appropriately measured, calibrated, and responsive to the scope of all of the threats before us.
Carter Burwell is counselor to the secretary for terrorism and financial intelligence at the Treasury Department. Previously, he served as chief counsel to Sen. John Cornyn (R-TX) on the Senate Judiciary Committee, where he focused on national security and criminal justice issues. From 2007 to 2015, he was an assistant U.S. attorney for the Violent Crimes and Terrorism Unit in the Eastern District of New York and the National Security and International Crimes Unit in the Eastern District of Virginia. The Policy Forum series is made possible through the generosity of the Florence and Robert Kaufman Family.