The Effort to Unseat Maliki: Lessons for U.S. Policy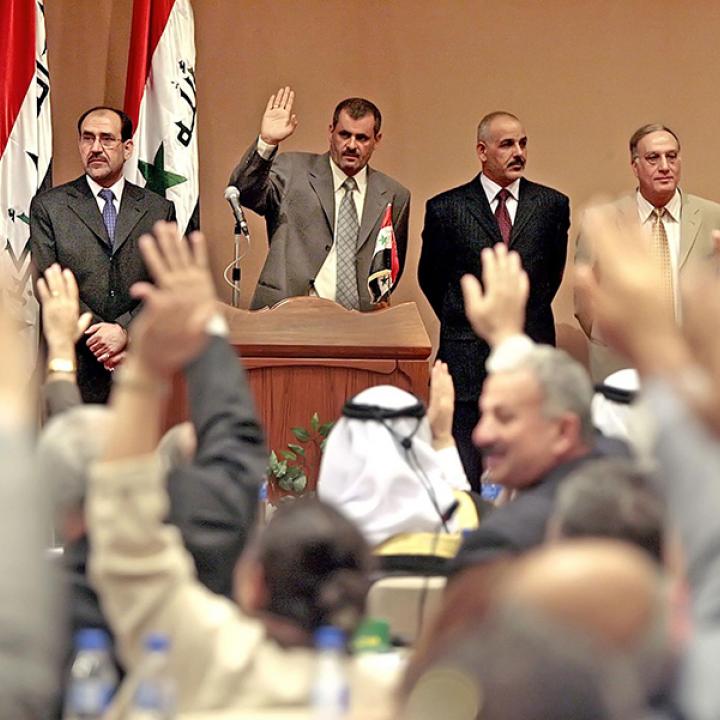 With U.S. encouragement, broad-based national dialogue could increase the chance that Maliki handles Iraq's next political crisis by compromising with domestic partners rather than reaching out to Tehran, a player with no real commitment to Iraq's interests.
Throughout the last month, Iraqi prime minister Nouri al-Maliki has been struggling to fend off a vote of no confidence that would remove him from power, the first time such a measure has been attempted against the Iraqi leader. Though the current move to unseat Maliki appears to be losing momentum, the opposition will continue to seek signatures from the 163 legislators needed to call a vote. Furthermore, this effort may be the first of a number of recurring challenges: in effect, Iraq may have reached the eye of its political storm but will likely face turmoil again in the near future. This makes it important to ascertain lessons from recent events, with a view to guiding U.S. policy as the political crisis ebbs and flows. 
If Maliki retains power, the United States may need to use its influence and good offices to contain some of the destructive forces unleashed during this latest confrontation, namely the demonstration of Iranian political clout in Iraq and the use of anti-Kurdish positions to firm up Maliki's support among Iraqi Arabs. Moreover, Maliki's likely retention of the premiership should not be mistaken for a mandate to continue the overcentralization of executive power in Iraq, which was largely responsible for the crisis in the first place.
EFFORTS TO UNSEAT MALIKI
The effort to remove Maliki has passed through three main stages during the last month:
Muqtada al-Sadr recruited. Controlling thirty-nine legislators, Muqtada al-Sadr has held the key to Maliki's political survival since Sadrist votes secured the premiership for Maliki in December 2010. In late April 2012, al-Sadr gave the first indications that he might be willing to remove Maliki, probably because of Maliki's persistent efforts to promote Muqtada's rivals in the Sadrist movement.

Following an apparently unsuccessful Iran-brokered meeting between Maliki and al-Sadr in Qom on April 23, the latter flew to Irbil (in the Kurdistan Regional Government area of Iraq) for talks with Maliki's opponents, including leaders from the Kurdistan Democratic Party (KDP) and Patriotic Union of Kurdistan (PUK), as well as leaders from the Sunni Arab and secular Iraqiyah list. On April 28, the group gave Maliki fifteen days to begin implementing power-sharing mechanisms he had signed in 2010. When this deadline expired, the group met on May 19 at al-Sadr's home in Kufa, Iraq, and called on Maliki's Shiite political coalition (the National Alliance bloc) to deselect Maliki and nominate a new candidate for prime minister within ten days. If all members of the Kurdish factions, Iraqiyah, and al-Sadr's list were to act in concert, they would be able to muster more than 170 parliamentarians and form a new cabinet.
Maliki fights back. Throughout May, Maliki put forth a frenetic series of initiatives to reduce support for a vote of no confidence. To peel away some of Iraqiyah's parliament members (MPs), Maliki held meetings of the national cabinet in Kirkuk and Mosul, both areas where Arab tensions with the Kurds run high. Nineteen Iraqiyah parliamentarians issued a letter of support to Maliki on May 20, and an unknown number of others appear to have been deactivated as potential opponents by Maliki's long-running effort since 2010 to splinter Iraqiyah. 
Iranian support kicks in. For some time, it appeared unclear which way Iran would lean in the struggle, but by late May, Tehran seemed to have decisively backed Maliki. Iran has traditionally wielded influence with the PUK, a group that has relied on Iran for sanctuary and military support at numerous points in its history. The opposition has relied on Iraqi president (and PUK leader) Jalal Talabani to call a vote of no confidence, which Talabani said he will do once the opposition has provided evidence of a minimum of 163 signatures and has agreed on a replacement candidate for prime minister. This bar may have been set high to slow down the process and reduce its likelihood to succeed.

On June 3, the process was further complicated when Iran-based cleric Ayatollah Kadhim al-Haeri issued a fatwa forbidding Sadrist supporters (his main followers in Iraq) from supporting any candidate without religious (meaning Iranian) backing. Previously, in May, Haeri had issued fatwas encouraging Iraqi Shiites to back Maliki to preserve Shiite solidarity. On May 30, a dozen Shiite legislators from the Badr Organization and Islamic Fadhila Party sent letters of support to Maliki. Sadrist MPs appeared split over whether the movement wished Maliki to be removed or simply not to serve a third or subsequent term. Finally, after making the confusing comments that Maliki should "complete your (good works) and announce your resignation," al-Sadr departed suddenly for Iran on June 4. 
IMPLICATIONS FOR U.S. POLICY
Assuming Maliki holds on to power, it is hard to tell if he will emerge chastened or vengeful. The U.S. national interest would favor the former outcome because further escalation of the political crisis could trigger internal breakdowns in security along the borders of Iraqi Kurdistan, limit Iraq's contribution to meeting global oil and gas demand, and drive Iraq closer to Iran.
It is important for the U.S. government to counteract any tendency by the Iraqi leader to view political survival as a mandate to continue overcentralizing control by the executive branch of independent institutions (e.g., the electoral commission and the central bank), sidelining the parliament, or further extending Maliki's personal control over the security and intelligence services.  After all, these points of contention were instrumental in bringing about the current crisis. Nor should recent events be viewed as evidence that the Maliki government can be counted on to accept a peaceful transition of power if the government were legally deselected: though this crisis has never quite approached that make-or-break moment, the government did alert and mobilize protective forces to provide added security around the capital when tensions peaked at the end of May.
If Maliki continues to wear down his opponents and maintains his position, his survival could come at a steep political price for Iraq and for the region. This is because the tactics he has used to overcome the crisis exploited the narrow interests and security dilemmas of certain Iraqi groups (i.e., Sunni Arab fear of Kurdish domination) instead of embracing a broad-based discussion with all factions regarding power sharing. Though Maliki's efforts to reach outside his sectarian base to recruit Sunni Arab supporters are positive, the prime minister could now be tempted to continue building his power base on negative Arab nationalist opposition to the Kurds, outcast Sunni Arab factions, and Turkish influence.
The U.S.-backed concept of an inclusive national conference remains a good idea based on sound principles, but the current crisis might be an appropriate moment to guide the opposition elements away from perennial blind alleys such as formalized power sharing using new institutions such as a National Council for Strategic Policy. Instead, these elements should pursue more fruitful avenues such as reform of the security sector, including a distribution of the powers now concentrated in the Office of the Commander-in-Chief through the appointment of a minister of interior and the introduction of legislation to regulate use of Iraq's counterterrorism command. Building on existing institutions and laws, both parliament and local government should be strengthened, particularly parliament's oversight of military command appointments.
Another negative aspect of the crisis is its clear demonstration that Iran and its proxies are once again intrinsic to Maliki's political survival. As in the previous government-formation sagas of 2006 and 2010, this case has shown that Iran plays an active and quite effective role in Iraqi politics, though its influence is not without limitations. Turkey, for its part, arguably suffered a reverse, with its key interlocutors in Iraq (the KDP and some segments of Iraqiyah) isolated in their outright opposition to Maliki. This could complicate much-needed Iraqi-Turkish cooperation on key issues such as hydrocarbon exports and the Syrian crisis, pushing Iraq further toward the Syria-Iran axis and further away from the Arab world and the United States -- a very bad result.
The United States has a proven track record of supporting Iraq's international rehabilitation, working toward releasing the country from UN Chapter VII status (i.e., the longstanding restrictions related to reparations for the 1990 invasion of Kuwait) while providing security and economic assistance. Washington's delicate handling of the current crisis might allay some of Maliki's deep-seated fears that the Americans are allied with a Sunni bloc in the region intent on curtailing his rule; Washington has earned a chance to speak by showing that it is not seeking to pick Iraq's next leader. With U.S. encouragement, broad-based national dialogue may increase the chance that in the next political crisis, Maliki will survive by compromising with domestic partners, rather than reaching out to foreign states with no real commitment to Iraq's interests.
Michael Knights is a Lafer fellow with The Washington Institute, specializing in the military and security affairs of Iraq, Iran, Libya, Yemen, and the Gulf Arab states.