Death of AQAP Leader Shows the Group's Fragmentation—and Durability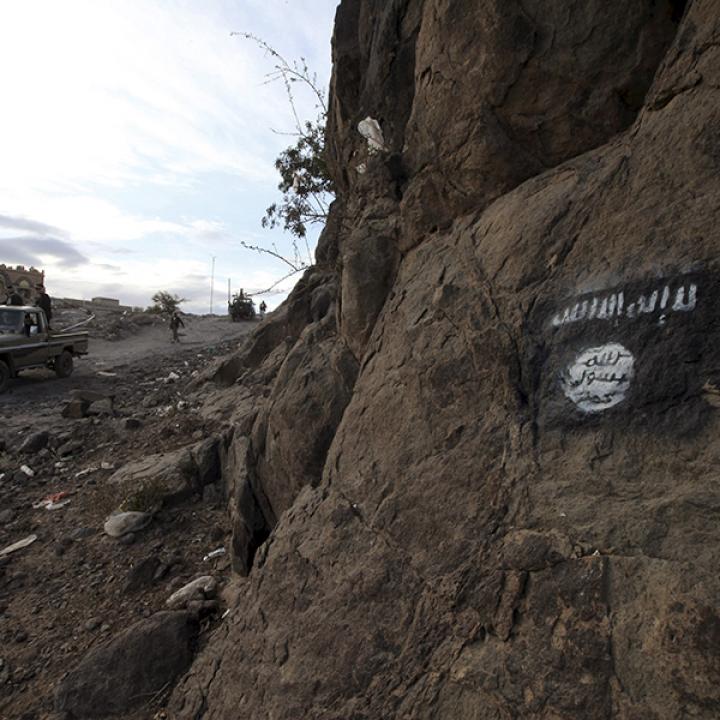 Although the Yemeni terrorist franchise has splintered and weakened in recent years, its fragments may be adapting to new conflict conditions, raising the risk of a comeback.
On February 6, President Trump confirmed that the leader of al-Qaeda in the Arabian Peninsula (AQAP), Qassim al-Raimi, had been killed during a U.S. counterterrorism operation in Yemen. No date or details were given, though rumors of Raimi's death in a U.S. drone strike began to circulate in online jihadist forums in late January. While his death "brings us closer to eliminating the threats these groups pose to our national security," as the president stated, the near-term effects may be limited—partly because AQAP is no longer the strongest branch of the al-Qaeda franchise, and also because killing any individual leader can only have so much of an impact.
RAIMI'S SIGNIFICANCE
Raimi ticked a lot of boxes for an al-Qaeda leader, enough to warrant a $10 million U.S. bounty. He burnished his jihadist credentials in Afghanistan in the 1990s, did jail time, became a hero after a daring prison break, helped oversee the merger of the group's Saudi and Yemeni branches, and proved himself a skilled military planner. As AQAP's senior military leader, he was linked to several headline-grabbing operations inside Yemen, bombing foreign tour groups and the U.S. embassy in the late 2000s alongside hundreds of operations against domestic targets. Overseas, the group was directly or inspirationally linked to numerous plots, including failed efforts to blow up a passenger jet and two cargo planes.
AQAP's ability to strike abroad has been severely curtailed since Raimi became leader in 2015, but its efforts to inspire other attackers remain strong. Earlier this month, Raimi was shown in a video claiming responsibility for the December 6 shooting at a U.S. base in Pensacola. He urged Muslims in America to launch attacks by whatever means possible, having previously assured them of an elevated status in paradise in his 2017 video "Lone Mujahid." This inspirational threat remains real, especially since deceased AQAP leaders have a habit of living on via recirculated and recycled video footage.
But one should not overplay Raimi's status. The group fragmented and weakened under his leadership, and he never quite managed to fill the shoes of his predecessor, Nasir al-Wuhayshi, who was among half a dozen senior AQAP figures lost to drone strikes in early 2015. Wuhayshi graduated from a religious institute, but Raimi's religious credentials were weak. Moreover, Raimi was born in northern Yemen with family origins in Raymah governorate, so he lacked his Abyan-born predecessor's local touch with tribes in AQAP's southern strongholds. He was also low on humor and charm compared to Wuhayshi, resulting in media output that was prolific but uncharismatic—as demonstrated by a marathon lecture series in which he strung out mundane musings on a medieval Islamic war treatise across forty episodes. In short, he was a military leader, not an ideologue.
His removal still carries practical and symbolic significance, of course. But this significance is limited so long as there is someone to step into the shoes of the latest "martyred" leader. The issue for AQAP is that it is running out of high-caliber leaders and seasoned veterans of the 1990s Afghan jihad. A massive counterterrorism campaign—including over 120 U.S. strikes in 2017 alone—put a large dent in this talent pool and severely curtailed AQAP's ability to train the next generation of leaders.
As of this writing, the group has not announced Raimi's successor or even acknowledged his death. This is unusual, since it announced Wuhayshi's death and appointed his successor within three days. Concerned supporters have started asking for clarification in online forums, pointing to an organization in disarray.
Four senior figures have been mentioned as potential candidates to replace Raimi, though they are hardly the only options: Saad al-Awlaki, Khalid Batarfi, Ibrahim al-Qosi, or Ibrahim al-Banna. All four have multi-million-dollar bounties on their heads, leaving them with minimal room to maneuver, let alone revive AQAP to its heyday.
A WEAKENED ORGANIZATION
AQAP is at its weakest point in a decade, at least in terms of its identity as a coherent group with a primarily religious ideology. Its dream of establishing an Islamic state in Yemen lies in tatters. At its peak in 2015-16, it had taken advantage of the country's descent into war to recruit broadly, fill its coffers, and establish a proto-state governed from the eastern port city of al-Mukalla. Today, however, the AQAP core struggles to hold even a small patch of territory among the rugged hilltops of northwest al-Bayda. For the past year-and-a-half, it has been dragged into a distracting battle with the group calling itself "ISIS" in al-Bayda, and breakaway fragments have fanned out to other parts of the country.
Meanwhile, incessant drone strikes have convinced the group that it has been infiltrated by informers, leading it to severely limit communications and essentially paralyze itself. Since 2014, it has devoted ten videos to the subject of outing internal spies. Some commentators in AQAP supporter forums even suggested at times that Raimi himself might be an informer, since he was one of the few senior figures to survive years' worth of U.S. decapitation strikes. Such suspicions and infighting have further fragmented the group.
Simultaneously, the number of operations formally claimed by AQAP has dropped significantly since 2017, particularly over the past four months. This is partly due to a concerted effort by law enforcement agencies to shut down its presence on Telegram and other online services. The group has shifted to other platforms, but its output there remains minimal.
Interestingly, AQAP has claimed significantly fewer attacks than those attributed to it. This may stem in part from its internal communication struggles. But it is also likely a consequence of other actors in the Yemen war "false flagging" some operations to AQAP as cover for their own political motives. Alternatively, AQAP may be ignoring operations by former affiliates it now considers rogue; indeed, several claims made by self-identifying AQAP groups have not been disseminated by its official wire.
Various coalition militias in the south also appear to be coopting AQAP fragments. These militia forces can be roughly split into pro-government and pro-southern secessionist camps. Although the evidence points in different directions, AQAP's general ideological aversion to secession is ripe for exploitation (the group's leaders reject manmade borders and depict secessionists as godless socialists). AQAP operations against pro-secessionist forces spiked last August, coinciding with the assertion of political authority by the Southern Transitional Council. The pro-STC Security Belt forces in Abyan have been one of AQAP's main targets over the past two years, second only to ISIS in al-Bayda. The Houthis have dropped into remote third place, despite AQAP ideologues casting them as the infidel Shia foot soldiers of Iran.
This raises the question of whether AQAP or some of its fragments are transitioning from holy warriors into guns-for-hire—and, if so, whether they are doing so for ideological, political, or financial reasons. The answer remains opaque even to eagle-eyed Yemen watchers, owing to the complex local tapestry of overlapping interests, fluid loyalties, false-flag attacks, and media distortion. In this context, it is becoming increasingly difficult to define precisely what or who AQAP is. One thing is clear, however: circumstances often change quickly in Yemen, so AQAP could regain its potency as a terrorist threat in short order if the landscape shifts once again.
NOT A FATAL BLOW
An increasingly politicized incarnation of al-Qaeda in Yemen may be coming to the fore. Whether by choice or necessity, some AQAP fighters may be evolving from ideological jihadists into guns-for-hire. Even so, the ideological core of AQAP remains. Killing Raimi struck a blow, but it was far from fatal. As Yemen unravels and warring sides fragment, AQAP will find it easier to regroup and prosper again.
Perversely, a peace deal may make the country even more vulnerable to AQAP for a time, since it would inevitably leave some segments of the population feeling sidelined and myriad fighters without paymasters. This could prove fertile recruitment ground for AQAP leaders if they adapt their narrative of global jihad to speak to local grievances. Accordingly, the UN, Britain, the United States, and other stakeholders should take advantage of the group's current disarray and take steps to ensure that no Yemeni factions are left behind—in part by addressing the underlying conditions that generate extremism, but also by introducing transparent mechanisms for inclusive representation at peace talks.
Elisabeth Kendall is a senior research fellow in Arabic and Islamic studies at Pembroke College, University of Oxford.