The Call for Rebellion against Hamas in Gaza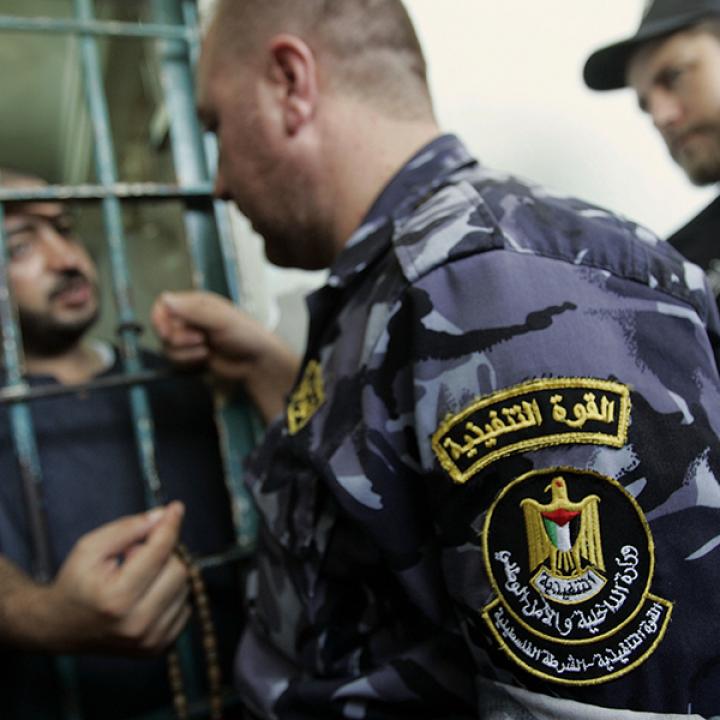 Protests against an increasingly unpopular Gaza leadership are scheduled for November 11, but the scale of participation is in doubt, given the threat of a harsh Hamas response.
A new movement known as Tamarod Gaza has chosen November 11, the ninth anniversary of the death of PLO leader Yasser Arafat, as a day of mass protests, including strikes and sit-ins, aimed at ending Hamas rule in the Gaza Strip. Although many dismiss Tamarod, which coalesced mainly outside Gaza, as having very limited potential to pose a real threat to Hamas, it does constitute the most important domestic challenge ever faced by the Palestinian branch of the Muslim Brotherhood. Hamas indeed takes this threat quite seriously.
Tamarod Gaza is an obscure movement composed of previously unknown young activists that was formed this past April, aided by Facebook and other social network platforms. The group emerged in parallel with the Egyptian Tamarod movement, which led the demonstrations that finally helped bring down President Muhammad Morsi. By August, encouraged by the success of their Egyptian counterparts, Tamarod Gaza's founders -- seen wearing masks in video clips -- moved to articulate their demands and outlined a course of action.
Demands on the Gaza Leadership
Tamarod Gaza's main demands, as presented in different declarations, including a letter to the secretary-general of the Arab League, include requiring Hamas to immediately allow the formation of an elections committee, "without any delay or obstacle," to pursue speedy general elections under international Arab and Islamic supervision. The expiration of Tamarod's ultimatum of sorts has been set at sundown of November 8. More broadly, the movement has issued many statements charging Hamas with neglecting the interests of the Palestinian people, including its "constitutional right of freedom of expression and political organization." The movement has also denounced the coup that brought Hamas to power in the Gaza Strip in June 2007. Moreover, Tamarod accuses Hamas of sabotaging all attempts to reach reconciliation between the rival Palestinian factions, of holding responsibility for the suffering of the people of the Gaza Strip, and of prioritizing its own political survival over the general needs of the Palestinian people.
Some Tamarod Gaza activists are operating from Egypt, where they have support among local political parties opposed to the Muslim Brotherhood, sympathy from much of the Cairo-based media, and tacit approval from the current authorities. Such support reflects the widespread anti-Hamas sentiment in the country following the sacking of President Morsi and frequent accusations that Hamas was providing clandestine assistance to terrorists in the Sinai and violent Muslim Brotherhood protests in other provinces. Notable among the relatively few activists' names to have been made public are Hazem al-Surani, who belongs to an important Gaza clan, Hatem al-Fara, the member of an important Khan Yunis clan, Ahmed al-Afghani, and Iyad Abu Ruk. Some of these individuals have held public meetings in Daqhalia and other parts of Egypt sponsored by local politicians.
Hamas, for its part, has privately been taking the challenge seriously, despite belittling it publicly. Hamas interior minister Fathi Hamad, for example, who is responsible for internal security, has threatened on several occasions to respond to any demonstrations in Gaza with the utmost force. Media outlets have quoted Hamad, in a closed meeting of the organization's top leadership, as saying that he wants "people shot in the head, not injured." The same reports claim that veteran Hamas leader Mahmoud al-Zahar quickly intervened to clarify that Hamad did not mean literally shooting people but rather "prevention of the return of chaos to the streets of Gaza." Whatever the authenticity of such exchanges, which cannot be verified, a few preventive arrests in Gaza have occurred in the past few weeks, and other suspected Tamarod sympathizers have been bluntly warned not to take any chances. One was shot in both legs and evacuated to an Israeli hospital.
Furthermore, in view of the threat, Hamas has shifted overall responsibility for the stability of the Gaza Strip from its internal security apparatus under Muhammad Dababish to the movement's military branch, the Izz al-Din al-Qassam Brigades, now effectively commanded by Yahya al-Sanwar and the elusive Muhammad Deif. After a long imprisonment, Sanwar was released from an Israeli jail last year as part of the deal to free Israeli corporal Gilad Shalit. Thus, the military arm of Hamas will oversee Gaza's squares come November 11. The Qassam cadres are expected to patrol the streets instead of the local police.
Needless to say, the Palestinian Authority (PA) and others in Fatah are keeping busy in an effort to stir up trouble for Hamas. PA chairman Mahmoud Abbas and his lieutenants are well aware of the current crisis in Hamas (see PolicyWatch 2111) and the growing discontent among the Gaza populace. The underlying causes of this unhappiness include the closing down of most tunnels connecting Rafah to the Sinai, the drying up of financial support from Iran, Qatar, Saudi Arabia, and other sources, and the bitter struggle within Hamas's top echelons. These developments have, in turn, led to continuous electricity cuts, fuel shortages, lack of cement and building materials, and delayed payment of salaries to public sector employees. Reflecting the undoubted resentment toward Hamas rule in Gaza, one poll -- of course, to be interpreted very cautiously -- shows that no less than 48 percent of Gazans now support a "revolution" there, as compared with 37 percent in 2012. And, according to the latest figures, unemployment in the Gaza Strip may reach 43 percent by the end of this year -- mainly among the young who have reached working age.
Low-Profile Support from High-Profile Figures
Three main players in Fatah are involved in quiet efforts to encourage Gazans to take to the streets against Hamas.
The first is Azzam al-Ahmed, a member of Fatah's Central Committee, who was the movement's point man in the failed negotiations over reconciliation with Hamas over the past four years. Ahmed is seeking to help remaining Fatah members in the Gaza Strip regroup for action. This effort, however, has been hampered by endless disputes and splits within the different Fatah factions in Gaza, which are all under close Hamas supervision. The "Source of Authority Committee" of Fatah in the Strip, led by the aging Zakaria al-Agha, has been deterred from mounting any open opposition to Hamas. So far, Fatah has been unable to agree unanimously on a new leadership to run its affairs in Gaza.
The second effort is led by PA director of General Intelligence Gen. Majid Faraj, who is trying to mobilize support for an anti-Hamas upheaval. His effort is mainly a response to the activities of Hamas's "West Bank Council," which, from Gaza, seeks to reestablish the movement's political and military structures in the West Bank. It should be noted that some Tamarod Gaza spokesmen have been identified as inhabitants of the West Bank.
The third effort is managed by Muhammad Dahlan, the ex-strongman in the Gaza Strip who fell out with Abbas and now operates from Dubai with the full support of Crown Prince Muhammad bin Zayed al-Nahyan. While engaging in venomous attacks against the PA, mainly centering on corruption and unnecessary concessions to Israel, Dahlan is keen to keep up his following among Gazans for a future contest over Abbas's succession. Since his days as chief of Preventive Security in Gaza, Dahlan -- himself from a Khan Yunis refugee camp -- has retained a part of his power base in the area.
All three of these uncoordinated campaigns aimed at further weakening Hamas's grip on the Gaza Strip are sending considerable sums of money to Gaza to finance protests.
Prospects
It is very difficult to predict what will transpire on November 11 if Tamarod sticks to its current call for mass protests. Hamas forces will be deployed all over the Gaza Strip, and strict warnings will be issued to the population to keep away from any attempt to "cause anarchy." Clearly, many people will prefer to avoid punishment from Hamas, if possible, and will wait to see how the day develops. Thus, it is critical for Tamarod and its allies to convince substantial numbers of people to take to the streets early on -- preferably after noon prayers -- so as to illustrate the authenticity of the challenge to Hamas. At this point, however, no indications suggest any mass demonstrations will actually occur anywhere in Gaza. If, however, protestors defy these expectations and venture into the streets, they will risk encountering Hamas forces that will not hesitate to respond with firearms.
Ehud Yaari is a Lafer International Fellow with The Washington Institute and a Middle East commentator for Israel's Channel Two television.