In New Poll, Most Egyptians Split on Relations with Foreign Powers, Pessimistic About Domestic Economy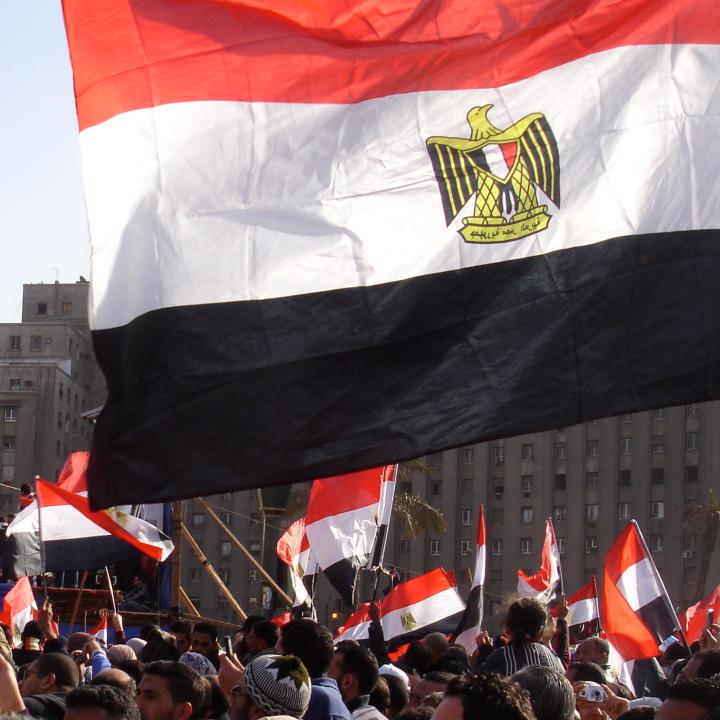 Egyptians expressed skepticism about the economy, reliance on the United States, and the Abraham Accords with Israel.
A new public opinion poll of Egyptians, commissioned by the Washington Institute and conducted between July 20-August 11, 2022 by an independent regional survey research firm, shows that more than half of the population place importance on their country's relations with China, as well as with the United States and Russia. In sharp contrast, only small minorities voiced favorable views of ties with Israel, or saw relations with Iran or Syria as important. 
When it comes to domestic issues, most Egyptians are pessimistic about the economic situation of their country. When it comes to blame, almost two-thirds agree that it is Russian military actions that are responsible for the current rise in food prices. Moreover, on this and other questions in the survey, there are no statistically significant differences between Egyptian adults under age thirty and the older generation.
Egyptians Divided on Importance of Relations with Foreign Powers
In measuring the importance of maintaining good relations with foreign countries outside of the region "regardless of how you view their policies," China appears in first place, with 64% stating these relations are either "very" or "somewhat" important. China is followed by the United States (58%), Russia (52%), and the EU (46%). Just a third value relations with India—despite the latter recently becoming one of the major exporters of wheat to Egypt given the wheat shortages created by the war in Ukraine.
Views on relations with the United States are also more equivocal upon further examination. Almost half of the Egyptian public (47%) agree with the following blunt statement, "We cannot count on the U.S. these days, so we should look more to Russia or China as partners." This rate has increased by ten points from when it was first asked in November 2021, when only 37% agreed. When asked specifically about Biden's visit, only one-fourth of the Egyptians saw the visit in an even somewhat positive light. These responses reflected a dim view of the visit shared by most Bahrainis, Emiratis, and Saudis polled.
Yet the plurality of Egyptian respondents believe that resolving regional conflicts should be the top priority for U.S. policy in the Middle East. When asked about the most important aspect of American policies toward their country, "Helping us to resolve regional conflicts diplomatically" comes in first place (34%), while another 30% believe it should be second priority. A quarter of Egyptians think that the top priority should instead be "providing investment, trade, and construction projects." The two other options—"showing respect for our religion and culture; or "Providing advanced weapons for our armed forces," lag somewhat behind, with about 20% support each. 
Like the United States, Egyptians' agreement on the importance of relations with Russia does not translate into positive views on Russian policies. A solid three-quarter majority continue to express negative attitudes towards "Russia's military action in Ukraine." Moreover, two thirds of Egyptians also blame Russian military actions for "the recent rise in food prices here," with both percentages unchanged since the question was originally posed in the first month of the war. 
Large Majority Say Relations with Iran and its Allies are Not Important
Consistent with previous polls from recent years, only a very small minority (13%) of the Egyptian public say that good relations with Iran are even "somewhat " important. However, Egyptians are divided in their views on the prospect of a renewed nuclear deal with Iran, with 41% supporting the deal while 52% state they see it somewhat or very negatively. On this issue, Egyptian popular attitudes closely reflect the most recent findings in the Arab Gulf states.
As for Iran's regional ally Syria, only one quarter of Egyptians value good relations there. 
In contrast, about a third of Egyptians value relations with Iraq or Lebanon as "somewhat" important though both states are struggling with governance issues due in part to the influence of Iranian-backed forces. Moreover, the majority of Egyptians support the current cease-fire in Yemen. Almost two-third of the Egyptians (67%), foresee positive effects on the region from this new development.
Views on Turkey Improve, While Abraham Accords and Contact with Israelis Remain Unpopular 
In light of the current rapprochement between Egypt and Turkey, some Egyptians have shifted their attitudes towards Ankara. A narrow minority (45%) now see good relations with Ankara as important, representing a reversal of a downward trend. Though 48% ranked these relations as important in October 2017, just 35% stated they viewed these as at least "somewhat important" by November 2020 when the question was last posed.
Such a reversal is not the case when it comes to Israel. Though Egypt was the first Arab country to establish formal diplomatic relations with Israel, the Egyptian public continues to reject the recent peace agreements between Israel and the UAE and Bahrain—or with the prospect of allowing any sports or business contact with Israelis. 
Only 14% of the Egyptians polled view the peace agreements as positive, while 82% see them as at least "somewhat" negative. Egyptian attitudes toward peace with Israel show that the public is not in line with the policies of its own government on this question. Also notable is that generational differences on the peace agreements with Israel, as with other questions polled, are not statistically significant.
In the same vein, there is also very little popular support for any "normalization" with Israelis. A mere 11% agree that "people who want to have business or sports contacts with Israelis should be allowed to do so." Despite the warming of official political and economic ties, this rate remained remarkably stable since December 2021. This popular attitude also stands in sharp contrast with the roughly 40% in the Gulf Arab states of Saudi Arabia, the UAE, and Bahrain who now support business and sports ties with Israel. 
Prevailing Pessimism About the Economy; Only a Quarter Now Favor "Moderate" Islam 
On domestic issues, a significant majority of Egyptians (85%) voice their pessimism with the economy by agreeing with the statement "The economic situation in our country is generally bad and will probably stay that way." This pessimism may represent a shift from earlier years; when asked how the country was doing in "dealing with economic problems and daily hardships" in November 2021, Egyptians were split on the issue. 47% thought the county was doing too little, while the rest thought the country was doing "too much" or "the right amount." The current pessimism also indicates that Egypt's macroeconomic growth has not translated into greater popular satisfaction, and likewise reflects the ongoing impact of both the Ukrainian war and heavy foreign debts on the Egyptian economy. 
Fewer Egyptians appear open to another of the government's policy efforts when it comes to interpretations of Islam. Despite the Egyptian government's promotion and support for religious reform, less than a quarter of Egyptians now agree with this proposition: "We should listen to those among us who are trying to interpret Islam in a more moderate, tolerant, and modern direction." These numbers, too, remain unchanged over the past year, though represent a drop from when 31% supported such a proposition in October 2017.
Methodological Note
This analysis is based on findings from a personal interview survey among a nationally representative sample of 1,000 citizens in Egypt, conducted from July 20-August 11 according to standard geographic probability procedures by a qualified independent regional commercial contractor. Strict quality controls and assurances of confidentiality were provided throughout. The theoretical statistical margin of error for a sample of this size and nature is approximately plus or minus 3 percent, at the 95 percent confidence level. Additional methodological details, including full questionnaire, marginal results, demographic breaks, and other information are readily available on our new online interactive polling data platform.