Bahrain Opinion Poll Confirms Sectarian Split on Iran, but not on U.S. or Israel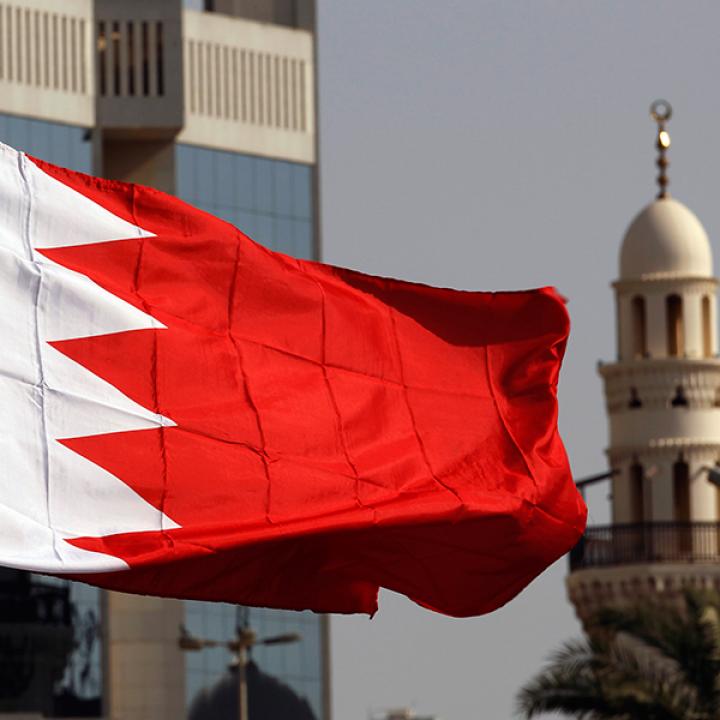 The Bahraini public provided their perspectives on ties with international partners, moderate Islam, and the country's economic situation.
A special survey of Bahraini citizens, commissioned by the Washington Institute and conducted by an independent regional commercial firm July 17-August 10, 2022, confirms previous findings that the Shia majority of this small island nation are significantly more likely than their Sunni compatriots to value good ties with Iran. But on most other issues polled, including relations with the United States or Israel, the two communities generally see eye-to-eye today.
Views on Iran Diverge by Sect, but Both are Split on New Nuclear Deal
Asked about relations with other countries, just 17% of Sunni Bahrainis say good ties with Tehran are important to their own country. In sharp contrast, the corresponding figure for Shia Bahrainis stands at 42%, by far the highest among any Gulf Arab societies surveyed in recent years. Regarding a revived nuclear deal with Iran, however, this sectarian cleavage is considerably less pronounced. Among the Sunnis, 40% see this as a positive development; among the Shia, that figure rises only modestly to 51%.
Around Half in Each Group Value U.S. Ties, but Just One-Fourth Impressed by Biden Trip
Regarding the United States, Bahrainis are also divided, though not so much by sect. Half (52%) of Sunni Bahrainis say good ties with Washington are important to Bahrain. Among the Shia there, that proportion dips slightly to 42%. Only about one-quarter of either community expect President Joe Biden's visit to the GCC summit in Jeddah in mid-July to have positive consequences for the region. 
Moreover, the majority of Bahrainis today, much as in previous polls over the past two years, agree (at least "somewhat") with the following purposely-provocative proposition: "We cannot count on the United States these days, so we should look more to China or Russia as partners." Asked very specifically to choose their top desire from the United States, Bahrainis split fairly evenly among the four options offered: advanced weapons, diplomatic peacemaking efforts, economic investments, or "respect for our religion and culture."
Majority Oppose Russian Invasion of Ukraine, Yet Half Still See Russia as Important Partner
Three-fourths (77%) of Bahrainis say "the Russian military actions in Ukraine" will impact the Middle East negatively. In line with this, the solid majority (62%) also say this Russian policy "is to blame for the recent rise in food prices here." Nevertheless, just over half (54%) of Bahrainis consider good ties with Moscow to be at least "somewhat" important to Bahrain. By comparison, relations with China rate similarly, at 57%. On all these questions, only marginal differences emerge between Sunnis and Shia on the island.
Mixed Views on Israelis, Though Just One-Fourth See Good Results from Abraham Accords 
Bahrain, along with the UAE, Morocco, and Sudan, was one of the original signatories of the Abraham Accords, opening formal ties with Israel two years ago. Today, 37% of Bahrainis agree but 60% disagree, at least somewhat, with this assertion: "People who want to have business or sports contacts with Israelis should be allowed to do so." As for the accords in particular, only 23% of Bahrainis say they are having a positive impact on their region.
These figures are very similar to those polled in the UAE and Saudi Arabia nearby, and very little changed over the past year. More surprisingly, in Bahrain as in the other two Gulf states, there is very little difference between Sunnis and Shia, or between the younger and older generation, on these controversial questions.
On Domestic Issues, Solid Majorities See Economic Woes, and Want More Moderate Islam
The clear majority of Bahrainis, whether Sunni or Shia, are inclined to concur on two key internal questions. Sixty-two percent overall say that "the economic situation in our country is generally bad, and likely to stay that way." This is even higher than the half who now feel that way among Bahrain's wealthier Saudi or Emirati neighbors. Such views might be seen as significant in light of Bahrain's elections for its Counsel of Representatives in November. However, the restricted nature of politics in the monarchy and detention of a number of mostly-Shia opposition figures significantly limits the likelihood of these attitudes translating to major changes via the electoral process.
In addition, Bahrainis of both sects are nearly twice as likely as their Saudi or Emirati counterparts to agree with this statement: "We should listen to those among us who are trying to interpret Islam in a more moderate, tolerant, and modern way." 55% of Bahrainis agree with that assertion today. This finding most likely reflects, at least in good part, a widespread desire on the island to soften the edges of the deep sectarian demographic divide, and marginalize the militants on either side, whether inside or outside the country.
Methodological Note
This analysis is based on findings from a random (geographic probability) personal interview survey of a representative national sample of citizens in Bahrain. The survey yielded completed and validated results for 338 Sunnis and 662 Shia adults, ages 18 and over. The theoretical statistical margin of error for a total sample of this size and nature is approximately 3 percent. The margins of error for the two sectarian subsamples are larger, in the range of 4-5 percent. 
The survey was conducted by a highly experienced, completely apolitical regional commercial marketing company. Strict quality controls and assurances of confidentiality were ensured throughout the fieldwork and data processing. Additional methodological information, including full questionnaire and marginal results, demographic breaks, and other details are readily available on our new interactive polling data platform, at www.fikraforum.org.