Hakan Fidan and the New Turkish Diplomacy in Iraq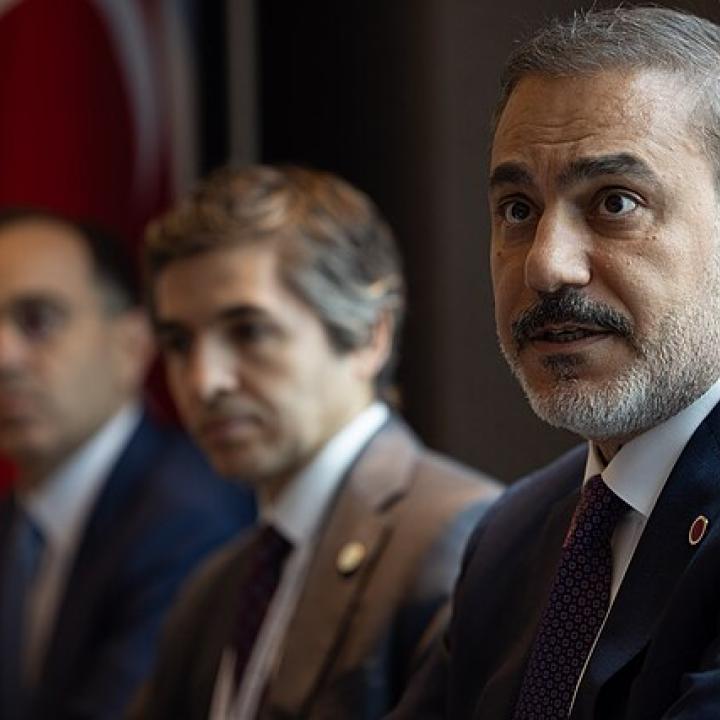 As Minister of Foreign Affairs, Hakan Fidan will have to navigate urgent changes and new challenges in crafting Turkish policy towards Iraq.
Following President Recep Tayyip Erdoğan's victory in the Turkish general elections in May 2023, Turkish foreign policy in Iraq has the potential to evolve in a different direction under the new Minister of Foreign Affairs, Hakan Fidan. Though the management of Turkey's affairs in Iraq has shifted between various Turkish institutions since 2003, President Erdoğan has consolidated decision-making into his own hands since 2017, and his recent appointment of Fidan—a former intelligence director and loyal ally of Erdoğan—signals a continuation of this process, especially vis-a-vis Iraq.
As Director of National Intelligence, Fidan oversaw the most sensitive backchannels with various regional and international actors, and he played a leading role in formulating Turkish intelligence and security policy. Notably, Fidan also led Turkey's reconciliation efforts with a variety of adversaries, including Egypt and Saudi Arabia. He has also been intimately involved in Turkish efforts to combat the Kurdistan Workers' Party (PKK), targeting many PKK leaders and allied factions in northern Iraq, particularly in Sinjar, Makhmur, and al-Kuwayr.
In this regard, Fidan comes equipped with deep connections to Iraq's bureaucratic circles, having already succeeded in building bridges between various Iraqi actors and institutions. In particular, Fidan has developed close ties with both Sunni and Kurdish political leaders and has good relations with Falih al-Fayyadh, chairman of the Popular Mobilization Forces, whom he met during one of his secret trips to Iraq in September 2022. Fidan notably conducted such bridge-building efforts during the formation of the current Iraqi government led by Mohammed Shia al-Sudani. 
Given this background in Iraqi politics along with his experience in intelligence, Fidan is an important player through which Erdoğan can rethink Turkish involvement in Iraq on a number of different issues. Though Fidan's appointment certainly indicates a shift toward more security-focused policies for Turkey, the new minister will also have to balance Turkey's political ties, economic and energy interests, environmental concerns, and military operations in Iraq. Indeed, Erdoğan likely hopes that Fidan can both diversify Turkey's relationship networks in Iraq and reestablish normalized energy negotiations with key partners while also curbing the threat of the PKK and Iranian-aligned militias operating in Turkey's areas of involvement in Iraq.
This is undoubtedly a tall order for Fidan, but his engagement in Iraq essentially boils down to these main issues:
Expanding Political and Security Clout in Northern Iraq
Compared to its relationship with the Kurdistan Democratic Party (KDP) in Erbil, Turkey's relationship with the Sulaymaniyah-based Patriotic Union of Kurdistan (PUK) in northeastern Iraq has long been tense. This was especially true in the aftermath of the April 2023 Turkish drone attack near the Sulaymaniyah airport in the stronghold of PUK territory, which targeted a convoy of military leaders that included key Syrian Democratic Forces (SDF) figures.
Following the attack, the deputy head of the Turkish National Intelligence Organization Mutlu Toca visited Sulaymaniyah in a clear effort to smooth things over with the PUK. This visit marked a major shift in Turkish policy in northern Iraq, as Turkey apparently began to realize the disadvantages of only maintaining ties with the KDP. With the PUK moving closer to Iran and becoming more bold in its maneuvers, the chilly relations between the party and Ankara had become entirely counterproductive.
Now, Turkey hopes to pursue a balance between its relations with the KDP and PUK, which in turn could provide an effective counterbalance for Ankara's ties with Baghdad. Fidan's goals in the immediate and long-term will be to prevent a deterioration of internal Kurdish stability while also containing and curbing the threat of the PKK in northern Iraq—hopefully with increased cooperation and coordination from the PUK. As the KDP faces increasing pressure on all sides, especially following the Iraqi Federal Supreme Court's ruling against the extension of the Kurdistan parliament's term, Turkey's role as mediator and stabilizer in the Kurdish Region of Iraq will be more important than ever.
Combatting Pro-Iranian Factions 
For Turkey, it is not just the PUK's growing reliance on Iran that is concerning, but also Iran's continued influence over other key militias and factions in Iraq—including Kataib Hezbollah, Asaib Ahl al-Haq, Kataib Sayyid al-Shuhada, the Shabak Militia, and the Babylon Movement. Turkish forces have been significantly weakened by attacks from Iranian-aligned militias on Turkish bases, including on the Zlikan base in northeastern Mosul and the Turkish consulate in central Mosul. The increasingly close ties between Iran and the PKK-aligned Sinjar Resistance Units (YBŞ) have also hindered Turkish efforts to eliminate PKK threats in the Qandil Mountains. 
As a result of these concerns and in light of the Iraqi government's apparent inability to address these threats, Turkey has significantly expanded its military operations in northern Iraq since early 2020. With Fidan at the helm, Turkey will likely continue its military and intelligence operations against the PKK and Iranian-aligned groups in Iraq while also pursuing security diplomacy with some of the Iraqi players that Fidan knows so well. Broader security agreements between Ankara and the Popular Mobilization Forces, for example, can help achieve Turkey's goal of eroding ties between pro-Iranian factions and the PKK.
Navigating the Sunni Political Equation 
Turkey has previously succeeded in building Sunni-Sunni relations and encouraging Sunni groups in Iraq to join forces in the political world, including in the October 2021 elections when Fidan—as director of the Turkish National Intelligence Organization—oversaw various meetings in the formation of the Sunni Sovereignty Alliance. At the time, Turkey was able to persuade Khamis al-Khanjar (the head of the Azem Alliance) and Mohamed al-Halbousi (the leader of the Progress Party) to join the Sovereignty Alliance, which then became part of the State Administration Coalition. 
Now, Turkey fears that any rifts in the Sunni sphere will undercut Ankara's future role in Iraq. Fidan's main priority in this regard will be to maintain the Sunni status quo, especially since shifts are indeed occurring in the Sunni political camp. For example, Halbousi is attempting to resign as speaker of the Council of Representatives, and dangerous Coordination Framework-backed figures are rising to take his place in an effort to penetrate Sunni politics.
Though Halbousi is not necessarily Ankara's closest ally, his resignation would clearly disrupt Turkish policy in Iraq, and so efforts to maintain a united Sunni front will be a key focus for Fidan in the coming period. Fidan will also want to strengthen these Sunni political groups in the lead-up to local elections, which are scheduled to be held in December 2023. Turkey is very keen to invest economically and politically in the Sunni governorates of Iraq, but will not be able to easily achieve this without an Iraqi political partner that can provide an easy point of entry for Turkish influence.
Securing Economic Momentum 
In light of Turkey's difficult economic conditions at home, Fidan's economic maneuvering in Iraq will be key in his foreign policy approach. Central to the Iraqi-Turkish economic relationship will be Iraqi Prime Minister al-Sudani's proposed Development Road Project, a massive undertaking to build transportation infrastructure connecting southern Iraq with the Turkish border and Europe beyond.
Estimated at $17 billion, the ambitious project largely depends on Turkey's cooperation and coordination in linking roads and railways and overseeing shared operations. Though President Erdoğan already voiced Turkey's support for the project in a meeting with Sudani in March 2023, Fidan has some leverage when it comes to project negotiations. In particular, Turkey could impose conditions related to the PKK security threat, especially since the project aims to build through northern Iraq. By converting conflict zones with the PKK and Iranian-aligned factions into areas of economic engagement, Turkey would be accomplishing multiple strategic objectives at once. 
Fidan also has an opportunity to bolster Turkey's economic interests by linking any efforts to implement the Development Road Project to an increase in Turkish exports into Iraq. By doing this, Turkey can significantly expand its economic network in Iraq and beyond, including in more easily-accessible Gulf markets. 
On the energy front, Fidan undoubtedly hopes to obtain more concessions from both Erbil and Baghdad before reopening the Kirkuk-Ceyhan oil pipeline, which Turkey shut down in March 2023 after a dispute between Erbil and Baghdad over oil exports. The decision to shut down the pipeline also came after the International Chamber of Commerce decided that Turkey owed $1.4 billion in compensation to Iraq because it had exported the Kurdistan Region's oil without the permission of the Iraqi Ministry of Oil. The pipeline shutdown has caused a significant dip in Iraqi oil exports, and Fidan will try to exploit this reality in renegotiating Iraq's energy partnership with Turkey. 
Though Fidan will have to balance a variety of relationships in crafting Turkish foreign policy in Iraq, his appointment indicates that Erdogan intends to put Turkey's own national interests—both security and economic—first. Of course, this roadmap in Iraq will encounter major challenges along the way, especially considering the unpredictable nature of the Iraqi political sphere. Will Fidan's policy approach in Iraq be able to balance the ever-changing political, economic, and security developments, or will it lag behind?