Will the Russian Intervention in Ukraine End Humanitarian Assistance for Syrians?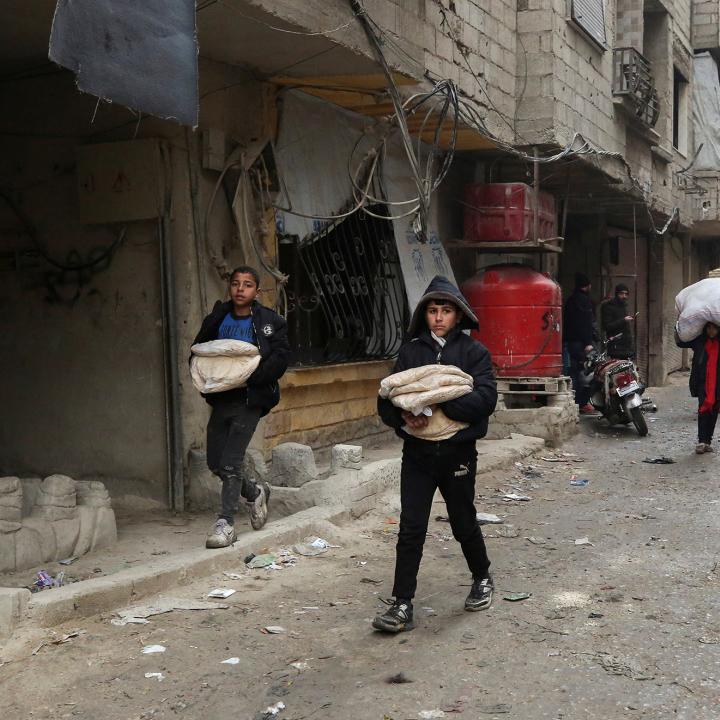 Changing geopolitical dynamics and upcoming international decisions have the potential to make Syria's humanitarian crisis worse than ever.
Although the war in Syria began as an internal democratic uprising against a brutal and corrupt central government, it has since morphed into one of the most complex internationalized conflicts in recent history. Indeed, regional and global powers have established increasingly complex networks of engagement in Syria, mobilizing their military capabilities to support a dazzling number of proxies on the ground. 
Throughout it all, however, the United Nations and its partners have been able to negotiate with the main regime actors, multiple opposition forces, and neighboring countries and global powers to maintain at least some level of much-needed aid deliveries to the battered Syrian people—demonstrating the utility of the often-critiqued and besieged concept of "humanitarian neutrality." Yet the ripple effects of the Russian war on Ukraine may bring about what more than a decade of perpetual violations of humanitarian principles could not: an end to humanitarian assistance altogether in Syria.
Such a development would be a tragedy of immense proportions. According to data from the UN Office for the Coordination of Humanitarian Affairs (OCHA), 14.6 million Syrians are now in need of humanitarian assistance, an increase of 1.2 million from 2021. In its current state, funding for the aid response only meets a fraction of these needs. More specifically, as of September 30, a mere 26.7 percent of the UN's Humanitarian Response Plan for Syria was funded, compared to the previous year in which 46 percent was funded. The level of need in northwest Syria alone is staggering—of the 4.6 million people living in the region, 4.1 million are in need of aid, 3.3 million are classified as "food insecure," 2.9 million as "internally displaced people," and 1.8 million live in displacement camps.
While Europeans panic about rising gas prices, inhabitants of northwest Syria face freezing winter temperatures in their tents on top of a country-wide fuel crisis. Covered in dust and mud, these tents still bear the weathered logo of the UN High Commissioner of Refugees, as if to serve as a constant reminder of the largely-unfulfilled promises of the international community. In recent months, there have also been numerous reports of cholera outbreaks in all fourteen Syrian governorates, which specialists treat as an indicator of the ultimate breakdown of healthcare and sanitation infrastructures. 
Currently, northwest and northeast Syria are being pounded by Russian, Israeli, and Turkish fighter jets, deepening the already-dire humanitarian catastrophe. Turkey is engaged in direct and proxy battles against Kurdish forces in Syria, where it operates several bases and is concerned with beating back the Kurdish groups as well as stemming migration. EU policies towards NATO-partner Turkey have been hyper-focused on Turkey's role as a buffer to stop migration to the continent, and are now chiefly interested in Turkey's position vis-à-vis Russia and the Ukraine invasion. For EU states, the plight of Syrians is, at best, secondary.
Severe funding and access restrictions—along with regional politics—have always hampered humanitarian efforts in Syria, but with more and more aid funding being reallocated to Ukraine, the aid efforts in Syria have been put under unprecedented strain. The Active Learning Network for Accountability and Performance in Humanitarian Action (ALNAP), an organization dedicated to enhancing learning within the aid-sector, has pointed out that donors often reallocate funding from low-profile to high-profile emergencies that are at the center of geopolitical and press attention. Most donors allocate funds to emergencies at the beginning of the year, but large-scale emergencies may crowd out funding and expertise for initial crises allocations. The aggregate cost of aid provided to Ukraine in the fiscal year 2022 is expected to be over one-quarter of the total ODA (Official Development Aid) dispersed by the Organization for Economic Co-operation and Development (OECD) countries.
As visitors to the sprawling camps for displaced peoples throughout the Middle East can attest, these are locations where inhabitants are provided enough to be kept physically alive, but not much more. Now even this modest goal is in peril. The World Food Programme (WFP), for instance, has been forced to progressively cut its food rations, meaning vulnerable northwest Syrians are being provided with only 1,177 kilocalories, about half of the recommended caloric intake. WFP attributes the cuts in food ratios to its global funding shortages: In the midst of an inflation of food prices, WFP had only received 27 percent of its required funding by October.
The lack of funding to Syria is compounded by an impending lack of access for agencies to the northwest of the country, where many of the most vulnerable Syrians live. The UN Security Council has repeatedly struggled to renew the resolution on "Cross-Border Aid Operations into Syria's northwest" as a result of threats from Russia, whose veto power as a member of the Security Council can grind aid operations to a halt. Russia's 2015 intervention on behalf of the Assad regime during the Syrian war provided it a lifeline after the regime lost key battles and allowed it to regain control of two-thirds of Syrian territory. In the process, health and education facilities, roads, and energy plants were destroyed, and hundreds of thousands of Syrians displaced.
First outlined as UN Resolution 2165 in the year 2014, the current resolution on cross-border activities allows for the delivery of humanitarian assistance to areas held by opposition groups in Syria through crossings on the Turkish-Syrian border. But, as former UN Deputy Regional Humanitarian Coordinator for the Syrian Crisis Mark Cutts put it succinctly, "Every year there is a risk of non-renewal, and each year the risk gets higher." 
The effects of a non-renewal and the closure of the only remaining border crossing—after Russia removed a second border crossing from the resolution in 2020—would be immediate. An international NGO employee overseeing the healthcare project in Syria remarked under conditions of anonymity: "If the resolution will not be renewed, we and other health partners will lose access to vital UN funding. It would be a catastrophe for healthcare services supporting people in northwest Syria." If the organization were to relocate activities to Damascus, kickbacks of funds to the Syrian regime as well as the seizing and stealing of aid-deliveries would inevitably follow. Actual aid deliveries to northwest Syria would become unlikely, promises by regime operatives notwithstanding.
In the past, Russia has forced a showdown on the renewal every year. But in the midst of a totally transformed geopolitical landscape, the interval for renewals are becoming shorter. In July 2022, the UN Security Council was able to renew cross-border aid operations for only six months. At the time–five months into the Ukraine war–the UN representative of Ireland, who introduced the resolution jointly with Norway, remarked, "It is no secret that this has been a difficult negotiation." 
The current resolution of cross-border aid operations is set to expire on January 10, 2023. During negotiations this time around, Russia is more likely to wield its veto power, as the economic sanctions that Western countries have imposed on Russia have significantly impacted its economy since its invasion of Ukraine in February 2022. It is expected that during these negotiations, Russia will ask for significant concessions from the United States, such as the easing of sanctions against Syria and the normalization of relations with the Assad regime. 
As a result of recent Russian-Turkish dialogue and due to internal pressures in Turkey related to the upcoming presidential elections, Turkey has itself accelerated rapprochement with the Syrian regime. A meeting of defense ministers and heads of Turkish and Syrian intelligence was recently held in Moscow, and another meeting of Turkish and Syrian foreign ministers is expected at the end of January 2023.
The Syrian opposition has long decried how policies in and outside of Syrian borders have led to the politicization of aid to Syria, and now this reality is accelerated as a result of the Ukraine war. Though inherently contrary to international conventions and the human right to obtain aid in a crisis, Russia's capacity to use aid as a bargaining chip is only growing. This reality matches a tragic trend that has been observed in trouble-spots elsewhere, as scholars and aid-practitioners warn of the "shrinking of humanitarian spaces."
In more ways than one, the situation in Syria is a microcosm for the dynamics of crises spots around the world. The confluence of seemingly unrelated events—the pandemic, climate change, government policies to stop migration, and geopolitical polarization caused by the war in Ukraine—has constituted a perfect storm that may spell the death of millions of civilians trapped in conflict-zones, civilians who played no role in creating these interlinked crises. It will take massive global investments and international cooperation to solve these problems. Generating the political will for both have proven to be a lengthy uphill battle.
But Syrians, who currently face the highest levels of humanitarian need since the outbreak of 2011, cannot wait. Renewing access to the regions most in-need in Syria and funding sufficient aid to Syrian citizens are two of the most urgent humanitarian priorities for 2023. To prevent even greater calamities this winter, all states that are involved in the conflict must refocus their attention on the civilians trapped in Syria and finally put their interests first. There are a number of actions that could be taken to avoid a major disaster this winter, including reallocating more funds to civilians in Syria, and increasing pressure on Russia to not use its veto power in the UN Security Council against renewing the resolution.