What Do Iran's Protests Mean for Iraq and the Kurdistan Region?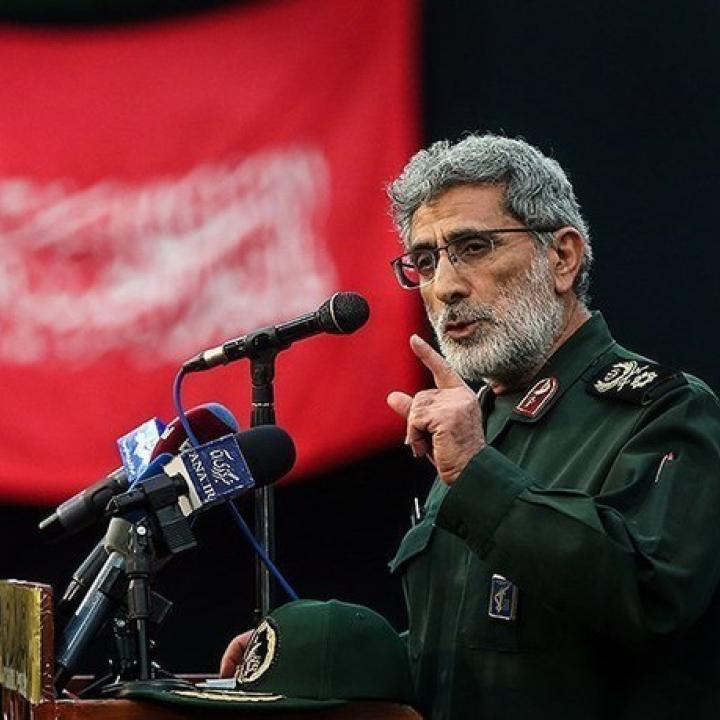 Internal instability in Iran may cause significant religious, economic, and political repercussions across the border in Iraq.
Introduction
Anti-regime protests are nothing new in the Islamic Republic. While the most recent protests are the most serious of repeated movements since 2009, what has made the regime indifferent to popular demands in the past is the power structure it has built—ruled by a benefiting minority with the support of the military and paramilitary forces, state employees, and the families of martyrs of the Iran-Iraq war of the 1980s.
Nonetheless, the clerical regime has its weaknesses. As others have argued, the regime has not succeeded in remedying the political, social, and economic problems that originally led to the Islamic Revolution of 1979. Iran, which has long sought to export its ideology, is now losing this international power. As such, any changes inside Iran will directly affect regional dynamics. As a regional middle power, Iran still has enormous influence in Iraq, Syria, and Lebanon, and any domestic political instability will have external repercussions in these countries—especially in the case of Iraq. Ultimately, further instability can push Iran to either step away from or reinvest in its sizable influence in Iraq. Either outcome will have a major impact on the future trajectory of Iraqi politics. 
On the one hand, greater instability in Iran may undermine Iran's position and impact in Iraq, directly influencing the shape of the post-2003, Shia-centric government. Since 2005, Tehran has possessed a huge amount of influence over Iraq's political elite and military forces, most recently through the Hashd al-Shaabi, or Popular Mobilization Forces (PMF)—paramilitary movements that claim to have 160,000 members beyond the control of the Iraqi Prime Minister. Growing Iranian weakness greatly reduces Iran's clout over Iraqi Shia hardliners, making it difficult for Tehran to maintain its sway in the wider region.
In religious terms, Iran's decline may lead the marja—leading Shia clerics with political and theological influence—of the Iraqi city of Najaf to become stronger than those from Iran's Qom. Competition between these two sources of Shia authority would only increase after the death of the current leading marja, Ayatollah Ali al-Sistani in Najaf.
Following the eruption of the October Protests in Iraq in 2019, the divide between Qom and Najaf became much more entrenched. Since the Iranian Revolution, the Qom marja have been a main pillar of the regime, wielding a political form of wilayat al-faqih. As a result, the marja have long been distrusted by Iranians. Now, many protesters see "all Shia clerics—not just key regime supporters, but also silent critics and neutral authorities—as the foundation of the regime's legitimacy, facilitating its initial emergence and justifying its principles, policies, and decisions ever since." 
In Khomein, the birthplace of Ayatollah Khomeini, protestors recently attacked and torched Khomeini's family house, which was turned into a museum. The unprecedented act of defiance was widely supported on Persian social media. Likewise, videos show angry demonstrators setting fire to a seminary in Qom, as young people have targeted clerics in the street, flipping their turbans off their heads.
While the Najaf marja supported the peaceful protestors and their demands for reform, an end to corruption, the protection of Iraq's sovereignty, and government control of Shia armed groups, Iran—and in extension, the Qom marja—rejected the protests. More specifically, Iran strongly opposed the incorporation of Shia militia groups into Iraqi forces, and responded by expanding its influence over allies in Iraq. If Qom experiences a decline in influence, it will undoubtedly increase in Najaf.
Beyond religious affairs, a diminished Iranian influence in Iraq would have a significant political impact, perhaps giving Kurdish and Sunni politicians a more active role in Iraqi affairs. Already, Kurds and Sunnis have played an important part in the competition between the Sadrist Movement and the Coordination Framework. A lack of Iranian interference would only enhance their involvement in political processes and decision making.
On the other hand, instability in Iran could also push the Iranian regime to pursue a more aggressive policy in Iraq. Iranian authorities have repeatedly attempted to export their internal problems to other countries, and this time is no different. Along with several direct strikes in the Kurdish Region of Iraq, Iranian General Esmail Ghaani, the head of Iran's elite Quds Force, has even threatened an unprecedented ground military operation against Iraq if Baghdad does not disarm Iranian Kurdish opposition groups on Iraqi soil.
With allies in Iraq's parliament, a favored candidate as Iraq's President, and close ties with Iraq's Federal Supreme Court, Iran could potentially push Baghdad to make moves against the United States, reviving old efforts to remove the U.S. advisory mission in Iraq and significantly undermining Iraq's nascent democratic institutions. Such efforts would align with Iran's repeated accusations that the United States is supporting the current demonstrations and violating Iran's sovereignty. Frustrated with U.S. responses to Iran's unrest—namely, sanctioning Iran's morality police and allowing companies to provide internet access despite the the government's internet blackout—Iran may order its Shia militia proxies to target U.S. interests and military bases in Iraq, making Iraq a battleground for another phase of the Iran-U.S. conflict.
At the very least, Iran's desire to reassert dominance in Iraq in the face of its own internal instability will likely result in the reversal of all of former Prime Minister Mustafa al-Kadhimi's policy decisions—decisions that largely rejected Iran in order to rebalance Iraq's regional relations. Already, Iraq's new Prime Minister, Mohammed Shia al-Sudani, has made significant changes and has abolished all decisions made by the Kadhimi caretaker government since October 2021. Such decisions pursued active openness to the Arab world, enhanced Iraq's stability via economic, energy, security, and investment agreements, and fortified Iraq's sovereignty.
The Kurdistan Region: A New Base for Iran's Protest Movement?
In the KRI, Iran's ongoing unrest has only further unraveled Iranian-KRI relations, which have been in a state of deterioration since Kurdistan's independence referendum in 2017. Since 2017, and especially after the assassination of Qasem Soleimani in 2020, Iran has been fearful that the KRI would become a platform for the United States to monitor Iraq, Iran and Syria. As a result, Iran has essentially turned the KRI into a battlefield, attacking opposition groups but also sending a message to the United States and its allies.
After demonstrations broke out across Iran, these attacks on the KRI have intensified as Iran's Revolutionary Guard Corps bombarded the Iraqi bases of Kurdish-Iranian opposition groups, killing women and children in the process. Over 10,500 Iranian Kurds are registered as refugees in the KRI by the UN but many more likely live there unregistered. Iran blames Iranian Kurds for instigating and sustaining the protests, and military officials have stated that 100 people have been arrested in Iran so far with "connections" to this Kurdish opposition. Iran's attacks on the KRI will undoubtedly continue, with the possibility that Iran could even use these protests as an excuse to occupy areas of the KRI and establish military bases, as Turkey has done in the Kurdistan Region and in northern Syria in recent years.
Finally, Iran could use Iraqi Shia militias as another card against the KRI, or could ask the Iraqi government to protect the KRI-Iran border with Iraqi forces rather than the KRI forces. The new government in Baghdad could potentially be pushed towards escalation against Kurdistan, and specifically against the Kurdistan Democratic Party—one of Kurdistan's leading parties which does not enjoy as warm relations with Tehran as the rival Patriotic Union of Kurdistan does. Such maneuvering will prove disastrous for the KRI and Iraq.
From Exporting Revolution to Exporting Problems
Since 2003, Iran has viewed Iraq as a strategic battleground and manifestation of influence against its rivals. In time, however, Iraq has transformed slowly from being Iran's domain of influence to instead being a dumping ground for Iran's problems. 
The current protests in Iran have brought this changing dynamic to the forefront, as Iran continually attempts to blame its internal "unrest and insecurity" on "counter-revolutionaries from across the northwestern borders," i.e. the KRI. The nature of this blame game, however, points to an important truth about Iran's preferred patron-client relationships with external entities, whether in Iraq, Syria, or Lebanon. Whether real or fabricated as a distraction, Iran views its proxies and "allies" as potential sources of threat to the regime. Indeed, Iran sees risk as increasingly inherent in its clientelist relationships, and recent developments only serve to reinforce this mindset. In Iraq, for example, intra-Shia feuding between the Sadrist movement and the Iran-allied Coordination Framework led to strong public anti-Iranian demonstrations, an unwelcome sight for officials in Tehran. 
The same can be said for the more than twenty Iranian proxy groups in Syria, which have received around $15 billion from Iran for recruitment, training, and equipment. Although Iran provides these groups with funds, monthly salaries, and even the rights of citizenship and residence in Iran, the increasingly dependent nature of the relationship—in which the proxy groups are practically bound to Iran's service—has made the groups more unpredictable, less reliable. 
As Iran grows wary of its own allies and proxies and continues its distraction campaign on KRI soil, Sudani's government in Baghdad is put in a difficult predicament. Although it is unclear how serious the threat of a ground military operation in the KRI really is, tensions between Iran and Iraq and Iraq and the Kurdistan Region are only growing, compounded by the potential religious, economic, and political repercussions that Iranian instability would cause in Iraq. Furthermore, Iran has now woven the United States into the narrative, accusing them of violating their sovereignty and endangering regional stability and thus conveniently pitting Iran against the U.S. presence in the KRI and Iraq. As a result, it seems as though the Kurdistan Region will once again become an arena of Iran's conflict with the United States.